I Will What I Want (2015)
Dance Moms, a Lifetime Network Chanel television show, features stage moms on steroids, endlessly exhorting their rhinestone-clad daughters to lift the barre on their competitors. In contrast to the dancing divas is Misty Copeland, the first African-American woman to be named a principal dancer at the prestigious American Ballet Theatre (ABT).
A common adage holds forth that little girls are made of sugar and spice; while that stance is subjective, what does hold true is that most of them are enamored with the world of dance. Because of this connection, jewelry boxes come with pirouetting tulle clad figurines, birthday cakes bear pink beribboned slippers, and Christmas viewings of The Nutcracker are de rigeur. Unsurprisingly, mothers enroll their Minnie-mes in dance classes following first steps. In contrast, life for a future prima ballerina followed a different path.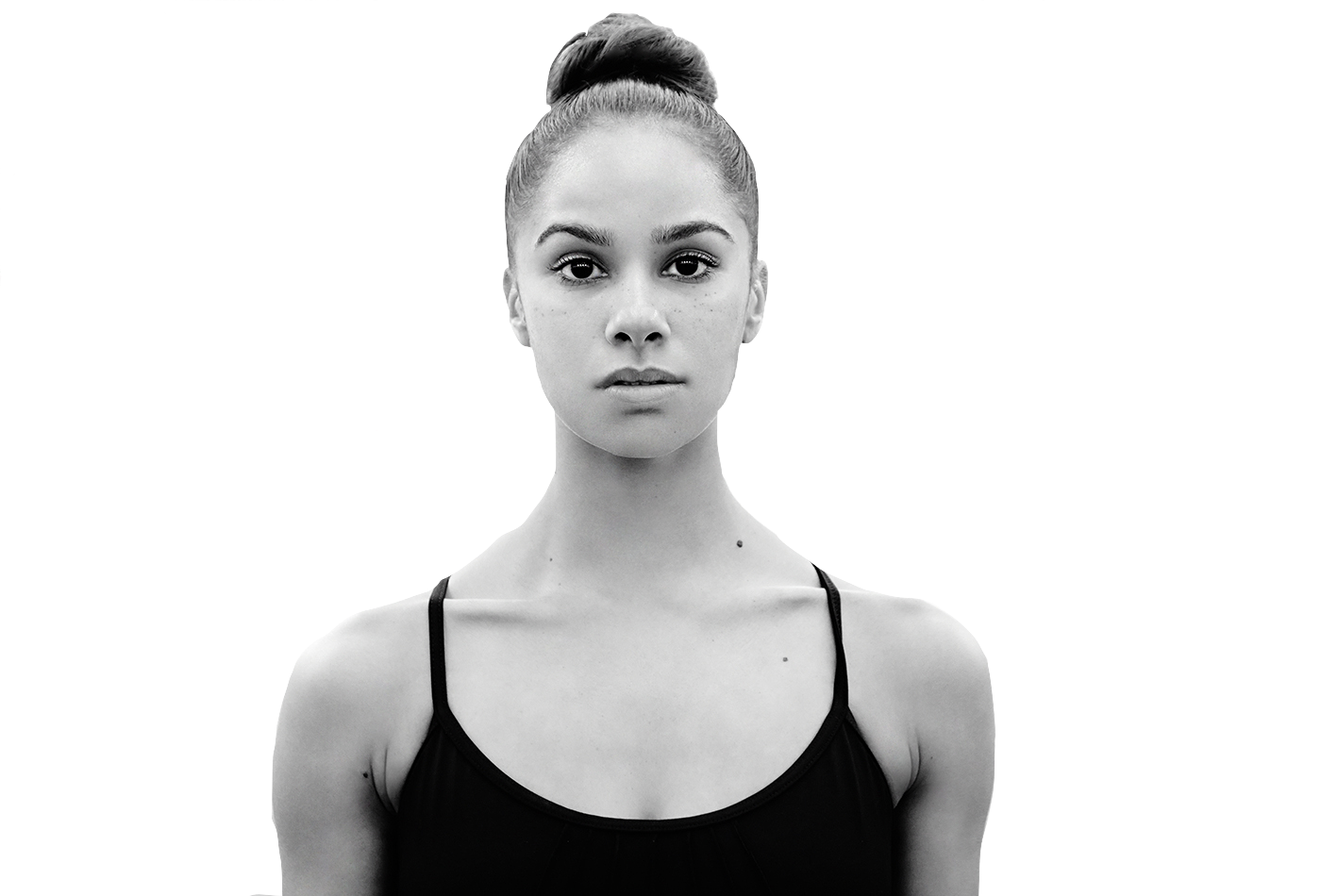 Misty Danielle was born in 1982 in Dorothy country, Kansas, the daughter of Sylvia DelaCerna, a former Kansas City Chief Cheerleader. Sylvia had married Mike immediately after high school; tragically, a stray bullet ended his life in Oakland. His best friend, Douglas Copeland, helped her through her mourning, and Misty was a product of their marriage. While Dorothy left Kansas via a tornado that deposited her in the Emerald City, Misty departed Kansas on a Greyhound bus and ended up in Bellflower, a working-class suburb of Los Angeles. Sylvia wanted a new life after her divorce from Douglas, and the two-year-old Misty would not set eyes on her father until twenty years later. In Copeland's 2014 memoir, Life in Motion-an Unlikely Ballerina, she wrote, "When my mom squeezed our lives onto a bus heading west, our family began a pattern that would define my siblings' and my childhood: packing, scrambling, leaving-often barely surviving." Sylvia wed third husband, Harold, a loving step-father and a dedicated alcoholic. When Misty was seven, the family-sans Harold- left for San Pedro, California, where Sylvia wed fourth husband, Robert; the union also came with an expiration date due to his propensity for violence. Sylvia and her six children from various daddies fled to downtown Los Angeles. The neighborhood was Crips' turf, the city's most notorious gangs, and one evening a bloodied stranger lay outside their door, a casualty of a drive-by shooting. Their next residence was with Sylvia's boyfriend; though the couple was big on PDA, they were short on cash and the family subsisted on Top Ramen noodles, potato chips, and sodas. Post PDA, Sylvia moved her brood into The Sunset Inn motel that did not even remotely resemble its poetic name.
The trajectory of Misty's life changed at age thirteen when her history teacher, Elizabeth Cantine, suggested she take a ballet class taught by her friend Cindy Bradley at the Boys and Girls Club. The makeshift studio was a basketball court, and it became Misty's refuge. After Cindy saw Misty's moves, she knew the teen was a star waiting to be born and used the word prodigy, one Misty did not understand. Within a couple of weeks, Bradley offered Misty a full scholarship to train at her studio, the San Pedro Dance Center. Bradley was an anomaly of her time; the prevalent zeitgeist of the era was the belief Giselle and Odette was best performed by girls' whose skin-tones matched that of the pink leotard. The problem was the long commute between motel and studio, and one afternoon, after missing her bus, Misty had to walk thirteen miles home. Sylvia told Misty she would have to give up her class, and when Cindy offered to let her live with her family, her mother agreed.
For the next two years, Copeland lived with Bradley, her husband, and the couple's young son, Wolf; she also went with them to synagogue. Their home, in proximity to the beach, held paintings, sculptures, and tranquility. Tensions arose when Misty visited her family and complained about the canned string beans, saying she preferred Bradley dinners of shrimp scampi. In the belief Cindy was trying to steal her daughter, Sylvia demanded Misty return home. In response, the Bradleys hired a lawyer with the end of making Misty an emancipated minor. For her part, DeLaCerna filed a restraining order and, at one bitter point, police officers picked Misty up to take her back to her family. Famed attorney Gloria Allred decided to represent Sylvia, lured by the catnip of Misty's celebrity status; she had become a media darling as a child prodigy. In her memoir, Copeland wrote, "Hiring Gloria Allred was like posting the details of your life in neon on the Sunset Strip." The shy Misty cringed at the crush of reporters that hovered outside the Torrance Courthouse and the entrance of the Sunset Inn and at the fact her classmates were privy to her family's drama. The courts sided with her mother, and for the next decade, Ms. Copeland had scarcely any contact with her benefactor.
At age seventeen, the California teen departed for New York City to try out for ABT's summer intensive session; by its conclusion, they invited her to join their venerated company despite her unconventional appearance. Traditionally, the ideal person for the profession was tall and white, and Misty, at five foot two, was neither. Despite her ecstasy at having her dream come true, she hit an emotional road bump. As Copeland wrote, "We don't know in history that black women, from the beginning of time in ballet, have been told to lighten their skin, and to shade their nose in a certain way to look white. A big part of my youth at American Ballet Theater where she was the only black amongst eighty, was hearing those words." Unwilling to downplay her race-for her sake and for those who wanted to follow in her pink footsteps- she refused to try to appear more Caucasian. Growing up in inner cities in California, Misty had never felt her skin color a liability, but color-blind was not the case with the dance world's inner sanctum. At one point, someone told her that she could not participate in the second act of Swan Lake, first performed in the late 19th- century Russia, because of her ethnicity. She recalled the whispers that she should not even be in the production at all. Philanthropist Susan Fales-Hill wrote that most ballet companies look like an Alabama country club in 1952. Separated from family and friends, feeling like an outsider, Misty turned to food for comfort. Krispy Kreme donuts made deliveries if the order was large enough, and after practice, Misty would sit in her apartment and consume two dozen. In response, her company told her to "lengthen" ballet-speak for "lose weight."
In addition to prejudice, a few months later, Misty discovered she had a lower-vertebrae fracture, a result of putting her body through painful gyrations that appeared as effortless moves on stage. She had to wear a brace twenty-three hours a day, and for a year, she was unable to appear on stage. A doctor also attributed her affliction to weakness of the bones, a condition partially resulting from the fact that she had not yet begun menstruating. He put her on birth control pills, and in a short time, her body, which had, at her acceptance in the corps de ballet been considered perfect for her art-she was said to have the "Balanchine body"- was no longer the ideal. Before the injury, she had been slated to star as Clara in The Nutcracker, but the ABT withdrew their offer. However, holding steadfast to the courage of her convictions worked; in 2015, Misty became the first African-American female principal dancer at the American Ballet Theater. The promotion caused seismic results, and in the same year, she was named to the TIME 100, Time magazine's annual list of the world's most influential people.
Copeland made her debut at the Kennedy Center in the role of Odette, the tragically fated princess-turned swan that marked a historic moment: a dancer from one of the world's most prestigious companies proved the plausibility that one can finally be black and dance the role of the white swan. The production is the ballet equivalent of playing Hamlet for the Royal Shakespeare Company; the drama spins the tale of Prince Siegfried who is poised to kill the majestic creature when he witnesses her transformation into a beautiful woman- a storyline that can serve as a metaphor for Copeland's life. In a nod to life imitating art, the girl who had scavenged under couch pillows for change to buy dinner at 7/11 underwent a similar metamorphosis. Not since Mikhail Baryshnikov defected from the Soviet Union in the midst of the Cold War had a dancer captivated the public. Misty had her acting debut in Disney's The Nutcracker, endorsed Estee Lauder cosmetics, and amassed an Instagram following of over 1.6 million. Copeland danced atop a grand piano during Prince's 2010 Welcome 2 America tour and starred in commercials for Diet Dr. Pepper and Dannon. Misty also appeared in a commercial for the athletic wear brand Under Armour that within a week of its release had more than four million YouTube views. In the ad, a voice-over reads a rejection letter detailing why "the candidate" is not a good fit for ballet while Copeland, wearing a sports bra and underwear, slowly rises onto pointe. The campaign's appeal was showcasing a woman doing more than looking sexy serving as a star of ESPN. Ballet product endorsement though a rarity had a precedent: Anna Pavlova sponsored Pond's Vanishing Cream. With all the acclaim, Copeland was the subject of the documentary, "A Ballerina's Tale, garnered a segment on "60 Minutes," and judged contestants on Fox's "So You Think You Can Dance." Barbara Walters named Ms. Copeland as one of the 10 Most Fascinating People of 2015. The ballerina pirouetted over the wave of fame and penned Firebird, an inspirational children's story of the rewards of persistence, her memoir, and "Ballerina's Body," a health and fitness guide intended for girls to embrace their physiques, whatever their builds. Misty stated of her annus mirabilis, "I'm not trying to dilute the ballet world but for a long time I wanted to be at the forefront of pop culture." Her niche was secured in 2016 when Mattel released a Barbie doll in Copeland's image. Misty insisted her plastic likeness did not come with a lightened skin tone, and its nose was not shaded to appear more Caucasian. She stated, "It's so empowering for young girls to grow up with a brown Barbie that's a ballerina." To further help those navigate her own thorn-strewn path, she helped start Project Plie that offers training to children from economically disadvantaged backgrounds. President Obama selected Copeland to serve on his Turnaround Arts program that employs the arts to interest students in school. On her crowded itinerary was Rwanda, Africa, to help the organization, Mindleaps, start a dance program.
The ballerina became a bride in 2016 when Misty married decade-long love, attorney Olu Evans, who gifted her with a serious sparkler. The couple wed in a seaside ceremony at the Montage Hotel in Laguna Beach, California, amidst a hundred guests and a backdrop of pink hydrangeas and white roses. The bride wore an Inbal Dror gown and Christian Louboutin shoes; the consensus: she looked like an "ethereal goddess."
Misty Copeland's remarkable rise in the ABT's seventy-five-year history has been as dramatic as the plots of a classic ballet. Her tale can be encapsulated in the Under Armour tagline, "I Will What I Want."