Book Reviews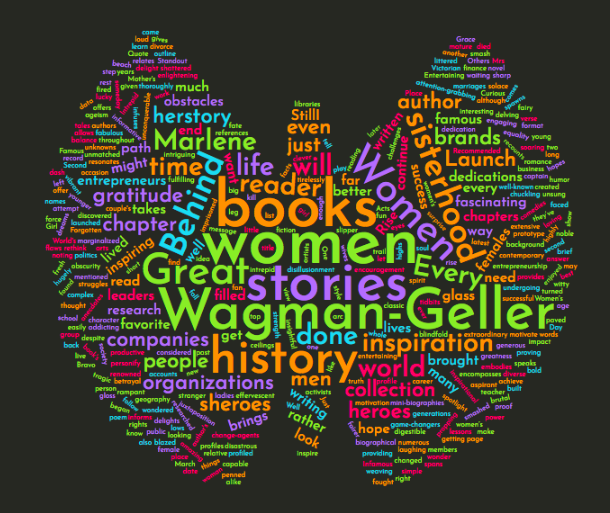 "In the collection Once Again to Zelda — the title comes from the words F. Scott Fitzgerald inscribed to his wife in the The Great Gatsby — Ms. Wagman-Geller investigates 50 such dedications, in literal-minded yet absorbing chapters that untangle densely knotted lives. "
– Liesl Schillinger, The New York Times

"I'm a big fan of Marlene Wagman-Geller's herstory books because she relates the stories of unsung sheroes and great unknowns. Women have been left out of the record books for far too long. Bravo for writing women back into history with Women Who Launch! These soaring stories will inspire you to live your dreams."
–
Becca Anderson, author of The Book of Awesome Women
"The book is not a collection of fairy tales; each chapter recounts the whole arc of couple's romance right up to its loving - or disastrous - end. The stories are littered with divorce, betrayal and
disillusionment, but also with wonder at the impact two people can have on each other."
– Ellen McCarthy, The Washington Post on Once Again to Zelda

"These bold women are proof that the rest of your life can be the best of your life."
– Louise Harmon, author of Happiness A to Z on Great Second Acts
"These fabulous females in this amazing book will get you fired up!"
– Becca Anderson, author of The Book of Awesome Women on
Great Second Acts
"She [Wagman-Geller] delights in play on words and weaving in tidbits of history in a very fun way that you end up chuckling even though some of these marriages were tragic comedies."
– Natasha Wing, best-selling author of the Night Before series on Behind Every Great Man



"We all need a little inspiration in the world of entrepreneurship, and where better to get it than from reading the stories of women game-changers in the world who built hugely successful companies, organizations
and brands
, despite all the challenges they faced. This is an insightful read into the women who, in their own way, changed the world they lived in, and blazed a trail for so many other aspirant women entrepreneurs and women change-agents to follow."
–
Lionesses of Africa
on
Women
Who Launch
"
The book's easily digestible format of short chapters noting the highs and lows of these women's lives is attention-grabbing and enlightening, proving that although we might not know their stories, we should."
– Tribune News Service about Behind Every Great Man
"
The collection spans time and geography and encompasses politics, the arts, and finance to offer a fascinating look at the sisterhood of the women behind famous men."
– Booklist
about Behind Every Great Man
"Behind Every Great Man takes the blindfold off the eyes of the reader by force and informs them that not every "Great Man" was a great person to their wives."
– Fangirl Nation
"
The chapters in the book were addicting. Each time I came to a new chapter I thought "well I want to learn about her. I'll just read one more." I thoroughly enjoyed getting a look at the women behind (or propping up) the famous men!"
– I Wish I Lived in a Library

"Wagman-Geller doesn't gloss over their flaws, peccadilloes, and even crimes, but infuses their stories with a dash of humor that will have you laughing out loud. Entertaining and informative, Behind Every Great Man is a must read for every fan of her-story."
– History and Other Thoughts

"Behind Every Great Man is a noble attempt to redress the balance and show they are more than just footnotes in history, but part of history itself."
– The Roanoke Times
"In her latest book, Behind Every Great Man: The Forgotten Women Behind the World's Famous and Infamous, Marlene Wagman-Geller does more than profile 40 members of the "fairer sex" who lived and died in relative obscurity. She allows these vibrant women, marginalized by history, to step into their own spotlight by providing

more than simple biographical data. Her clever and witty writing style brings them to life."
– Mary Ann Moxon, The Daily Press
"One of the top business books for women of all time."
– Her Bes

t Books
"Women Who Launch profiles the women who created the Girl Scouts, Mother's Day, Thanksgiving, SPANX, the Women's March and much more."
– KPBS NPR Radio
"Women Who Launch brings us stories of renowned companies, brands, organizations, and the women that brought them to life. With this book, Marlene hopes to motivate men and women alike to achieve their success through anecdotes and brief history lessons, and the inspiration she has is unmatched."
– One Click Lindsey
"If you want to school yourself on the leaders who have paved the path to success, then this is the beach book for you. The novel is filled with effervescent stories about a diverse group of female artists, entrepreneurs, and activists who not only fought for women's rights and equality but are the names behind many of our favorite organizations, brands, and companies throughout history. Well researched and engaging, every page gives the motivation to kill it in your career just like these ladies. Standout Quote: "In sharp
juxtaposition
there were intrepid women who launched rather than lunched-instead of waiting for a glass slipper, they shattered glass ceilings." – SWAAY
"Others will surprise you as they've all done extraordinary things past the date when women are considered "young & fresh." The book is well written and highly entertaining, but it comes with a message: In a society where ageism is rampant, we need to rethink how we view more mature women because they are capable of greatness."
– Advice Sisters
"Marlene Wagman-Geller has done it again! She's written another fascinating book filled with interesting facts about women who have done so much to make the world a better place. This time though all the mini-biographies tell stories about females who have had fulfilling productive lives even into their later years. With gratitude, I've found this book to be inspiring and has given me hope and encouragement to continue on my own path as I continue to age."
– Jill G. Hall, author of The Silver Shoes and The Black Velvet Coat

"Who are the great women leaders in history? Who are the women heroes who personify "girl power"? Intrepid women heroes: When Nelson Mandela was imprisoned in South Africa's brutal Robben Prison, he tirelessly turned to the poem "Invictus." The inspirational verse by the Victorian William Ernest Henley, penned on the occasion of the amputation of his leg.
Still
I Rise takes its title from a work by Maya Angelou and it resonates with the same spirit of an unconquerable soul, a woman who is captain of her fate. Just as "Invictus" brought solace to generations so does the contemporary classic.
Still
I Rise embodies the strength of character of the inspiring women profiled. Each chapter will outline the fall and rise of great women heroes who smashed all obstacles, rather than let all obstacles smash them. The book offers hope to those undergoing their own struggles."
– The Library Blog
"If you have ever wondered about the people mentioned in the author dedications of your favorite books, you may find an answer here. Curious about the dedication in Grace Metalious's Peyton Place, author
and
teacher Wagman-Geller began delving into the author's history and the background of numerous other authors. Through her research, she discovered the stories behind the dedications in over 50 well-known books. Was Mrs. Samuel Clemens a prototype for Mark Twain's Aunt Sally in The Adventures of Huckleberry Finn? Was Harry Potter based in part on a local bully? And how did Amy Tan's mother's Alzheimer's trigger the author's own memory? This collection of intriguing accounts about the people behind the books speaks to the idea that truth is stranger and far more complex than the fiction it spawns. Wagman-Geller has done extensive research on each author and provides a generous list of references. Recommended for public libraries.
— Nedra Crowe-Evers,
Library Journal