The Book of Ruth (1933)
In the 1960s, Diana Ross, sheathed in sequined splendor, belted out hits for Motown's The Supremes. A half a century later there appeared another supreme-one dressed in black with distinctive collar-who dissented in D. C.
Nathan and Celia Bader fled Europe to escape anti-Semitism and settled in Flatbush, Brooklyn, where he worked as a furrier, a luxury good not in demand during the Great Depression. In addition to straitened circumstances was anti-Semitism; on a drive through Pennsylvania, Nathan and Celia saw a resort with a sign: No dogs or Jews allowed. Their older daughter Marylin nicknamed little sister Ruth "Kiki" from her expression she was a "kicky baby." The first of the family's tragedies occurred when Marylin passed away at age six from meningitis.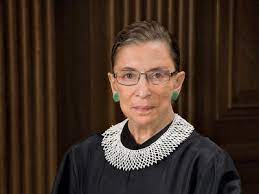 At Madison High she proved a leader and edited the school newspaper where she wrote articles on the Bill of Rights and served as an officer in the Go-Getters, a club for social events. She chipped her tooth twirling a baton when Madison played Lincoln High. Ruth, although slated as the valedictorian, did not attend her high school graduation as her mother had died two days before from ovarian cancer.
At Cornell Ruth majored in government and credits Professor Cushman with igniting her interest in law. The era was the heyday of McCarthyism and Cushman taught how words can fight injustice. Another important influence was European literature teacher, Vladimir Nabokov, who honed her skills as a writer. To no one's surprise, Bader graduated with high honors.
Diana Ross sang, "Whenever you're near I hear a symphony, a tender melody," and Ruth felt this way about Martin David Ginsburg, a year ahead of her at Cornell, who she met on a blind date in 1951. Her initial attraction, "Marty was an unusual man. In fact, he was the first boy I knew who cared that I had a brain." Three years later they married; on her wedding day her mother-in-law gave her advice, "In every good marriage it helps sometimes to be a little deaf." In a move uncommon for the era, Ruth continued to work even after the arrival of her daughter Jane and son James. What also helped was Marty proved the incarnation of Sheryl Sandburg's dictum that the most important career choice you'll make is who you marry. Ruth's culinary skills were not her strong suit, and Marty became the chef supreme. When they lived in an apartment in Watergate, they hosted regular dinner parties where Marty produced meals with the meticulous zeal he used in his legal career. The recipe that garnered the most glowing reviews from his wife was the very unkosher pork loin braised in milk. So equal were Marty and Ruth's roles that James always wondered why people would only ask what his father did for a living. Above all, Marty gave his wife the gift of confidence. Ruth said of her spouse, "He always made me feel like I was better than I thought myself."
Despite antiquated views about the role of women in society in the 1950s, Ruth followed her husband to Harvard Law. There were only nine women in the class of 500, and at a dinner party, the Dean asked them how they justified taking a place in the study body that should have gone to a man. Despite the demands of raising two children and nursing her husband through a bout of testicular cancer, Ruth earned a place in the Harvard Law Review. In 1958 Martin accepted a position with a prominent New York City firm and Ruth transferred to Columbia. Although classmates considered her as "the smartest person on the East Coast," she nevertheless found it impossible to obtain employment. Ginsburg explained in a 1993 interview, "In the fifties, the traditional law firms were just beginning to turn around on hiring Jews…But to be a woman, a Jew, and a mother to boot, that combination was a bit much." Instead prospective firms asked about her typing skills. The five-foot-tall 100 pound pit-bull finally found a position and became the second female law professor at Rutgers University. What tempered her enthusiasm was the school informed her they would pay her less than her peers because "You have a husband who earns a good salary." In order to keep the position during her second pregnancy she wore her mother-in-law's loose-fitting clothes. When Columbia changed their policy in 1972, Ruth became the first tenured woman in its law school faculty. Her work for feminist causes earned admiration from Gloria Steinem, and in a note penned on Ms. Magazine stationary, told her that she made her 'very, very proud."
Marty was not only a supportive husband at home- a successful tax attorney, he grew the Ginsburg fortune to between ten and forty-five million-he was constantly at her side during her two occurrences of cancer. He proved the ultimate feminist husband when he said, "I think that the most important thing I have done is enable Ruth to do what she has done." President Carter assigned her to a seat on the U.S. Court of appeals for the District of Columbia Circuit in 1980, and President Clinton gave her a spot on the Supreme Court in 1993. This appointment made Ruth the second woman-and first Jewish one- ever nominated to the top bench. When Clinton introduced her to the nation in the White House rose garden, he called her "the Thurgood Marshall of gender equality." In her acceptance speech, she said that her mother "was the bravest and strongest person I have known, who was taken from me much too soon. I pray that I may be all that she would have been had she lived in an age when women could aspire and achieve, and daughters are cherished as much as sons." President Clinton wiped away a tear. The hallowed position did not mean an end to misogyny. When she argued her first case before the Supreme Court Justice Harry Blackmun rated her a C+ in his diary. ("Very precise female.") Later Ruth quipped what would have been a fitting rejoinder: "There will be enough women on the Supreme Court when there are nine."
Ruth had not received a law degree from Harvard even though she had done most of her coursework there, and in 2011 the university offered her an honorary one. Another recipient at this time was Placido Domingo; Ruth was ecstatic as she loves opera as much as she loves law. At the ceremony Domingo broke out in a semi-spontaneous serenade of the Justice he held in the highest esteem. A photograph that captured this memory sits on the mantelpiece in Ginsburg's chambers. She recalls, "It was one of the greatest moments of my life." Another mutual admiration was between Ruth and former President Barack Obama. When he paid a courtesy call on the Justices before his 2009 Inauguration, Anthony Kennedy invited him to play basketball in the court's top-floor gym. "I don't know,' Obama replied, "I hear that Justice Ginsburg has been working on her jump shot." At the annual Hanukkah celebration at the White House in 2011, Obama noted, "Justice Ruth Bader Ginsburg is here. We are thrilled to see her. She's one of my favorites. I've got a soft spot for Justice Ginsburg.'' Beside the photograph of Ruth and Placido is another of Obama embracing Ruth at a state of the union address.
To help keep her body fit, Ruth pumps iron in the Supreme Court's ground-level gym with a personal trainer who used to be an army parachutist. Her favorite snack indulgence: prunes. Outside of court she is a fashionista. Her elegant jabots have gained notoriety, and she has a weakness for Ferragamo shoes and upon occasion has rocked a turban. RGB also often wears black or white lace gloves on her hands of steel.
However not everyone is in Court Ruth. During Donald Trump's campaign, she took off her gloves and called him a 'faker" and said if her husband were alive he would view a Trump victory as "time for us to move to New Zealand." The president elect appeared to view the black-robed justice with the same disdain. Trump tweeted his response by writing, "Justice Ginsburg of the U.S. Supreme Court has embarrassed all by making very dumb political statements about me. Her mind is shot-resign!" Ruth refrained from further comment; after all, sometimes it helps to be a little deaf. Although age 85, resign is not something on Ruth's agenda. She said, "I will do this job as long as I feel that I can do it full steam. As long as I have the candlepower, I will do it. At my age, you have to take it year by year. So this year I know I'm fine. What will be next year or the next year? I can't predict." Ginsburg fans view RBG as one of the final defenses against a conservative agenda. For this reason, a Washington Post columnist told Ginsburg, "If you have any need for blood, you can have the eight or so units of A-positive that are right here in my body. There's also a gently used liver in here, lobes of it just lying around if you need them." After the election Ruth wore her dissent collar.
An octogenarian Supreme Court justice and Jewish grandma seems an unlikely choice for Internet stardom, yet she has far exceeded Warhol's 15 minutes fame. Her acclaim is an ode to her six-decade extensive career of smashing glass ceilings for women and dissenting against injustice. For the past few years, her bespectacled image has proliferated on social media. The self-proclaimed "flaming feminist litigator" pop culture status is attributed to Shana Knizhnik who created a Tumblr-that became a biography- dedicated to Ruth-NOTORIOUS RBG. For those uninitiated with hip hop, the moniker is a play on the 300-pound Brooklyn born rapper Biggie Smalls, murdered in 1997. The hagiography helped transform a black robe into a red cape. A cottage industry of Ginsburgiana proliferated: greeting cards, Halloween costumes, nail art, tattoos, needlepoint samplers, and bobbleheads. Objects de Ruth are now part of the temple of highbrow kitsch. Articles of apparel display her image along with captions such as: Can't Spell Truth Without Ruth, Fear the Frill, and Queen Supreme. Television jumped on the Ginsburg bandwagon and Ruth became a recurring character on Saturday Night Live's "Weekend Update." In 2015 she appeared on the cover of Time Magazine.
Despite the fame and acclaim lies a never-ending heartache. The man who "never gave her second-class treatment" developed severe back pain and doctors identified a tumor near Marty's spine. In 2010, when Ruth came to visit her husband at John Hopkin's Hospital, she opened a drawer next to his bed and saw a yellow legal pad.
My dearest Ruth-You are the only person I have loved in my life, setting aside, a bit, parents and kids and their kids, and I have admired and loved you almost since the day we first met at Cornell some 56 year ago. What a treat it has been to watch you progress to the very top of the legal world!! Marty
Her beloved husband passed away at their home on June 27th. The next morning Justice Ginsburg was on the bench to read an opinion on the final day of the Court's term. Her explanation of the abbreviated grieving prod, "That's because Marty would have wanted it."
The Supreme Court will forever bear the fingerprint of RBG as her liberal rulings made America stand by its democratic ideals. From Brooklyn to the Bench makes for a fascinating story in The Book of Ruth.