The Nail that Sticks Up (1975)
"Because it was there." George Leigh Mallory made the statement when asked why he wanted to climb Mount Everest. He was referring to the alchemy between man and mountain, the challenge that beckoned to ascend to the world's highest elevation. Junko Tabei was the first of her gender to reach the sacred spot where heaven meets Earth and showed her tradition-bound country that women could be more than housewives, more than geishas.
In the annals of great heroic exploits, the 1953 conquest of Mount Everest by Sir Edmund Hillary and Tenzing Norgay ranks with the first trek to the South Pole by Roald Amundsen in 1911 and the first solo nonstop trans-Atlantic flight by Charles Lindberg in 1927. They had conquered the unconquerable, a concept that endlessly appealed to the diminutive Junko.
Junko Istibashi was the fifth daughter of seven children born in 1939 in Miharu, an agricultural town famous for its 1,000-year-old cherry tree. Like many children of her generation, radiation from the atom bomb stunted her growth, and she never grew beyond 4 ft 10 inches and a weight of 92 pounds. During World War II, her father struggled as a printer to support his family, and her neighborhood branded her as "a weak child" due to her physical frailty exacerbated by several bouts of pneumonia. She fought against her demoralizing label when she was ten, and a teacher took her and some classmates to hike the peaks of Mount Nasu, a volcano in the nearby Nikku national park that left her with a mountain high. She was drawn to the volcanic landscape, and the fact the endeavor was a competition against herself. She said of mountaineering, "Even if you go slow, you can make it to the top. Or, if you must, you can quit at the middle." The pattern of her life was made manifest.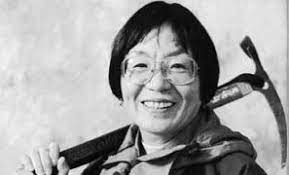 Junko had to put the reins on her passion as Japan, in the aftermath of World War II, made it necessary to earn money for food, a commodity in short supply in the ravaged country. There were professional alpinists; however, the cultural norms precluded the idea that a Japanese woman might take that road. Stymied, she decided to go into teaching, a career her society considered acceptable for her sex. Accordingly, in 1958 she enrolled in Tokyo's Showa Women's University where she majored in English and American literature. After graduation, she abandoned the profession and found employment as an editor for a science magazine, the Physical Society of Japan. In her free time, she joined several climbing clubs that consisted mainly of men who teased her that she was only there to meet a husband. Ironically, Junko ended up falling in love with one of its members. She met the twenty-five-year-old Masanobu Tabei during an ascent of Mount Tanigawa, the site of hundreds of fatalities. Her mother disapproved of the match as the prospective son-in-law was not a college graduate. Junko did not kowtow as Masanobu understood the mountains were her muse. The twin demands of family did not stop Junko from climbing, and before long, she had scaled all of Japan's major peaks, the highest of which was Mount Fuji, 12,388 feet above sea level.
Four years later, Junko defied the expectation of her tradition-bound country when she founded the Ladies Climbing Club of Japan whose motto was "Let's go on an overseas expedition by ourselves." The dual impediments were money and time-the average person only had two weeks of vacation per year. Nevertheless, by 1970, the fourteen members felt ready to tackle Annapurna III in Nepal. Junko was shocked at the extremes of wealth and poverty, first in Calcutta, then in Nepal. Despite heavy snow, the band of sisters persevered; Tabei was one of the four participants to reach the summit. The temperature was so cold the film in their camera broke. The experience profoundly changed Junko: no longer would she agree to slave long hours to prove she was her company's most loyal worker. And, if people wanted to refer to as "that crazy mountain woman," then so be it.
Upon her return, the club members applied to the Nepali government for a permit to scale the mountain where the summit met the sky: Everest. The Himalayan peak on the Nepal-Tibet border, the highest point on Earth, was an otherworldly realm of 100-mile-an-hour winds, perpetual cold and air so thin that the human brain and lungs cannot properly function. The unyielding slope doubled as a graveyard for those with the hubris: one of its myriad frozen corpses was that of Mallory, discovered 2,000 feet below the summit, seventy-years after his demise. The club was stymied when officials replied they would only allow one expedition per season, and the ladies had to cool their heels until the spring of 1975. Another obstacle was many members had gotten married, had children, or lost interest, and their numbers shrank to five. Tabei knew she needed at least fifteen participants, given the expenses and the certainty that half would drop out during the climb. Junko went recruiting, heading for the Shinjuku train station in Tokyo where alpinists gathered before their weekend expeditions. After she had gathered the required members, raising the necessary funds proved another metaphorical mountain. Men repeatedly admonished her Everest was no place for a woman and rather than raising funding she should be raising her daughter, Noriko. (The family later included a son, Shinya.) She reasoned males wanted to keep women at their beck and call, serving tea or Saki, not standing on some distant peak with an icepick raised triumphantly in the air. To subsidize the trip, in addition to working a full-time job and caring for her husband and daughter, Junko gave piano and English lessons. She also saved money by recycling car-seats into over gloves and sewed her own sleeping bags. An infusion of funds arrived from Nippon television, one of the country's major networks, who surprisingly sponsored the women. After obtaining $300,000, Tabei left for Katmandu, leaving her saint of a husband with dad duty in their home in suburban Tokyo, while her sister picked up the slack when Masanobu worked as a supervisor for Honda Motor Company. The only complaint Junko ever made of her hubby was he left his dishes in the sink. She spent the next two months overseeing the transport of fifteen tons of food and equipment to the trekking center of Lukla. The indefatigable Junko hired 600 porters to carry the goods through forests to the Everest Base Camp.
Along with six Sherpas and the sponsors' journalists, the members of the Ladies Climbing Club of Japan began their rendezvous with history. A harrowing episode that almost signified endgame occurred at Camp II, 21,326 feet above sea level on a freezing, windswept peak between Mount Nuptse and Mount Lhotse. Junko was jolted awake at 12:30 a.m. when a thunderous sound filled her with unspeakable dread. She had never heard that noise before, but she knew what it signified: an avalanche, a wake-up call from the mother of mountains. Tabei and her team tumbled chaotically, trapped under a white wave of snow and ice. Their tent collapsed; equipment slammed into bodies and a teammate's hair covered Junko's face. Their terror slowed time to the tortuous pace of a waking nightmare. Junko recalled, "I couldn't move at all in the snow. Suddenly, the image of my three-year-old daughter appeared before my eyes. For a short time I thought, 'If I die, what will happen to her?' But then I thought, 'I have to stay alive-for my daughter, for myself, for everybody.'" The Sherpas dug out the four women from their tent and dragged them to safety by their ankles. When she became conscious and discovered everyone was alive, she determined to continue. Persistence alone, however, could not enable her to walk; her body was a checkerboard of welts and bruises, and she had wrenched her lower back and legs. The male journalists wanted to turn back, and Mrs. Tabei had to pull rank. In 1991, she told The Washington Post, "If you climb with men, there are so many troubles."
Tabei's final ascent, only accompanied by Ang Tsering, her Sherpa, took six hours as she trekked through heavy snow, carrying twenty kilos on her back. On the morning of May 16, she arrived at Everest's south summit, the border between China and Nepal that led to the summit. A misplaced footing could send a climber plummeting thousands of feet in either direction. To cross, Tabei had to crawl sideways while straddling the ridge; her upper body was on the Chinese side, and her lower body was on the Nepalese side. She later recalled she had never felt that tense in her entire life and that her hair was standing on end. Undaunted, she arrived at a relatively flat rectangular area that she described as "smaller than a tatami mat" and peered down at a tranquil valley in Tibet, the first woman to reach the summit of Mount Everest. She unfurled a Japanese flag and remained at the pinnacle of the world for fifty minutes. Her elation was mingled with trepidation; she still faced the treacherous descent.
When Tabei returned to Base Camp, a telegram from the prime minister of Japan awaited. The King of Nepal awarded her a medal and a parade in Kathmandu. In New Delhi, Indian Prime Minister Indira Gandhi, also a mother of two, asked Junko how she managed to climb mountains with two little ones at home. Back in Tokyo, a crowd of thousands welcomed her at the airport. A sought-after guest speaker, she gave a presentation at a Japanese university where a student asked whether it was true that female mountaineers weren't good-looking. Her reply, "If you look at me, you know that isn't the case." Reunited with her family, refused to feel guilty. She never wanted Noriko to feel because of her she did not pursue her dream.
Tabei went on to tackle summits in more than seventy countries and became the first woman to scale the highest peak on each of the seven continents-known as the Seven Summits. Her final journey was to Mount Fuji, accompanied by high school students, survivors of the nuclear disaster at Fukushima. The only opponent that eventually stopped Junko was abominable cancer; she passed away in 2016, at the age of seventy-seven. On her deathbed, she drew a sketch and handed it to Masanobu: a drawing of Mount Everest.
In a 1991 interview for The Washington Post, Junko said, "I don't think people should leave behind a fortune, or things. When I die, I want to look back and know that my life was interesting." However, she did possess a cherished memento: the old wooden ice ax from her famous exploit.
The diminutive Junko proved what is good for the goose is good for the gander, and eleven days after she departed Everest, a Tibetan woman, Phantog, attained the same summit. Stacy Allison was the seventh woman-the first American female-to stand in the same rarified height, a feat she accomplished three years later. To date, more than four hundred females have followed in Junko's footsteps, including the thirteen-year-old Malavath Poorna, and Lakpa Sherpa, who has done so more times than any other woman. In 2018, a female dog named Mera became the first canine to reach the summit of Baruntse, just south of the Himalayan peak. The essence of Junko's indomitable spirit was her refusal to follow the admonishment of the Japanese adage, "The nail that sticks up will be hammered down."