America's Sweetheart (1959)
There are many women who lay claim to be the world's most legendary of lovelies: Italy's Sophia Loren, Sweden's Greta Garbo, France's Brigitte Bardot. Yet there is an American beauty who most truly embodies the pronouncement, "Age cannot wither her, nor custom stale, her infinite variety."
In the 1967 film The Graduate, Mr. McGuire told Benjamin, "There's a great future in plastics." A woman had understood this a decade earlier and the knowledge enabled her to launch an empire worth billions and made her daughter's name a slice of Americana.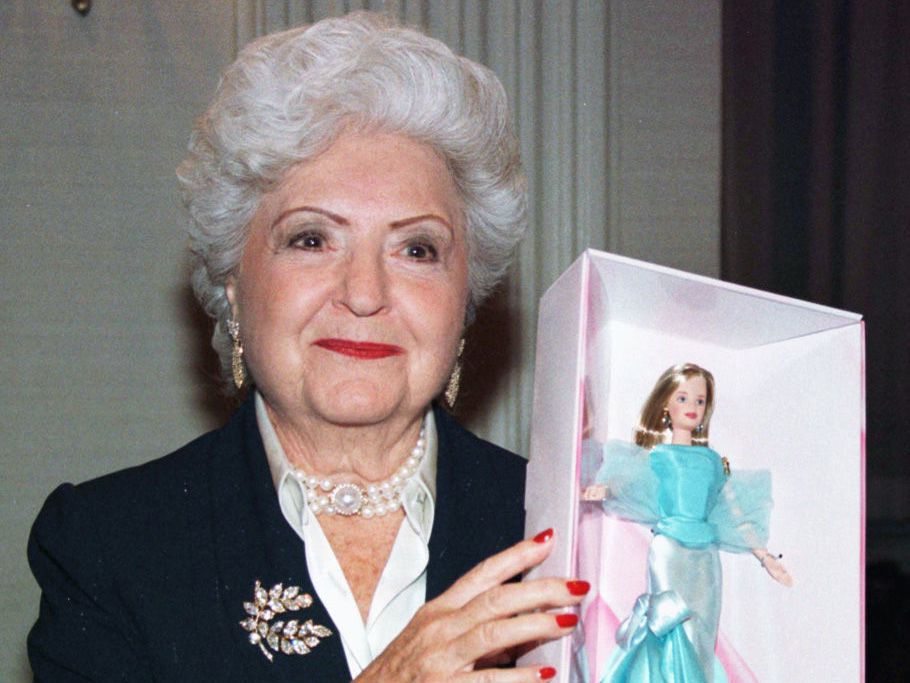 Ruth Mosko, the youngest of ten children of a Polish blacksmith and his illiterate wife, had been short on playthings during her Denver childhood. She escaped to Hollywood at age nineteen where she obtained employment as a secretary for Paramount. Her high school boyfriend, Elliot Handler, joined her, and they wed in 1938. There must be something of the sorcerer residing in garages, as they have been where Apple, Amazon, Disney and a score of others had their birth. In the same vein, the pink plastic princess originated in one in 1945 when the Handlers founded a toy company, along with their friend, Harold "Matt' Matson. Mattel was an eponym derived from the two men's names: Matt and El. Matson did not last long with the ambitious Handlers, and by 1955, the diminutive Jack Ryan took his place.
An iconic doll became a sparkle in Ruth's eye when she observed her daughter, Barbara, dressing paper images of girls with pre-cut cardboard outfits. She turned from maternal role to entrepreneurial one when she realized the market was ripe for a teenaged version replete with clothes of fabric-preferably of sequins and satin, and with nod to womanly attributes. She shared her vision with her husband who brusquely waved aside her vision with the argument no mother would buy a toy with breasts. The idea was shelved until the Handlers' Continental vacation that lead to far more than memories enshrined in a scrapbook.
There must be something about Swiss dolls because they gave birth to two classics. Mary Godwin was travelling with her lover, Percy, in 1814 when she arrived in Switzerland and stumbled upon some renowned mechanical dolls and two years later penned Frankenstein. Ruth Handler was travelling in Lucerne 150 years later with her husband and two children when her daughter spied a doll which culminated three years later in the world's most famous toy.
The doll Ruth spied in the Swiss window was Bild Lilli, and she was not meant for children. She had originated in Germany in 1952 and resembled a high-end call girl. She was sold mainly as an adult novelty to be used as gag gifts at bachelor parties and was marketed with the phrase her attire would make her the "star of every bar." She was the possessor of knock out your eye breasts and a platinum blonde pony-tale, made up for a night on the town, replete with red puckered lips and heavy blue eye shadow. Ruth purchased three of them, one she gave to Barbara. Although a Jewish mother giving her daughter a German sex toy was questionable, her vision was to make her a modern Midas.
When Ruth returned to America, she was determined to make Bild Lili - a deshelled Marlene Dietrich - part of Mattel's repertoire, though less sexual. She felt girls wanted a doll to which they could aspire rather than inspire to look after-such as Betsy Wetsy or Chatty Cathy-the latter a staple of Mattel. For technical assistance, she turned to engineer Jack Ryan who described Bild-Lilli as "looking like a hooker between performances." As his pastime was prostitutes, he based his observation on first-hand experience. His ingenuity created Barbie's flexibility, size, and dimensions; Ruth was behind Barbie's insatiable consumption of clothes. The final product was a blonde beauty whose waist was smaller than Scarlet O'Hara's and whose bust-if it were to be found on an actual woman-would cause her to topple over. Although voluptuous she has no nipples and only received a belly button in the year 2000. However anatomically improbable, Barbie was celebrated by generations of artists, including Andy Warhol. Adult collectors, with their mantra "Never out of the box" treat her like statues of the Virgin in Catholic communities. Through the force of Ruth's outsized personality, she overcame the prudish resistance of the male executives at Mattel, and she christened her creation Barbie after her daughter's nickname. Her parents also called her Babsy and Bobby so America's favorite doll could have been known by a different moniker.
In 1959, wearing a zebra striped bathing suit and stiletto heels, Barbie made her debut at the American Toy Fair in New York. She hit the counters at $3.00 and walked off them-actually tottered- given the size of her heels. Her fly-off-the-shelf popularity transformed Mattel into a postwar success story and made the daughter of a blacksmith into a Forbes worthy matron. By the spring of 1960, Mattel could not keep up with the demand for the jewel in the corporation's crown, although its Japanese factory was producing 100,000 a week. Barbie fan clubs mushroomed, and a Hollywood columnist reported she received more fan mail than Elizabeth Taylor and Audrey Hepburn combined. The statistic says it all: 90 percent of all American girls in the past 40 years have owned at least one, and the long-legged beauty is marketed in more than 140 countries. Her brand is estimated in the billions-a little ahead of Armani.
And what of the parents who were the creators of the 1950s valley of the dolls? Jack Ryan took five trips down the aisle, all failures due to his passion for prostitutes, orgies, and cocaine, pastimes funded by his share in Barbie's billions. He purchased a mansion he dubbed the Castle, once owned by the actor who played the Cisco Kid, and filled it with flesh and blood Barbies. His partnership with Ruth culminated in a flurry of lawsuits, and those, along with his multiple divorces drove him to alcoholism. His marriage to his Bel-Air neighbor, Zsa Zsa Gabor, also unraveled, as the Hungarian sex symbol could not curtail his promiscuous lifestyle. She had been forbid entry into the Castle's dungeon, a black torture chamber decorated with black fox fur. When their union dissolved after a year, Ryan remarked, "That marriage cost me $260,000 a bang." In 1989 he suffered a stroke, which left him unable to speak or engage in his prurient pursuits; he committed suicide two years later.
In contrast- to paraphrase from the Aqua lyric- life was fantastic for the creator of the plastic princess. Not only did she create an empire for the Handlers, Elliot's lucrative Hot Wheels allowed them any number of the real thing. However, while Barbie always landed on her stilettoes, in 1970 Ruth's life took a dire turn when she was diagnosed with cancer and had her left breast removed. More tsoris followed when five years later the Handlers were forced out of their positions from the company they had founded when charged with fraud. In 1978 Ruth was indicted for false reporting to the Securities Commission. She pleaded no contest, was fined $57,000 and sentenced to 2,500 hours of community service.
In the vein of Dorothy Parker's observation, "They sicken of the calm who have known the storm" Ruth Handler, despite her age, refused to become a lady who lunched. She formed a new company, Ruthton Corporation. After her mastectomy her doctor told her to stuff her empty bra cup with rolled-up stockings. Unimpressed, when she asked a saleswomen in a Beverley Hills department store for an artificial breast, she was handed a surgical bra and instructed to stuff it with a couple of gloves. When Ruth investigated the available prosthetic breasts, she saw they were "a shapeless glob that lay in the bottom of my brassiere. The people in this business are men who don't have to wear these." As a result Ruth launched her late in life venture: the Nearly Me prosthetic, a liquid silicone with foam backing that came in lefts and rights. She explained, "There has never been a shoemaker who made one shoe and forced you to put both your right and left foot in it." She proudly proclaimed her product was so real that "a woman could wear a regular brassiere, stick her chest out and be proud."
In the 1970s breast cancer was not the cause of the moment and even its mention was kept under wraps. Nevertheless, the intrepid Ms. Handler mentioned it a lot. She and her sales team fitted women (including First Lady Betty Ford) and helped bring the affliction out of the closet. Indeed, she often performed her 'strip act' whereby she would take off her blouse-which she did for a People Magazine photo shoot. She did so to demonstrate the lack of difference, in look and in feel, between the real and the fake. She was known to ask reporters to feel her breasts to see if they could determine which was real. By 1980 the business was a million dollar one, and she ran it till it was sold to Kimberly-Clark. She said her company, Nearly Me, rebuilt her self-esteem as well as the women who wore them[JL1] . In talking about her two careers, Ruth stated, "I've lived my life from breast to breast."
Her main onus until her death in 2002 was to convince the world that she, not Ryan, as he claimed, had given birth to the plastic personification of Americana: a doll that brought pleasure to millions and drama to her parents. Ruth retained a gold-plated Barbie in her Century City home, the icon that has sold over a billion models in 150 countries. One of these dolls, whose full name is Barbara Millicent Roberts, resides in the Smithsonian and another became part of the official United States bicentennial time capsule of 1976. The success was heady for Mattel that had its genesis in a garage.
Baby boomer era commercials for the toy company promised its young viewers, "You can tell it's Mattel, it's swell!" And just as swell is the genealogy of the pink plastic princess who underwent a metamorphosis from German sex toy to a life indeed fantastic –as America's most enduring sweetheart.