Moment of a Lifetime (2010)
"And the Oscar for Best Director goes to Victor Fleming for Gone with the Wind; and the Oscar for Best Director goes to John Ford for The Grapes of Wrath; and the Oscar for Best Director goes to Steven Spielberg for Schindler's List." The fact that the Academy of Motion Pictures Arts and Sciences has always gifted the coveted statue to men makes one wonder if there is-to borrow the title of Elia Kazan's film for which he won best director-a Gentleman's Agreement. If institutionalized sexism is indeed the norm, the Academy breached it after eight decades when Kathryn Bigelow made a rip in Hollywood's seemingly shatterproof celluloid ceiling when she won the Academy Award for Best Director. .
In a Vanity Fair issue, photographer Annie Leibovitz created a classic image of a film director. George Clooney posed with shirt ripped open, trousers tucked into boots, an amalgam of a youthful Orson Welles meets Michelangelo's vision of God. His crew consisted of female models in flesh-colored lingerie, looking adoringly on.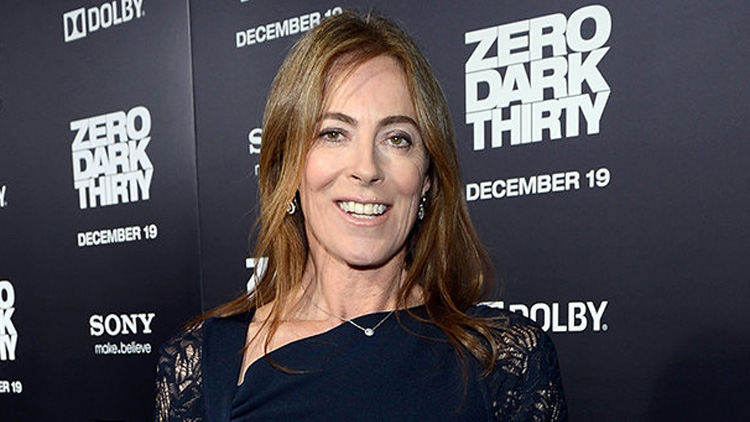 In response to the Hollywood testosterone, The Guerrilla Girls-feminist activists with zero tolerance for intuitional sexism, whose trademark is gorilla masks-erected a 2003 billboard featuring the "anatomically Correct Oscar-" white and male- "just like the guys who win!" The following year their new billboard featured the "Trent L'Ottscar" a nod to the fact that "even the U.S. Senate is more progressive than Hollywood." Fourteen percent of the Senate is female, while four percent of the past year's one hundred top-grossing films had women directors.
The chauvinistic paradigm took its first step in becoming gone with the wind thanks to Kathryn Bigelow, born in 1951 in rural San Carlos, a town situated twenty-five miles south of San Francisco, the only child of Gertrude Kathryn, an English teacher, and Ronald, a manager in a paint factory. His aspiration was to have become a cartoonist, but he never could figure out how to escape his day job. He entertained his daughter by drawing himself in caricatures, emphasizing what he considered his homely features. His hobby sparked Kathryn's creativity, and she began painting from the age of six. She recalls being a gawky and solitary child whose height (she is just under six foot and extremely thin) made her painfully self-conscious. Even now, Kathryn wears sociability like an uncomfortable garment and keeps personal details close. At age fourteen, she was interested in the Old Masters and took segments of their replicas and painted them on twelve-by-fourteen-foot canvasses. She explained, "I don't know why I was interested in magnification-maybe because I'm large, the Big People Syndrome."
Having learned the cost of settling from her father, the teenaged Kathryn followed passion rather than practicality and enrolled in the Art Institute of San Francisco. Two years later she won a scholarship to the Whitney Museum's Independent Study Program where her mentor was Susan Sontag and an upstairs neighbor was photographer Robert Mapplethorpe. Kathryn embodied the stereotype of the starving artist; her student digs were in a condemned building, without heat or electricity, three stories below ground level in an off-track betting building. She reminisced about freezing, huddled in a sleeping bag, lulled to sleep by the sound of gunshots. She joined a conceptual art group and acted in the feminist movie Born in Flames." During this time, she had a conversation with her friend by the name of Andy Warhol who impacted her life: he suggested she trade her paint-brush for a camera. Accordingly, Kathryn produced The Set-Up; filmmaker Milos Forman was so impressed he arranged a scholarship to Columbia where she earned her master's degree. At the end of the decade, she directed The Loveless about sexy bikers where William Dafoe made his debut. The project led to a development offer at Universal that took Bigelow to Los Angeles. The studio deal did not pan out, but Bigelow eventually secured financing for Near Dark (1987) which relocated the vampire myth to the American desert, followed by Blue Steel (1990) starring Jamie Lee Curtis as a rookie cop.
At age thirty-eight, Ms. Bigelow had quite the curriculum vitae under her belt: she had directed several movies, obtained a master's degree from Columbia, modeled for the Gap, and climbed Mount Kilimanjaro in sub-zero temperature. In 1989, on the romantic front, Bigelow married Canadian director James Cameron, producer of The Terminator, a low-budget, high- earning sci-fi thriller whose male lead would go on to govern California. The high-powered couple shared an estate in the mansion-dotted mountains between Beverly Hills and Studio City, a stone's throw from homes owed by Jack Nicholson and Warren Beatty, a far cry from the condemned building of her earlier years. Although her union with Hollywood royalty came with professional and personal perks, Cameron was high maintenance. He became so enraged when crew members' phones rang on the Avatar set he nail-gunned the phones to the wall- (the phones, not the crew-members, though it probably could have gone either way.) During the shooting of the Abyss, the crew took to wearing T-shirts: "You can't scare me. I work for James Cameron." The marriage terminated when Cameron bid Hasta la vista baby to Bigelow who he left for Linda Hamilton, the lead actress in The Terminator. Although Bigelow kept the mansion, currently listed for $12.9 million, the divorce papers showed the settlement was remarkably slated in ex-hubby's favor. He paid the cost of her lawyers and gave her half a million dollars with the stipulation she sign away future spousal support including any claim on a share of his multimillion earnings from Terminator 2. The fact Bigelow came away with the short end of the stick became apparent when Cameron fell for Titanic actress Susan Amis and Hamilton waltzed off with $50 million.
Metaphorically clad in a T-shirt that said, "You can't scare me. I married James Cameron," Bigelow, rather than bemoan her status as a newly single forty-year-old, poured her energies into her career. In 2010, the Academy announced Kathryn was up for Best Director for The Hurt Locker; the fact sent shock ripples as women have been notoriously underrepresented in this category. Moreover, Bigelow's film was not the stereotypical chick flick, but rather a guy's movie about guys in war, focusing on the gory details never mentioned in letters home to mom. Her closest rival was none other than her ex who had received the same Oscar nod for Avatar; both films had earned nine Oscar nods making their race to the finish line the most buzzed about rivalry in Hollywood. Bigelow was only the fourth woman in history to secure the nomination. Other ladies who had lost out on the big prize: Lina Wertmuller for Seven Beauties, (1976) Jane Campion for The Piano (1993) Sophia Coppola for Lost in Translation (2003). The odds did not look good for Ms. Bigelow: not only was her gender a Hollywood handicap, the Academy tends to favor financially successful films, and while Cameron's baby brought in $42 billion, the highest grossing film of all time, Bigelow's baby only brought in a meager $16 million. In addition, Cameron was already a directorial blue-blood; his Titanic had sunk the competition at the 1998 ceremony. Countering these drawbacks was Cameron's biblically inspired level of hubris, and many were chomping at the bit for his comeuppance. In his acceptance speech for the epic Titanic, Cameron had raised his trophy over his head and shouted, "I'm the king of the world!" an echo from his movie's signature scene in which Leonardo DiCaprio's Jack jubilantly had hollered the self-same words from the bow of the doomed ship. Not rooting for Cameron-no shoe-in for Mr. Congeniality- were the four members of his ex-wives club and actors who were miffed by their replacement by animated blue pixels. La-La-Land held its collective breath: had the Academy determined that calling out "Action!" "Cut!" is indeed in the provenance of possessors of estrogen?
In the almost century of the Academy Awards, there have been Memorable Oscar Firsts: the first color movie to win a Best Picture Oscar: Gone with the Wind 1938; the first black artist to win an Oscar: Hattie McDaniel (1940); the first animated film to earn a best picture nomination: Beauty and the Beast (1991). And the one that occurred in 2010. The presenter for that year's ceremony, Barbra Streisand, the director of Yentl and The Prince of Tides, announced, "The time has come. The winner is Kathryn Bigelow." James, sitting directly behind his ex, put his hands around Kathryn's neck and mock strangled her; however, her muscular arms showed she could well have bested her attacker without mussing her perfect hair and then gone off to defuse a bomb. Stunning in a pewter colored Marchesa gown with a brocaded top, Kathryn ascended the stage to hold her eight-pound Oscar, giving hope to women who make movies and women who watch them.
Females, of course, have been extravagantly praised as actresses and have provided the glamorous media faces of the ceremony, the red- carpet icons, the fashion queens. But never before had a woman been distinguished for being at a movie's helm. The newly crowned Bigelow, who must surely have felt that night she was the queen of the world, received a standing ovation from the star-studded audience. She brought tears to their eyes when she dedicated her award to "the people who risk their lives on a daily basis in Iraq and Afghanistan...may they come home safe." The magic moment felt like a potential game-changer for every female who has ever smacked her head into the glass ceiling of male-dominated Hollywood. Afterward, she spoke about her historic win, the first the Academy gave in its eighty-two-year history. She said, "First of all, I hope I'm the first of many. But I'm ever grateful if I can inspire some young, intrepid, tenacious male or female filmmakers and have them feel that the impossible is possible and never give up on your dream." She floated off the stage while the orchestra played Helen Reddy's 1970s feminist anthem "I am Woman." She returned to the podium shortly after The Hurt Locker won best film. The movie garnered six Oscars including best original screenplay making it the undisputed winner in the publicized battle against Avatar, which picked up three Oscars for visual effects, art direction, and cinematography. In interviews after the ceremony when reporters encouraged her to gloat over Cameron, Bigelow showed her personality encompassed the first three letters of her surname when she refused to turn the screws on her ex by saying, "I think he is an extraordinary film-maker."
Unfortunately, to date, Kathryn's singular first has not been repeated. Stories of misogyny in Hollywood have been so disturbing the Equal Employment Opportunity Commission launched an investigation into sexism against female directors in 2016. However, as Hollywood is the very stuff that dreams are made of, one day the term "female director" will be as obsolete as the terms "female doctor," "female lawyer," "female artist." Until this more egalitarian future arrives, to counter the disturbing statistic that of the ninety-one Academy Awards for Best Director only one woman has held the Oscar is Kathryn Bigelow's words nod to hope following her win, "There's no other way to describe it. It's the moment of a lifetime."