We Never Sleep (1850)
Despite Pinkerton's association with a traditional female color, the detective agency started with mustachioed men. The business derived its name from founder Allan Pinkerton.
The exploits of Sam Spade, Sherlock Holmes, or Nancy Drew rivalled the real-life thrillers found in the Pinkerton files. The leader of the pack of security agencies began with Allan, born in 1819 in a Glasgow, Scotland, slum. The family fell on hard times after Allan's police officer father had been forced into retirement after suffering an injury in the line of duty. At age twenty-two, Allan, a barrel maker, ran afoul of authorities because of his association with Chartism, a movement dedicated to workers' rights. To evade arrest, Allan, along with his wife, Joan Carfrae, boarded a ship to America. The Pinkertons survived a shipwreck in Nova Scotia; they snuck across the Canadian border and settled in Dundee, Illinois. Allan became a successful barrel maker who employed eight men. A committed abolitionist, he used his house as a station on the Underground Railroad. In 1859, Allan raised $600 for John Brown, on his way from Kansas to Canada with a group of fugitive slaves. In the same year, Allan attended clandestine abolitionist meetings with Frederick Douglass.
While searching for wood for his barrels on a deserted island, Allan stumbled upon smoldering ashes. To investigate, he returned a few nights later. Camouflaged in bushes, Allan observed a group of men creating counterfeit coins. A tip to the local sheriff led to the gang's arrest that segued to Allan's appointment as Chicago's first full-time detective. Eventually, he founded Pinkerton's National Detective Agency. The company's logo was a large eye—that gave rise to the term "private eye." Although initially reluctant to employ a female, he hired Kate Warne who became America's first female detective. She allegedly also became Allan's mistress, a fact contested by publisher Roger Williams, the detective's great-great grandson. He stated, "Uncle Pink was a dour sort-not the lover type." Kate's invisibility-born of nineteenth century sexism, proved a powerful asset. While staying in the Barnum City Hotel, she learned of a plot of Confederate sympathizers to assassinate President Lincoln as he boarded a carriage that would take him from his Pennsylvania train en route to his Washington-bound one. The Pinkerton plan was for the president to wear an old overcoat, a soft hat, and a shawl over his shoulders, and to sleep in a berth Kate booked for her "invalid brother."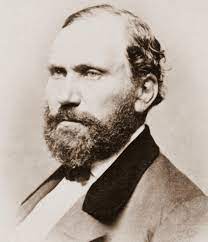 Other high-profile assignments were when Allan oversaw cleaning up the West. The Pinkertons were successful in capturing Butch Cassidy and the Sundance Kid. However, they failed to apprehend Jesse James and his brother, Frank. In his later years, Allan compiled the first database of criminals that included files with photographs and descriptions. Decades later, law enforcement agencies copied the Pinkerton system of profiling America's most wanted.
The boy from a Glasgow slum became so wealthy he was able to live in a downtown Chicago mansion. In 1884, while walking his wife's poodle, Allan slipped on the pavement and bit his tongue. He passed away several days later from gangrene. His sons, William and Robert, took over the business; one of the changes they instituted was to close the women's division. Pinkerton became the world's Number One Detective Agency. In 2021, the agency had a net revenue of $300 plus million that operates in over one hundred countries. Not too shabby for the firm that started when a Scottish barrel maker noticed a suspicious bonfire.
Kate's nightlong vigil over the President gave rise to the Pinkerton motto, "We never sleep."