Second Best (1930)
The system of primogeniture, a royal rule that dictates power is transmitted from firstborn to the next firstborn, leaves younger siblings hanging. Monarchy is a one-person job, and thus the heir wields the scepter while "the spare" is left with less of a spot in the limelight. Birth order is what drove Scar to turn on Simba, what shaped the life of a woman from the House of Windsor.
Long after they left their nursery, Princess Margaret played the role of the naughty younger sister to the duty-bound Queen Elizabeth II. Margaret Rose was born in her mother Elizabeth's ancestral home at Glamis Castle, the legendary site of Macbeth's murder of King Duncan. Hers was the first royal birth in Scotland since Charles I in 1601, and bagpipers led a torchlight procession to proclaim her arrival. Four years and four months younger than her older sister, the girls referred to each other as Lilibet and Margo. They wore matching clothes and sheltered together in Windsor Castle during the Blitz. Deferential servants attended to their every need, and dedicated royalists lingered around their homes in Windsor Castle and Piccadilly Circus.
Although inseparable, they were far different in temperament; Elizabeth was shy, obedient, and happiest in the company of her dogs and horses. In contrast, Margaret was outgoing and prone to tantrums. When World War II erupted, the ten-year-old Margaret groused, "Who is this Hitler, spoiling everything?" Later in life she stated, "Disobedience is my joy." In 1942, the sisters staged a performance of Cinderella and argued over the price of admission. Elizabeth disagreed with Margaret's suggestion that they charge seven shillings. "No one will pay that to look at us!" Her little sis countered, "They'll pay anything to see us." Their father, Albert, the Duke of York, a second-born son, understood the thorns of royal birth order and over-indulged his youngest child. He stated that Margaret could "charm the pearl out of an oyster." He also remarked that Elizabeth was his pride, Margaret his joy.
When King George V passed away in 1936, his eldest son became King Edward VIII. However, with Edward's abdication, Margaret's father became the new crowned head. Taken aback at the abrupt upheaval of their lives, the family relocated to London's Buckingham Palace. Of even more importance to Margaret, her sister had become the heir to the throne. With the weight of a future ermine robe on Elizabeth's shoulders, her parents groomed their eldest daughter for her rendezvous with history while Margaret learned to sing, dance, and play the piano. An elderly courier remarked of the little princess as she cartwheeled down a Buckingham Palace corridor, "Thank God the other one was born first." While Elizabeth's coronation elevated Elizabeth to an icon, it instigated Margaret's issues as the power structure between the siblings had forever altered.
With the marriage of her sister to Prince Philip of Greece in 1947, Margaret became the world's most eligible woman. Pablo Picasso was desperate to marry her; Peter Sellers stated he would have settled for an affair. John Fowler fantasized about abducting her and keeping her as his prisoner. Able to choose any man, the princess turned her violet-blue eyes on Captain Peter Townsend of the Royal Air Force, a hero of the Battle of Britain. Part of his appeal was Peter embodied many of the traits of Margaret's adored father who had recently passed away. As he was a commoner, twice her age, and even more damning, divorced, the couple kept their relationship under wraps. The cat slipped out of the bag on Elizabeth's Coronation Day after Margaret picked lint off Peter's uniform, a gesture of intimacy that launched a media firestorm. Prime Minister Winston Churchill was Margaret's ally until his wife, Clementine, pointed out that by doing so he was repeating the same mistake he had made with Edward and Mrs. Simpson. When the besotted princess petitioned for permission to marry, Parliament threatened to cut off her royal allowance and the Palace announced Margaret would simply become Mrs. Peter Townsend. Margaret had to weigh love against a life without a title, wealth, and the perks of princess power.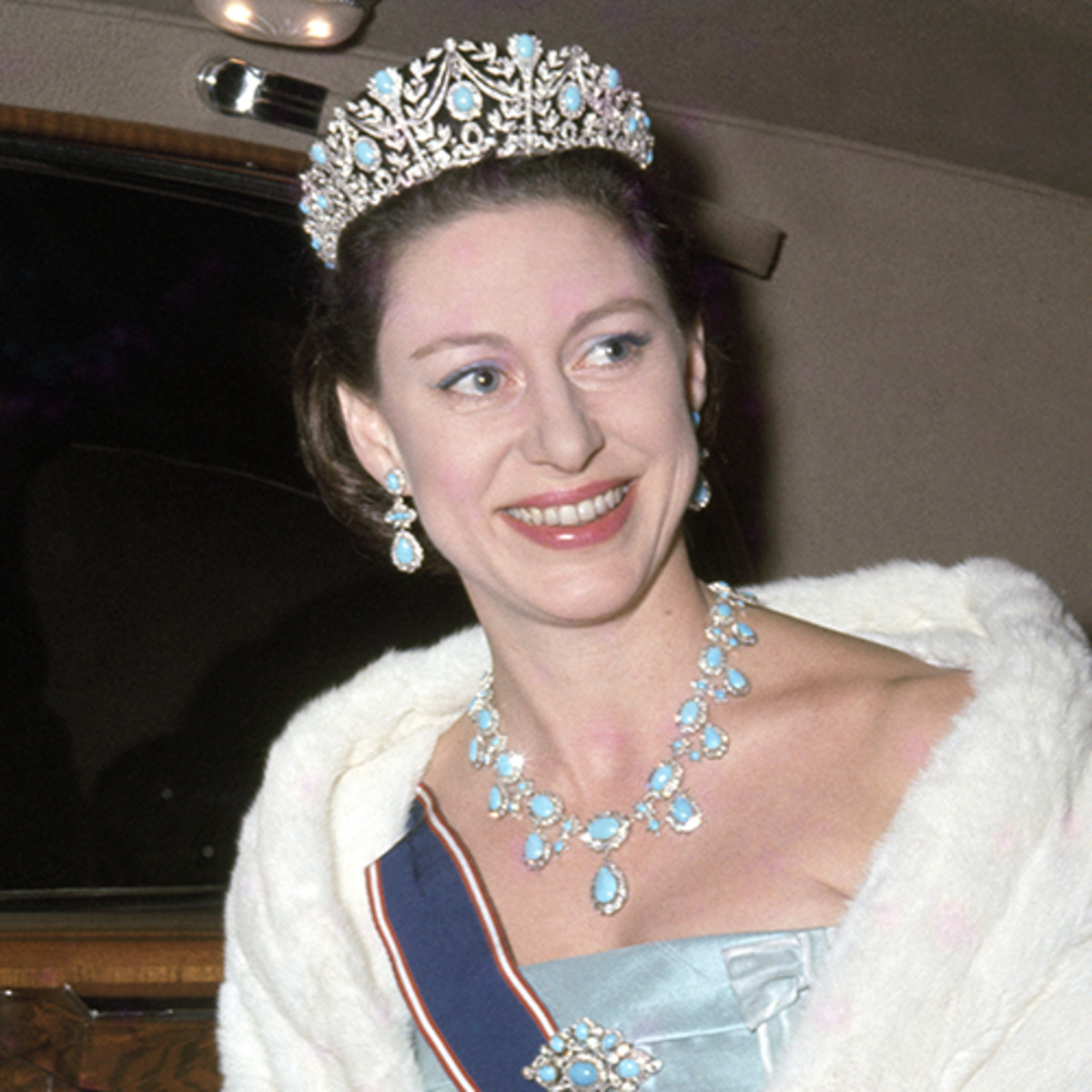 The Firm took matters into its own hands and dispatched Peter to Brussels as an attaché to the British Embassy. At the time, Princess Margaret and her mother were on a tour of Rhodesia. Margaret went on the radio with her decision: "Mindful of the Church's teachings that Christian marriage is dissolvable, and conscious of my duty to the Commonwealth, I have decided to put these considerations before any others." Peter recovered from the rejection, and, at age forty, married nineteen-year-old Belgium, Marie-Luce Jamagne. In a classic rebound, in 1960, Margaret wed magazine photographer Antony Armstrong Jones who received the title Lord Snowdon. The nuptials took place at Westminster Abbey before a crowd of 2,000. They embarked on a six-week honeymoon on Britannia and then returned to their apartment in Kensington Palace. Their son, Lord Linley, was born in 1961, followed by a daughter, Lady Sarah Chatto, in 1964. While Elizabeth surrounded herself with the tweedy and the trusty, the throneless Margaret courted the swinging sixties celebrities-Mary Quant, Rudolf Nureyev, and Vidal Sassoon.
Cracks soon appeared in their marriage and Antony vented by leaving a note on Margaret's desk that began, "Twenty-Four Reasons Why I Hate You." Both had affairs and the princess embarked on a long-term one with Roddy Llewellyn, seventeen years her junior. Three years later, the News of the World published a picture of them in bathing suits on Les Jolies Eaux, her beachfront estate in Mustique in the Caribbean. The press had a feeding frenzy; Elizabeth must have reached for the smelling salts. The marriage ended in a 1978 divorce-the first to take place in the immediate family of a British monarch since 1533, when Henry VIII divorced Catherine of Aragon in order to wed Anne Boleyn.
In her later years, Princess Margaret became Cinderella in reverse. Her tragedy was, unlike her sister, she never found a purpose and spent her life in a never-ending haze of Famous Grouse Scotch, cigarettes, and unfulfilling relationships. Stalked by boredom, she often lay in bed until 11:30 in the morning, sometimes having her hair done twice in the same day.
With her prickly personality, she was not suited to perform the royal rounds of duty and did not bother to mask her boredom. When she visited a home for the elderly, the staff served her dinner only to be told, "This looks like sick." Upon meeting cross-dresser Boy George, she remarked, "England only has room for one queen." Despite her scandal-filled life, during the Duchess of York's divorce from Prince Andrew, Margaret wrote Sarah a scalding note that ironically applied to herself, "Clearly you have never considered the damage you are causing us all…You have done more to bring shame on the family than could ever have been imagined." Margaret had liked Princess Diana until the Duchess of Wales detoured Windsor rules-such as the airing of palace laundry- at which time she turned her back on her nephew's wife.
Depending on her mood, Princess Margaret could be the life of the party or the death of it. Attracted to those with star quality, she demanded they pay homage to her as the daughter of a king and the sister of the queen and to address her as "Ma'am" or "Princess Margaret." Dubbed "the world's most difficult guest," at formal dinners she smoked during the meal and stubbed her cigarette out on a plate, or, on occasion, someone's hand. She received approbation for her insistence she receive motorcycle escorts and government helicopters when travelling in Britain.
As she entered her sixties, Margaret's health deteriorated as a result of years of heavy drinking and a sixty cigarette a day habit. In 1993, she ended up in the hospital with a bout of pneumonia. Five years later, on Mustique, she suffered a stroke that left her with a mild speech impediment. Misfortune again plagued her on her island retreat when she severely burned her feet with scalding-hot bathwater. A further stroke left her sight and mobility impaired that necessitated a wheelchair. The last time she appeared in public was before Christmas for the 100th birthday party of Princess Alice, the Dowager Duchess of Gloucester. Wearing dark glasses, with pasty and puffy face, her altered appearance served as a bitter blow for the woman who had prided herself on her looks, had always been the pretty sister.
In 2002, three days after Elizabeth marked her fiftieth year on the throne, Margaret passed away at age seventy-one, a far cry from the beautiful child who had romped in a fairy-tale castle. The queen announced her sister's death "with great sadness," and Buckingham Palace's flag flew at half-mast. At her internment, art historian Sir Roy Strong observed, "The common touch she had not," and he was her friend. In contrast, her mother, with whom she had a difficult relationship, died a few weeks later. While Margaret's funeral had been an intimate gathering, the Queen Mother's funeral was a state occasion that entailed 200,000 mourners.
The questions remain: would Princess Margaret's life not have been a series of downward spirals had she wed Peter, had she not been a member of the House of Windsor, had she not been the younger sister? As Margaret stated of her supporting role, "I guess I'll be second best to my grave."