The Kent State Pietà (1970)
At one point everybody has felt they were in the wrong place at the wrong time. The saying proved tragically true with the teenager immortalized in the Kent State Massacre photograph. The stark image made Mary Ann Vecchio an unwitting symbol of a turbulent time.
In 2020, as Mary Ann watched the video of George Floyd's last moments, she underwent a déjà vu from a half century before when she had witnessed the final moments of another man. She recalled that the earlier experience had "hijacked her life."
As a hippie kid growing up in Opa-locka, Florida, Mary Ann believed in the magic of rainbows. What dampened her optimism was when her working-class parents—with the pressure of five children to support—had arguments that turned their home into a battleground. Nearby Miami Beach served as Mary Ann's sanctuary, as a place to smoke pot. The local police warned the teenager that the next time they caught her with drugs or she was truant from school, she would end up behind bars. The fourteen-year-old took off, desperate to be any place other than Opa-locka. Hitchhiking across the country, Mary Ann slept in fields and shelters, working odd jobs to earn money for food.
Her magic ended when Mary Ann wandered onto the campus of Kent State University in Ohio during a demonstration against President Nixon's decision to invade Cambodia. A few minutes after Mary Ann struck up a conversation with Jeffrey Miller, the National Guard fired sixty-three shots into the crowd, killing four protestors. John Filo snapped a picture of Mary Ann, arms upraised, kneeling over Jeffrey's lifeless body. The black-and-white picture earned John the Pulitzer Prize; it earned Mary Ann a legacy of pain.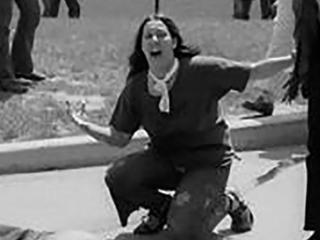 The image of the grieving girl appeared on the front pages of newspapers around the world with a caption that identified her as an anonymous co-ed. The Indianapolis Star, however, outed Mary Ann's identity and the fact she was a teenaged runaway living in a nearby hippie community. The article alerted Frank Vecchio as to his missing daughter's location, and he arranged her return to Florida. Rather than receive counseling for her year on the streets and as a witness to a horrific murder, through her unwelcome notoriety Mary Ann found herself a target of animosity. Her family received hate mail calling her a drug addict and a tramp. Claude Kirk, the governor of Florida, claimed she was "part of a nationally organized conspiracy of professional agitators." Of those days Mary Ann recalled, "I was a mess, like I was trying to punch my way out of a paper bag." After her arrest for loitering and marijuana possession, Mary Ann ended up in a juvenile facility.
Mary Ann married Joe Gillum, a plumber from Kentucky, took his surname, and found a job in a Las Vegas casino coffee shop. The marriage produced no children and ended in divorce. Yet, her spirit proved resilient. As she stated, "I'm still that hippie kid who always sees a rainbow." She has also come to peace with the event that impacted her life, stating, "it was my destiny that I go there." Currently, Mary Ann lives close to Opa-locka where she leaves gifts at the local Walmart parking lot for needy strangers.
In contrast to her detractors, many felt the photograph that garnered Mary Ann more than her fifteen minutes of Warhol fame was a watershed social document that hastened the demise of the Vietnam War. Because it showcased a woman in the vise of unbearable agony, the iconic photograph is identified with the title "The Kent State Pietà."