Still Somewhere
The Story Bank (opened in 2019 )
Maryborough, Queensland, Australia
"Sorrow lies like a heartbeat behind everything I have written." P. Travers
If the east wind blows you into the town of Maryborough, visit The Story Bank to partake of heaping spoonfuls of sugar. The museum was the birthplace of P. L. Travers, the Australian-born author of British nanny, Mary Poppins.
Most people begin their lives in hospitals or homes, but the woman not like most people-Helen Lyndon, (she went by Pamela,) -was born in 1899 on the second floor of the Australian Joint Stock Bank in Maryborough. The family's residence was a perk of her father, Travers Goff, for his position as bank manager. Dad and daughter shared a love of stories though Travers was tight-fisted with praise. A youthful Pamela penned a poem to which he responded, "Hardly Mr. Yeats." Her mother, Margaret, was related to a former Premier of Queensland.
Unfulfilled and miserable as a banker, Travers sought solace in a bottle. Alcoholism led to his demotion to clerk, and the loss of his residence. His death, when Pamela was seven, left her with a trauma from which she never recovered. Reminiscing about her childhood, she recalled, "I was his favorite child, and he was my beloved father. I brought him along with me all through my life." After her husband's passing, Margaret ran out of their house during a thunderstorm, threatening to drown herself in the nearby river. For the sake of her two younger sisters, Pamela distracted them with the story of a flying white horse whose hooves pounded on their tin roof. Bereft of spouse, of support, Margaret moved with her daughters to Bowral, New South Wales, the home of her maternal great-aunt, Helen Morehead, who the children called Aunt Ellie. Helen served as the role model for Mary Poppins as evidenced by her parrot-head umbrella, carpet bag, and oft-repeated phrase, "Spit, spot."
Lacking funds for university, Pamela worked as a secretary in a cashier's office till she quit to become an actress. She toured Australia with a Shakespearean company under the name Pamela Lyndon Travers. Due to her family's disapproval of earning her livelihood on stage, and as an opportunity for reinvention, she departed for England. Her altered autobiography held that her Irish-born father owned a sugar field plantation, that she had grown up near the Great Barrier Reef. The former Helen Lyndon Goff determined not to look back.
To support herself, Pamela contributed poems to the literary periodical, The Irish Statesman, through which she met William Butler Yeats. With characteristic chutzpah, during a rainstorm in Dublin, Pamela gathered rowan bushes branches from the Isle of Innisfree that she presented to the poet. In return, Yeats showed her his canary's eggs. Her editor introduced Pamela to Madge, the daughter of Sir Francis Burnand, a playwright, and former editor of Punch. In a seemingly romantic relationship, the women lived first in a London apartment, then in a nine-hundred-year-old thatched cottage mentioned in the Domesday Book. A revealing photograph of Pamela on an Italian beach wearing only a floppy hat and shorts, was a vacation photo taken by Madge.
In 1934, Pamela was in her Sussex cottage, when Mary Poppins, a character in search of an author, made her appearance-a nanny like no other. She delighted her young charges by sliding up banisters, taking tea on the ceiling, pasting gold stars in the night sky. Her real purpose, however, was to fix the fractured Banks family. Decades later, Pamela elaborated, "I think the idea of Mary Poppins has been blowing in and out of me, like a curtain at a window, all my life." Unable to save her father, Pamela redeemed his fictional counterpart. Mr. Banks received his name after Traver's job as a banker.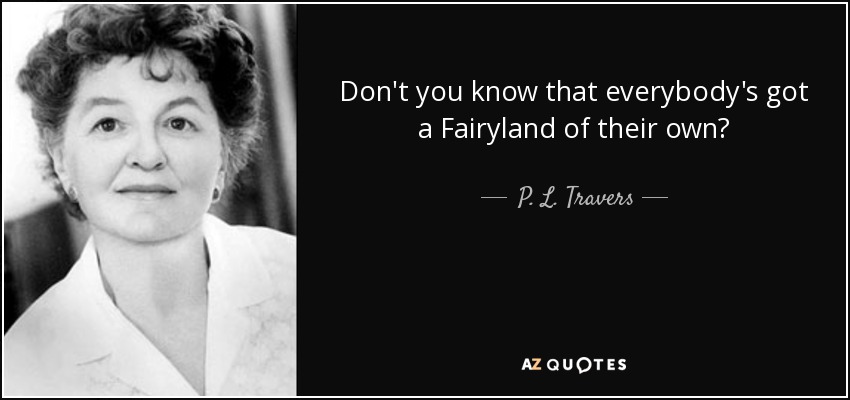 Using the pen name P. L. Travers, Mary Poppins sold millions of copies including those translated into twenty languages, including Swahili. Interestingly, her editor was Peter Llewelyn, the namesake of James M. Barrie's Peter Pan. After E. H. Shepard, the illustrator for Winnie the Pooh, turned down her request for collaboration, his daughter, Mary, supplied the drawings. Pamela's likeness appeared once in each of the six books of the series.
Ironically, while Mary Poppins was a child's dream nanny, Pamela's prickly personality would have inspired youngsters to play hide-without the seek. Setting her sights on motherhood, Pamela offered to adopt her teenaged maid. Despite Pamela's argument that the girl's parents had more than enough children and without the means to support them, they demurred. On a visit to Ireland, Pamela heard about Joseph and Vera Hone, living with their four grandchildren in straitened circumstances. When Pamela held out an offer of adoption, the Hones thought the wealthy writer, author of the world's most nurturing nanny, the answer to their prayers. They proposed she take their six-month-old twins, Camillus and Anthony. In a twist on the prayer, Pamela said she only wanted one. On the advice of her astrologer, and because she preferred his name over Anthony's, Pamela settled on Camillus. At No. 17 Cherry Tree Lane, medicine tasted like candy but that was not the case in Pamela's upscale Chelsea home. Although life consisted of vacations on the French Riviera, life with Mama Travers was not a "jolly holiday." She was appalled when Camillus cried at night, and misbehavior was met with the threat of the orphanage at Tunbridge Wells.
To escape the Blitz, mother and son left for the American Southwest where they lived among the Navajos. The eccentric author took to wearing scarves, flouncy skirts, and armloads of silver bangles. Bisexual, she fell for the Irish Francis Macnamara, father of Caitlin, wife of poet Dylan Thomas. Another chapter of her life was with the Russian George Gurdjieff; she sat at his feet as he spouted his mysticism. The grifter demanded money and sex from his flock.
At age seventeen, the twins discovered each other's existences and shared a reunion at a London pub. In the movie, Mary Poppins, supercalifragilisticexpialidocious is defined as "something to say when you have nothing to say." The brothers might have adopted that code of silence or used choice words regarding their mother.
Worlds collided when, across the ocean, eleven-year-old Diane Disney told her father Walt about Mary Poppins, her favorite storybook character. Over the next decade, Walt made a Herculean effort to acquire the film rights. While most authors would be over the moon to have their novel turned into a Disney movie, Pamela balked. Her fear was the director would sugar- coat her work such as using anthropomorphic creatures with an uncontrollable urge to dance. In 1959, with books sales drying up, Pamela relented. However, she did so with the provision she receive script approval, $100,000 advance, and a five percent cut of the gross, a deal that made her a multi-millionaire. Walt discover that working with Pamela was like swallowing a spoonful of bile. Perhaps he would have forgiven the harridan from hell had he understood P. L. Travers hid Helen Lyndon Goff, that Mary Poppins was her lost Aunt Ellie.
Disney deliberately withheld an invitation for the 1964 premiere; nevertheless, Pamela finagled her way in and watched Mary Poppins as tears coursed down her cheeks-and not from joy. She explained, "They missed the point. It's not about sugar and spice, but something from which we grown-ups can learn."
In her nineties, frail and infirm, Pamela was housebound in her Chelsea home, a white Georgian town house with a bright pink door. (In 2019, her perfect former home went on sale for £4.85 million). Journalists who paid a visit had to follow guidelines: read her latest book, and to refrain from asking personal or stupid questions. Before the west wind took Pamela at age ninety-six, she remained as elusive as ever, "Mary Poppins is not lost. She is still somewhere. You only have to go and find her."
Like the moon, people have a dark side that no one can see. However, the best place to discover Pamela is her childhood home in the 1882 bank in Maryborough. Once the venue of finance, the bank is now a museum dedicated to the author and her beloved character. In the entrance to the Story Bank the Bird Woman sits on a bench, feeding her pigeons, selling breadcrumbs to passerbys for a tuppance. Behind her is a masterful rendition of St. Paul's Cathedral. Another statue is of a bronze Mary, a magnet for selfies. A brick wall displays a black sculpture of a hat and purse with the sign Cherry Tree. Lane. Inside Mary-land is a cornucopia of whimsey: Mary, Jane and Michael perch on a banister while above the trio dangles a chandelier made of teacups. The historic heritage building holds movie memorabilia such as figurines encased in shadow boxes, posters, and props. There are also black-and-white framed photographs such as of Pamela with Walt Disney and Julie Andrews. The walls display quotations, a painted hat-rack with an actual hat, and a door sign with the words: Chimneysweeps & Servants Only. Maryborough continues the whimsey with traffic lights displaying Mary with umbrella down for stop, umbrella up for go.
The View From the Window: Looking out from the bank, Helen must have visualized a world where nothing was so bothersome as flying a kite could not fix-until life taught her otherwise.