Ride Sally Ride (1983)
The monologue that introduced the television series Star Trek, "Space: the final frontier. To boldly go where no man has gone before echoes the fascination man has always had with the heavens." The men who heeded the siren call of the skies are legendary: Shepard, Glenn, Armstrong, Aldrin. Then came Sally Ride who blazed a cosmic trail when she became the first woman astronaut and shattered the glass dome of the galaxy.
The trailblazer of the stars was Sally Kristen, born in 1951, in Los Angeles' San Fernando Valley. Her father, Dr. Dale Ride, was a political science professor at Santa Monica College; her mother, Joyce, worked as a volunteer counselor at a women's correctional facility and founded the Mary Magdalene Project that helped prostitutes escape the streets. Both parents were elders in the Presbyterian Church. Her only sibling was her younger sister, Karen, known by the nickname Bear, later the Reverend Karen Ride, (the Reverend came from her position as a Presbyterian minister). From an early age, Sally was enamored of science and played with a chemistry kit and telescope; when asked what she wanted to be when she grew up her invariable answer: a physicist. The possessor of brains as well as brawn Sally became so obsessed with playing football in the street her parents gave her tennis lessons as a safer alternative. Soon she was competing in national junior tournaments.
Sally attended Westlake School for Girls in Beverley Hills on a tennis scholarship and felt out of place among the actors' daughters and "Bel Air belles." One shining light was her science teacher Dr. Elizabeth Mommaerts who she described as "logic personified." The esteem was mutual, and Elizabeth invited Sally to her home to sample French food and wine.
After graduation, Sally left for Swarthmore College in Pennsylvania but quit after three semesters. She was homesick for California and had decided to pursue a career in tennis. Driven, she practiced several hours a day and took physics courses at the University of California, Los Angeles. In 1970, she enrolled at Stanford as a junior where she was her tennis team's number one women's singles player and garnered a national ranking. During summer vacation, Ms. Ride taught tennis where she met Tam O'Shaughnessy who was to play a pivotal role in her life. Billie Jean King urged Sally to quit college and turn pro. Years later, when asked why she decided to be a scientist instead of an athlete, Sally quipped, "A bad forehand." The Renaissance woman received bachelor's degrees in physics and English (her specialty was Shakespeare that she viewed as a jigsaw puzzle) a master's degree in physics, and a Ph.D. in astrophysics. Sally, who accrued degrees like other girls collected charms on their bracelets, was once asked if she got her brains from her professor father: "I must have because my mother still has hers."
A NASA advertisement in the Stanford student newspaper altered her aspiration to become a professor. Out of the 8,000 applicants, the space agency selected Sally along with five other women and twenty-nine men. They were referred to in NASA circles as "the 35 new guys," and the six who did not fit that description remained tight-lipped. The successful candidates brought scientific and engineering skills to a field that had been the preserve of military male test pilots. Ride said that upon first hearing she had made the cut the one person she wanted to call was Dr. Mommaerts; that was not possible as her former teacher had committed suicide.
As part of her training, Dr. Ride practiced parachute jumping, operating a jet plane, and coping with weightlessness. Sally was not old enough to have applied for the position when women in the space program were either wives, mothers, or spacesuit seamstresses-a nod to "those who serve also stand and wait." When the space agency lifted their iron curtain of gender, the gesture was simply an act of bureaucratic box-checking. The ladies had to prove-to use the name of the 1983 movie about the space race-they had "The Right Stuff."
Ironically, NASA chose Sally to be the first woman for their 1983 shuttle launch just weeks before the Equal Rights Amendment dissolved in defeat. The name of the spacecraft that carried Sally and four male crew members beyond the confines of Earth captured her trailblazing spirit: the Challenger. NASA's historic flight was the first step of the crumbling of the space program's old boys' club, and the news sparked a media frenzy. Speaking to reporters before take-off she politely endured a barrage of questions: would spaceflight affect her reproductive organs? Would she wear a bra or make-up in space? Did she cry on the job? How would she deal with menstruation in space? On The Tonight Show, Johnny Carson smirked that the shuttle flight would be delayed because Dr. Ride had to find a purse to match her shoes. Such were the times. Before the flight, People Magazine featured Sally on its cover with the headline: "O WHAT A RIDE!" and its accompanying caption, "Fed up with those dumb chauvinist questions, America's first woman in space is ready to prove herself." Sally said of the hoopla, "It may be too bad that our society isn't further along and that this is such a big deal."
Cape Canaveral turned carnival the day of the launch, and among the crowd of 250,000 were her proud parents rooting for Sally. Gloria Steinem said of the take-off, "It's an important first because it means that millions and millions of little girls are going to sit in front of the televisions and know they can become astronauts after this." When the shuttle returned to Earth, Sally told the reporters, "I'm sure it was the most fun that I'll ever have in my life." The woman in the eye of the storm refused to accept a bouquet of flowers since the same gift had not been presented to the rest of the crew. President Reagan congratulated the astronauts and told Dr. Ride, "You were the best person for the job."
The golden girl of the galaxy made headlines when she married astronaut Steve Hawley, the first time two active astronauts wed. She piloted a plane to the family-only wedding at his parents' home in Kansas; the bride wore Levis and a rugby shirt. The couple fiercely safeguarded their privacy and never appeared together in public. She explained her reticence, "I've spent my whole life not talking to people, and I don't see any reason why I should start now." Steve appeared an ideal husband; he did not care that his wife was an indifferent housekeeper, a trait she inherited from her mother. He backed her decision not to have children and was fine with standing in her considerable shadow. The Hawley house was "laced with mementoes of the space age," such as shuttle dishes, and bedroom décor was a large photograph of astronauts on the moon. Despite their commonalities, the marriage hit a roadblock as Sally realized the love of her life was not her husband. The truth was something even her ideal husband could not overlook; they divorced in 1987.
The second and last time Ride voyaged into space was in 1984, accompanied by Kathryn Sullivan who became the first American woman to walk in space. NASA cancelled her third flight when the Challenger exploded after 73 seconds on its 1986 fight that resulted in the deaths of all its astronauts as well as the first civilian in space, school teacher Christa McAuliffe.
President Reagan ordered a panel to investigate the twin space disasters of the Challenger and the Columbia, and Ride became the only person to sit on both committees. After the grueling tasks of investigating the death of her colleagues, Sally retired in 1987. At that time, she donated her first flight suit to the Smithsonian National Air and Space Museum where it hangs inside a mock-up of a space shuttle. The light-blue jacket bears a name tag: Sally. Dr. Ride told interviewers that her motivation had never been fame or to make history as the first woman in space. All she had wanted to do was "to fly, to soar into space, float around weightless inside the shuttle, look out at the heavens and gaze back at Earth."
After leaving NASA, Ride joined the Stanford University Security Research Institute, and later she became a physics professor at the University of California, San Diego. In 2001, she founded and served as president of Sally Ride Science, a company whose mission was to motivate middle-school girls to study math, science, and technology and to urge parents and teachers to discourage gender stereotypes. Ride co-authored with Tam, a professor emerita at San Diego State University, five science books for children, one which explained how to make a sandwich in space. (She advised eating it fast before it floated away.) When autographing her books, she always wrote, "Reach for the stars." Interestingly enough, she said educating the young was her greatest accomplishment.
At age 61, Sally passed away from pancreatic cancer at her home in La Jolla, California. She achieved another first through her obituary that she used as a vehicle to come out of the closet. The brief announcement she co-wrote with Tam stated, "Dr. Ride is survived by her partner of 27 years, Tam O'Shaughnessy; her mother, Joyce; and her sister, Ms. Scott, who is known as Bear." Sibling and lover confirmed to reporters that no one should mistake "partner" for business partner. The outing that showcased Sally had been the first gay astronaut generated an avalanche of controversy. Andrew Sullivan, a journalist for The Daily Beast, called Dr. Ride an "absent heroine" who could have used her iconic status to serve as role model for the LGBD community. Those in Camp Sally argued that public figures have a right to their privacy; moreover, she might have felt the disclosure would have engendered repercussions. Conservative NASA would have welcomed a bride marrying a bride as readily as they would have welcomed an invasion of Klingons; mothers would not have purchased books penned by two lesbian authors. The precious privacy she had always sought would have been forfeited had she served as a poster child for gay liberation. Perhaps the most poignant anecdote was shared by Lynn Sherr in Slate when she asked the 92-year-old Joyce if her late husband would have been more concerned that his daughters were gay or that that they were Democrats. "Probably," Joyce responded, "that they were Democrats."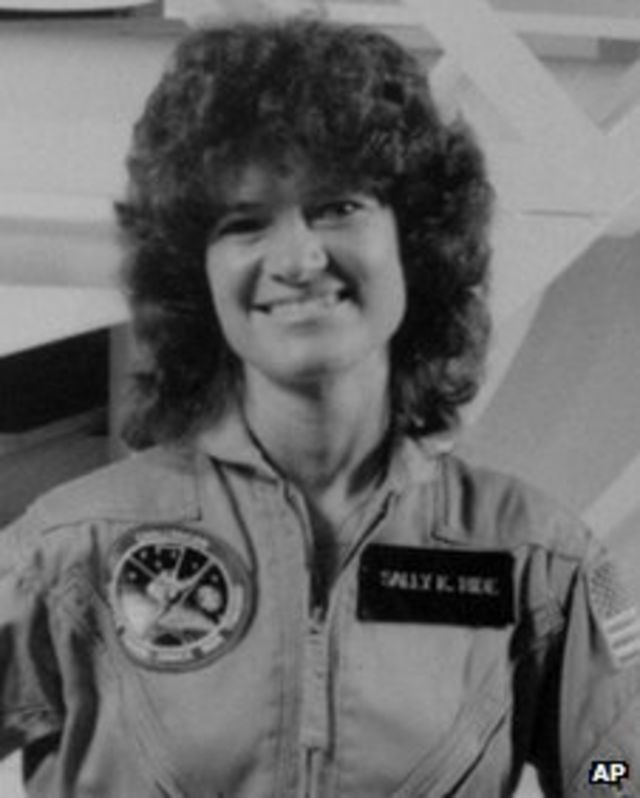 President Obama called Sally "a national hero and a powerful role-model." In a statement, he said she, "inspired generations of young girls to reach for the stars." He also honored her memory with a Presidential Medal of Freedom, one Tam accepted on her late partner's behalf, making her the first woman to do so for a same-sex partner. The post office issued a Forever Stamp with the image of a smiling Dr. Ride in her blue astronaut garb, the space shuttle blasting off in the background.
As the hatch closed on the Challenger, a different door opened, one that allowed American women access to the galaxy. In the crowds of onlookers who had watched the historic launch-among them Jane Fonda and Gloria Steinem- wore T-shirts alluding to the 1966 pop song "Mustang Sally" whose lyric was a fitting send-off for the lady in blue, one who had reached for the stars, "Ride Sally Ride."