Not With Mice
No one used and abused women quite like the greatest artist of the 20th century, Pablo Picasso. The painter eviscerated his models; their images twisted into tortured cubes on canvass. Yet harrowing as these depictions were, they pale beside the real life dramas behind the palette. One of these handmaidens to creation helped rescue Pablo from the angst of his blue period- while simultaneously struggling to break free of the diminutive giant's shadow.
Francoise Gilot met the first man, painter Emile Mairet, who registered an impact on her life from the top of her grandmother's Parisian staircase. When she looked down, she was entranced with the image of a sixty-year-old stranger outfitted with flowing black cape. When she asked his identity, her grandmother replied, "Ah, mais oui, c'etait un artist!" to which Francoise replied, "Ah, moi aussi." "Me too." She was five years old.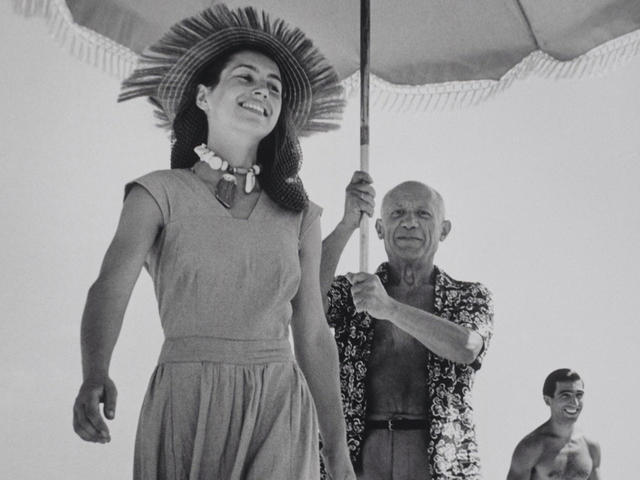 The girl destined for a dual rendezvous with genius was born in France on November 26, 1921; her father Emile owned chemical firms which made colognes for Christian Dior, her mother Madeline was a watercolorist. Although Francoise persisted in her early aspirations, Emile entertained more pragmatic goals for his intellectual only child. According to his dictate, she became a law student at the Sorbonne but dropped out-explaining that with the Nazi Occupation law no longer existed. Monsieur Gilot's parental advice-before throwing her out of the house, "You'd better put on some lead-soled shoes and get down to earth. Otherwise you're in for a rude awakening."
On a May evening Francoise and her friend Genevieve went for dinner at Le Catalan, a small bistro on the Left Bank frequented by painters and writers. At the next table were Pablo Picasso and his companion, raven-haired Dora Maar, the mistress he depicted on canvass as the weeping woman. Dora had also met Pablo at a café, the Deux Magots, where he had become mesmerized when he encountered her playing a form of Russian roulette: she was stabbing a knife between her splayed gloved fingers till she drew blood. The rest of the patrons were aghast; Picasso delighted, and took both gloves and girl home. When Dora noticed her lover was riveted on the girl with the smoky-blue eyes, hair wrapped in green turban-she sent daggers of animosity in her direction. Pablo, born with an abundance of cojones, ignored his girlfriend's fury and made certain his brilliant discourse carried. He progressed from eye contact when he brought over a bowl of cherries and informed her she was welcome to visit his studio. Genevieve warned her against getting involved with the man who was known to be as prolific with his phallus as he was with his paintbrush, but admonition fell on deaf ears. As Francoise wrote in her memoir an affair with Pablo was a "catastrophe I didn't want to avoid." He was the mogul of modern art, she the ingénue the randy old master was used to having for breakfast. Except Francoise was different.
Gilot's interest in the icon was not just admiration for his art but for the courage of his convictions. Unlike France's other expatriates, he did not flee with the Occupation though his 'degenerate' art made him live under the scrutiny of the swastika. Francoise was familiar with the story that Picasso used to hand out postcards of his anti-war masterpiece Guernica to German officers. When one asked if he had made the painting he answered: "No. You did."
Picasso was taken with Francoise's paintings whose images of hawks symbolized the Nazi predators and was similarly smitten with her beauty. No one was surprised when the sixty-three year old painter took the virginity of the twenty-one year old, but they were shocked when they began to live together. Dora's reaction when she was supplanted by "the schoolgirl," was a severe nervous breakdown.
In the beginning, Francoise was the mouse-spouse who subjugated her dreams to pleasing Pablo. She wrote of her life's great passion, "There were moments when it seemed almost a physical impossibility to go on breathing outside his presence." Another surreal by-product of life with Picasso was sailing in a rarified circle: after a visit with Gertrude Stein Francoise vowed never to again enter the famed salon because it meant getting terrorized by Alice B. Toklas. Simone de Beauvois and John Paul Sartre were regular visitors of hers and Picasso. And she once caught Matisse in his garden playing hide-and-seek with his secretary.
Alas, the famed artist proved far from the perfect roommate. His gift of cherries proved an apt metaphor for their relationship-succulent on the outside, pits within. At his insistence Francoise became pregnant with Claude and Paloma, but the day she gave birth to their daughter he refused to allow his chauffeur to drive her to the hospital until he had been dropped off at an important conference. Gilot was also disturbed at being the target of the paparazzi; she felt if one is not a goldfish it is not pleasant to live in an aquarium. There was also the dreaded ritual of waking up the man of the house. The artist underwent an existential blue period every morning and it was up to "la Picasotte," as she was known to the neighborhood, to coax him from depression to studio. And while she was happy to serve as his muse she was reluctant to pose as his model. She explained this was because she never wanted to be regulated to 'the Gilot period' in the fashion of 'the Fernande/Eva/Olga/Marie-Therese/Dora Maar periods.' She said, "I knew that Picasso's way of killing off one woman after the next was to make their portraits."
A further tribulation of being Madame Picasso was it was akin to being Mrs. Bluebeard, the wife of the violent nobleman from a French folktale that murders his wives, who tries to avoid the fate of her predecessors. The difference being Picasso's former flames were on canvass rather than in closet. His estranged wife, the Russian ballerina Olga Khoklova, obsessively stalked Francoise; Marie Therese continued to make Pablo the sun around which she orbited, Dora Marr, though born Jewish, became a nun, explaining, "After Picasso-only God." A further nail in the coffin of their relationship was Pablo began to lose his sexual interest in Francoise after a decade. With the demands of looking after two children and her third, Picasso, she hardly ate. He reproached her, "You look like a broom. Do you think brooms appeal to anyone? They don't to me."
After the Liberation he began a very public affair with Genevieve Laporte-the rude awakening of which her father had long ago warned. She had learned the painful lesson Pablo's first love was art, his second love was himself, and his third was what women could do for him. An oft-repeated aphorism of the great man was, "For me there are only two kinds of women, goddesses and doormats." Gilot was tired of being either. She recalled of her decision, "he always saw me from without, not within. When I left him it was because I knew him but he still did not know me, and I thought, after ten years, that's a bit much."
When she informed Pablo she was leaving the words served as a red flag to his ego, and he became an inflamed Minotaur. He stormed, "No one leaves a man like me!" He threatened her that as his common-law wife she was entitled to none of his hundreds of millions of dollars, and the art world would be put on notice: anyone who befriended her would be his enemy. When a taxi arrived to usher her from the old world to the new he uttered "Merde." In Picasso's eyes Francoise had committed the ultimate sin; she had dared to put her needs before his. And still Picasso, even in his twilight, did not possess insight into his own emotional bankruptcy. He often compared himself to Charlie Chaplin, "He's a man who, like me, has suffered a great deal at the hands of women."
His sense of entitlement can be traced to an anecdote he once shared with Francoise: "When I was a child, my mother said to me, 'If you become a soldier you'll be a general. If you become a monk you'll end up as the Pope.' Instead, I became a painter and wound up as Picasso." The artist's canvasses had always served as his visual diary and after Francoise's departure he painted La Ombre, a gut-wrenching work that shows his black shadow hovering over her nude body in the bed they once shared.
Pablo's retaliation was, upon the death of Olga, to marry Jacqueline Roque, a young divorcee who worked in a pottery shop and became his last muse. Francoise also entered into matrimony with an artist she had known since her teens, Luc Simon. For their honeymoon they went to Venice, where she had often begged Pablo to visit. Although the marriage included the dream vacation and daughter Aurelia it did not last. Luc wrote to his wife's ex, "Francoise may be my wife, but she will always be yours."
After the demise of her marriage Francoise briefly traded her paintbrush for a pen; no one lives with Pablo Picasso for a decade and does not walk away without a juicy tell-all. In 1964, in an attempt to free herself from the Spaniard's shadow, she published My Life With Picasso. Despite its affectionate dedication-To Pablo-it exposed considerable soiled laundry and sent a stake into the heart of his deified reputation. Although the portrait of the artist as a sexist pig was not wholly unflattering-it highlighted his brilliance as well as his blemishes-he was infuriated. He did not appreciate her references to his Bluebeard persona. He sued, unsuccessfully, and in retaliation cut off all contact with her, as well as Claude and Paloma, a vendetta which lasted to his death at age ninety-one. He felt without him Francoise would be destroyed, and yet she was the only one of the Picasso muses to survive: Olga became a crazed hysteric, Dora Marr ended her days surrounded by dust-encrusted relics of her time with Picasso, Marie-Theresa and Jacqueline both committed suicide.
Post-publication Francoise felt, after surviving the Nazi Occupation and Picasso, to trade the old world for the new yet again. Gilot little imagined life in America would lead to another rendezvous with a Colossus. In the summer of 1969, in La Jolla, California, Francoise met Dr. Jonas Salk, the famed inventor of the polio vaccine, through mutual friends. Francoise stated it was love at third sight: the first encounter was at a business lunch, the second at a dinner party, the third when Jonas invited her on a tour of his oceanfront institute. When she left for her home in Manhattan, Jonas followed and then trailed her when she left for Paris. Within a year they decided to walk down the matrimony aisle for the second time. Unlike Picasso who basked in the press, Salk took pains to avoid its glare. Two weeks before their wedding they went for dinner at New York's "21" Club where they ended up dining at two separate tables as they did not want to alert the journalists of their relationship. When they left for their wedding in France so Gilot's mother could be present, they flew as Mr. And Mrs. Peterson, and did the deed five days earlier than the announced date. Even Gilot's children did not know of the event until it was a fait accompli. Upon their return to La Jolla, Francoise settled into Jonas' contemporary wood frame home whose windows showcased a spectacular view of the Pacific. Comparing her two titian husbands Gilot stated, "In Jonas Salk, the man is equal to the artist. Picasso, the man was not on the same level as Picasso, the artist." Unquestionably the good doctor was easier to live with. In her twenty-five year marriage to Salk, Francoise found the joy which had once proved unattainable as the wife of Picasso..
Intrigued by the story of the woman who had been the love interest of two of the men profiled on Time Magazine's most influential men of the 20th century, Larry King interviewed the possessor of the singular romantic resume, curious if she possessed more than normal pheromones. When he inquired what it was like to have captured Picasso and Salk, Francoise responded, "I'd like to think they had me. Lions mate with lions, not with mice."