Miracle of Miracles (1851)
In 1905, residents of the Russian village of Anatevka congregated to see Motel the tailor's new arrival: a used sewing machine. The townspeople were too caught up with the modern marvel to think about the name embossed in white against a black background: SINGER-after Isaac Merritt Singer.
Mahatma Gandhi, who used a Singer while incarcerated in a British jail, pronounced it, "one of the few useful things ever invented." The man who started a revolution was one of several children born in Pittstown, New York, to an impoverished German-Jewish immigrant, Adam Reisinger, and his American wife, Ruth. His education at age twelve when he left home and he supported himself as an actor, cabinet maker, and ditch-digger. In 1850, he saw a sewing machines that tailors claimed cut down shirt making from fourteen hours to one. Isaac scoffed, "What a devilish machine! You want to do away with the only thing that keeps women quiet, their sewing!" Nevertheless, the invention intrigued him, and Isaac made innovations such as a presser foot and the ability to sew curved and continuous seams. He stated of his new improved product, "I don't give a. damn for the invention. The dimes are what I am after."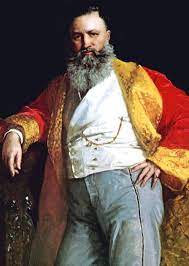 He christened his product after himself and introduced the installment plan that put Singer sewing machines in homes around the world. There was some backlash: a cartoon sneered, "What mischief might women make with free time on their hands?" Another asked, "Why would you buy a sewing machine when you can simply marry one?" The dimes poured in and within a few years Isaac became a multimillionaire. The Wright brothers made the covering for their first airplane's wing in a Singer sewing machine; Admiral Richard Byrd, the polar explorer, brought six of the machines on his Arctic explorations.
With fortune secured, Isaac draped his six-foot four frame in flamboyant fashion: coats of blue velvet lined with pink satin. A ladies' man, at age nineteen he had married fifteen-year-old Catherine Haley with whom he had two children. At the same time, he carried on a fourteen-year long relationship with Mary Ann Sponseler that produced eleven children. However, when Isaac divorced Catherine, he did not marry his mistress. The woman scorned hung her dirty linen in public and it came to light there were three more Singer families living within four blocks of one another. To avoid the scandal, Isaac took off with Isabella Eugénie Bayer, who became his second wife. They bought a castle, dubbed The Castle," in Yonkers that was large enough for a reunion with eventually included a progeny of twenty-two. Perturbed at his notoriety, Isaac retreated to England where he lived in another regal residence dubbed "The Wigwam." Although unaware of his salacious past, the British upper echelon snubbed him because he was "in trade." His 1875 passing ended his further repopulating the world.
The colorful Isaac had colorful offspring: one of his sons founded Palm Beach and was the lover of dancer Isadora Duncan; a daughter married a count, a match of which author Marcel Proust approved. But the greatest brush with immortality involved Isabella who had moved to Paris as a very wealthy widow. Her second husband was the Duke of Campo Selice of Luxembourg. At age thirty-six, the Duchess caught the eye of August Bartholdi who allegedly immortalized her face in his sculpture, the Statue of Liberty.
The story of Isaac, from penniless boy to multi-millionaire, whose brainchild became a multi-national industry, is reminiscent of the lyrics that Motel the Tailor sang while dancing in the field in Anatevka, "Wonder of wonders, miracle of miracles."