Finger Lickin' Good (1952)
While chowing down to a meal of fried chicken, biscuits, mashed potatoes, one is too engaged to think about the gentleman behind the Kentucky Fried Chicken mascot. But when the feeding frenzy abates, it might be interesting to learn about the famed father of fast food, Colonel Harland Sanders.
Fried chicken, a staple of the South, is forever linked to the entrepreneur who made the Blue Grass state associated with more than its annual derby. Harland David Sanders was born on an Indiana farm in 1890. After his father's death, his mother took a job in a tomato cannery and left her six-year-old-son to cook and care for his two younger siblings. Harland left school in the sixth grade; at age sixteen, falsifying his birth date, Harland served as a Roosevelt Rough Rider in Cuba. Upon his discharge, he married Josephine King from Alabama. To support his wife and three children, Harland worked innumerable jobs including that of 'midwife.' At one point, he worked in a railway by day and studied law at night. Onery, he lost his job after a brawl with a fellow worker; his law career tanked after he exchanged punches with his client in court.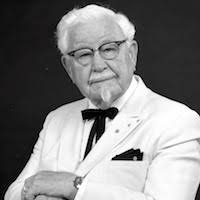 In 1929, Harland opened Sanders' Café in the back of a service station that he operated in Corbin, Kentucky, where bootlegger fights were resolved with bullets. An argument between a rival gas station owner ended with Harland shooting him in the shoulder. The renown of the Sanders' eatery spread leading Harland to shut down the gas tanks. His eureka moment was when he perfected the magic blend of eleven herbs and spices used to coat his chicken. The recipe remains top secret and is kept in a vault in corporate headquarters in Lexington, Kentucky, protected by motion detectors and surveillance cameras. The instructions are written in pencil, in Harland's handwriting, on a piece of notebook paper. The Colonel Sanders Technical Center contains eleven vials of the ingredients embedded in a concrete block. In honor of his service to the state, Governor Ruby Laffoon of Kentucky bestowed on him the title of colonel. When the interstate closed, business dried out, and the Colonel took to the road with his secret spices and his second wife, Claudia. Their affair ended his first marriage. His insatiable libido and prodigious use of cuss words belied his charming exterior.
At age sixty-five, with only his social security check to live on, Harland sold franchises, and by 1964 he had 900 KFC outlets in the United States, and, England, and Japan. In the same year, Harland sold his company for $2 million-$15 million today-to John Y. Brown, a husband of a Miss America and later a Kentucky governor. In 1971, the company merged with Heublein, Inc. in a $250 million stock transaction. Knowing the original celebrity chef's marketing potential, the new owners kept him on as spokesperson for $200,000 a year. In commercials the Colonel explained how each piece of his chicken was dipped in an "egg warsh before frying." He wore a white suit every day: heavy wool for winter and light cotton for summer. The colonel explained his color preference stating the flour blended in when he had to wipe flour from his hands. He housed his fifteen suits in a wardrobe in his gabled mansion. In 2013, a Japanese KFC owner, bought the trademark outfit at auction for $21,510.
Never understanding the appeal of retirement, Harland stated the only time he would do so was when they carted him off to the funeral home. In 1980, at age ninety, Harland passed away; in tribute his body-clad in white suit- lay in state in the rotunda of the Kentucky State Capitol. HIs final resting place is Cave Hill Cemetery in Louisville, Kentucky, where Muhammad Ali is also interred. Although many believe the Colonel mascot is as fabricated as Ronald McDonald's, the biography of the entrepreneur who turned chicken into barrels of billons makes for a biography, that in Harland lingo, is "finger lickin' good."