"Jars of Hope"         (1946)
Hamlet railed at Ophelia, "God hath given you one face and you make yourselves another." Although the Prince of Demark viewed makeup as female duplicity, a twentieth century woman used cosmetics to create a billion-dollar blue empire. Although the tycoon became a household name to millions of women, few are privy to her saga.
Josephine Esther was born in Corona, Queens, in 1908, the daughter of Max Mentzer and Rose, Jewish immigrants from Hungary. Her family called her Esty (the diminutive of Esther and the name of a favorite grand aunt.) A childhood chore was to wrap hammers and nails at Christmas as a present to customers.
Although the couple and their six children lived in an apartment above their store, when Rose's brother, John Schotz, arrived from Vienna, they took him in. John, who had been trained as a chemist in Europe, made cosmetics and creams on the gas stove. He designated his niece as saleswoman, and their repertoire consisted of a turquoise eye shadow and a lipstick, Duchess Crimson, named after the Duchess of Windsor. Her marketing strategy was her motto, "There are no ugly women, just lazy ones."
In 1930, Esty married Joseph Lauter, a fellow first generation Jewish American whose parents had immigrated from Austria. The marriage ended in divorce, but they remarried in 1942. They remained devoted to one another and had sons, Leonard Allen and Ronald. The couple ventured into the cosmetic business and christened it Estée as they felt it carried more panache than Esty. Another name change was Joseph used his family's original surname of Lauder; an immigration officer had been responsible for its misspelling.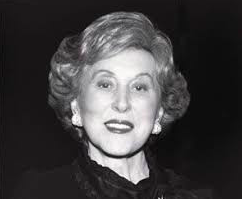 The Lauders decided the signature color for their products would be an eye-catching blue. Armed with chutzpah, Estée-she took her company's name as her own-tempted customers with the pitch, "Time is not on your side, but I am." The couple's big break came when Saks Fifth Avenue agreed to carry their brand, a store where well-heeled ladies used the three most beautiful words in retail: Charge it please." An entrepreneurial coup with a bath oil, Youth Dew. When a high-end store in France refused to carry her product, Estée "accidentally" spilt Youth Dew on its floor. The ruse worked when customers inquired after the lovely scent. A stroke of marketing genius was when Estée gave customers a free gift with purchase and sent freebies to high profile women such as Princess Grace of Monaco. Perfume also became a company staple; Mrs. Lauder said of the scent of a woman, "You can get anything you want from men with perfume."
The profits came rolling in, and the high priestess of beauty appeared in photographs alongside Princess Diana, Nancy Reagan, and Princess Grace. With their many-splendored bank account, they purchased princely pleasure domes in Manhattan, Palm Beach, London, and France. The founder of the empire was always impeccably dressed in suits from Chanel-purchased six at a time-and she sported tiaras at the New York Met. Estée rejected President Nixon's offer to make her an ambassador to Luxembourg (she blamed her husband who joked, "I'm not going to carry her bags.") France awarded her a Légion d'honneur.
Estée last public appearance was at her firm's 50th anniversary party at the New York Museum of Modern Art in 1966. With her fortune of $400 million, Estée had undergone the metamorphosis from the girl from Queens to the Queen of beauty. Mrs. Lauder's business savvy was there from the beginning when she called her cosmetics, "Jars of hope."