"Boop-Oop-a-Doop!"                    (1930)
Majer "Max" Fleischer was born to a Jewish family in Kraków, Poland, whose family settled in New York City. Fleisher did not waste a lot of ink on his brunette bombshell's clothes, and he created a character who refused to take a backseat to her leading man. Unlike her contemporaries- the feminized version of their male counterparts-Minnie Mouse was a dead ringer for her man Mickey with the addition of lengthy eyelashes and an oversized pink bow-she was her own lady. While Disney princesses came across as chaste, Max's heroine was chased.
The original Betty was Gertrude Sanders, a 1920s jazz singer who performed in Harlem's Cotton Club under the stage name Esther Lee Jones. Her nickname was Baby Esther whose signature song, "Boop-Oop-a-Doop!" led to her christening as Betty Boop. The Jazz Age Jezebel offered a welcome respite to a country mired in the Great Depression. While Disney films were awash with anthropomorphic mice and birds, Max featured a real-life pig. As a naughty but nice working gal in a circus, the circus owner asked Betty, "Do you want to keep your job?" then whispered something that resulted in a resounding slap. She then burst into song, "You can feed me bread and water/Or a great big bale of hay/But don't take my boo poop a doop away!" Boop had popularized sexual harassment seventy-four years before the Me-Too movement.
Max adopted her appearance and her trademark expression in his films; though her hair was inky-dinky black, her skin tone was snow-white. Betty debuted in Dizzy Dishes and became a formidable rival to those born from the hand of Walt Disney. Although B. B. generated millions of dollars in revenue from television networks and the sale of merchandise, Esther never received financial compensation, never received acknowledgement.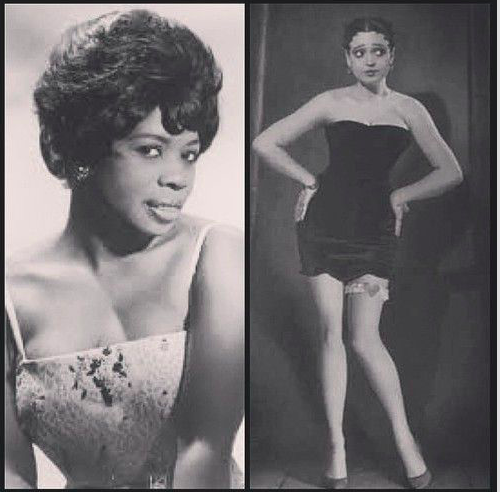 Helen Kane, a popular white singer famous for her hit song, "I Wanna be Loved by You," sued Fleisher in 1934 for $250,000, claiming he had exploited her image and act. Esther, who was either living in Paris or had passed away, did not show up to testify. Helen lost her lawsuit when it came to light that she had copied her character after the star of the Cotton Club.
The femme fatale's popularity came to a halt when the Hayes Code, the Hollywood censorship committee, slut-shamed her appearance. They did not approve of a gal who, at any moment, could burst out of her bustier. As a result, her neckline grew higher, and her hemline became lower. In a nod that you can't keep a feisty ink drawing down, she remerged from the ashes of her career and fans remained besotted with Boop. In 1998, Betty made an appearance in Who Framed Roger Rabbit? In 2017, designer Zac Posen unveiled two red dresses inspired by the cartoon flapper; MAC Cosmetics released a lipstick, Betty Boop Red, and Lancome used her image as their spokeswoman. Max would have been taken aback that his little lady, who he drew with a total of nine eyelashes, would serve as the accessory of a mascara campaign. A video promoting the product features Betty, in her high-pitched voice, stating, "All stars have a secret: just say it with the eyes."
The bigger secret, however, is Esther Jones, formerly of the Cotton Club, whose image, though she sashays on the stages of media and make-up, has become a forgotten footnote of animation lore. What can one say but, "Boop-Oop-a-Doop."