From Raggedy to Riches                   (1915)
The button-eyed ragdoll has her imprint on hundreds of products in what has become a multi-million-dollar empire. Her forever smiling face emblazons bibs, greeting cards, and stationery. In 1971, the ginger-haired sweetheart rode into pop-culture when Raggedy Ann and her partner in crime, Raggedy Andy, made an appearance in the Tournament of Roses in Pasadena, California, where their images were created from thousands of varicolored chrysanthemums and roses; the duo paraded along the avenue in their own float. In addition, Raggedy Ann is the heroine of twenty-two hardcover books published by Bobbs Merrill that made her an international favorite.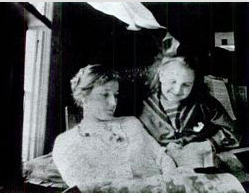 The birth of Raggedy Ann began when Marcella Gruelle discovered a doll in her attic that had belonged to her grandmother. After she showed her treasure to her father, John, he painted a contagious smile on its worn visage and a junior-size American folk heroine was born. The inspiration for her name came from two poems by fellow Hoosier, James Whitcomb Riley, "The Raggedy Man" and "Little Orphant Annie." The treasure became Marcella's most cherished possession and accompanied her everywhere. Marcella passed away at age fourteen after receiving a vaccine against smallpox from a contaminated needle, leaving her brothers, Worth and Richard, and parents, mired in grief.
John made Marcella the central character in stores about a girl who found a mop-headed rag doll in an attic. Gruelle said his writing creed was, "Books for children should contain nothing to cause fright, suggest fear, glorify mischief, excuse malice or condone cruelty." The stories always ended with a moral advocating he virtues of kindness and unselfishness. No matter what vicissitudes she endured- getting washed and put through the wringer, falling off a kite, landing in a bucket of paint-her painted on smile remained intact. Thus, Miss R.A.'s cotton stuffed head only held sunny thoughts. As the feisty red head stated, "And you and anyone else can print the same magic words, I LOVE YOU, upon your hearts if you wish. And when you do, then you too, will feels just as if a great rainbow of happiness was shining inside you and you will want to help others just as I do." To promote the sale of his book, Gruelle produced a Raggedy Ann doll, displayed in a department store window beside his books. Requests came pouring in for the prop and John decided to make them on a commercial basis. Each doll, that carried a price tag of $2.50, came with a heart sewn onto her chest with the words, "I love you." She continues to tug at countless heartstrings, and her sales generates millions of dollars for her current manufacturer, Knickerbocker. In Canada's Expo 67, the organizers exhibited her with the caption, the "classic American doll."
Since the arrival of Raggedy Ann a century ago, she has undergone many a transformation: she was art deco'd in the 1930s and miniskirted in the 1960s; her heart has transformed from cardboard to painted on. And she has passed the litmus test of canonization with the Raggedy Ann theme park in Indianapolis.
America's love affair with its beloved redhead was made manifest in 1997 when she received her own postage stamp, followed by her 2002 induction into the National Toy Hall of Fame. The market value of an antique Ann is $3,000 that reveals she had trod the path from raggedy to riches.