Is There Still Sex?      (1994)
Before the four female Musketeers cut a swath of men, money, and Manolos in Manhattan, there was the real-life party girl who used her nightly escapades as fodder for her column. While the sexual anthropologist is not as famous as her fictional alter ego, she nevertheless experienced her fair share of beddings, breakups, and B.F.F.s.
The It Girl of the 90s grew up in Glastonbury, a bedroom community in central Connecticut. The Bushnell family had impressive New England roots: her paternal ancestors arrived in America in the 1630s and participated in the Revolutionary War. Her father, Calvin, was a scientist who invented the fuel cell used on the Apollo space mission of the 1960s. The eldest of three daughters, Candace ran away at eighteen and described her hometown, "We used to call it Glastonboring. It doesn't have a movie theater and everybody loves horses. It's that sort of place." Candace enrolled in Rice University in Houston, Texas, but she left before earning her degree, seduced by the siren call of New York City. Of her sow your wild oats life, she described herself as "every parent's worst nightmare." She frequented the legendary Studio 54 nightclub, moved in with a 64-year-old director, and partied all night. The plan was to support herself as an actress; however, the closest she came to a movie credit was a Burger King audition. Life as a freelance writer was a struggle; her lowest point was when her landlord evicted her from her sublet for delinquent rent. While couch-surfing at her friend's home, at age thirty-five, Candace had her Cinderella moment.
The New York Observer offered her a column where she wrote about her flings and friendships and offered a shrewd social commentary on the sexual politics that dictated Manhattan's dating scene in the mid-Nineties. The column's title, Sex and the City, was a play on Helen Gurley Brown's 1962 advice book, Sex and the Single Girl. To camouflage her amorous life from her parents, she created a fictional alter ego: Candace Bushnell became Carrie Bradshaw. In 1995, Ms. Bushnell was at the Bowery Bar at midnight, accompanied by Ron Galotti, (Mr. Big) when she received an offer of $25,000 to turn her material into a book. What followed was a six year HBO series in which Sarah Jessica Parker portrayed Bushnell, a hit movie and a sequel, fan bus tours to Carrie's apartment stoop. Sex and the City became a cultural litmus test and made Candace the possessor of a $40 million fortune.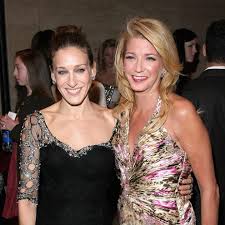 Unlike Carrie who married Mr. Big-whose name was either a reference to his bank account or his appendage-her nine-year marriage to Charles Askegard, a ballet-dancer ten years her junior, ended when he left her for a twenty-three year old dancer. The woman whose name is synonymous with dating traded sex and the city for celibacy and the countryside for a five year fallow period post separation. Candace returned to Connecticut where she walked her dogs Pepper and Prancer, rode horses, and wrote. After four years, she girdled herself once more for the battle for romance and returned to Manhattan. Her ninth novel revolves around the lives of women negotiating "Middle Aged Madness." The book chronicles the struggle to feel sexy in a later life body. More than a treatise on relationships, it also delves into the issues of divorce, bereavement, the failure of the fairy-tale ending. As for finding her next Mr. Big, the guru of relationships said, "Listen, I would be very happy to find a guy my age, reasonably successful who was once hot. A bit like me." Or, as Carrie would phrase it, "And so I returned to my old stomping grounds. As I crossed the bridge into Manhattan, now a middle-aged, single white woman driving a sensible SUV with two large standard poodles in the back, I had to ask the obvious question. Is there still sex in the city?"