"Il Figlio Mio"  (1929)
The Victorian adage of children should be seen and not heard embodies the traditional educational system. Teachers serve as the sage on the stage, pupils empty vessels needing filling. The paradigm shift came about through a twentieth century miracle worker whose name, if not her biography, spread throughout the world.
Ironically, the foremost authority on pedagogy was from a milieu that did not prioritize female education. Maria Montessori was born in Chiaravalle, Italy, in 1870. Her mother, Renilde, instilled a sense of compassion when she encouraged her to take up knitting to aid the poor. Bored at school, intellectual stimulation arrived when the family moved to the cultural mecca of Rome. Although her parents wanted her to be a teacher, she set her sights on a medical career though he University of Rome believed medicine was the provenance of men. The assistance of Pope Leo XIII brought admittance yet the professors did not permit her to perform dissections alongside her male colleagues. In 1896, Dr. Montessori became the first Italian woman to earn a diploma as a physician.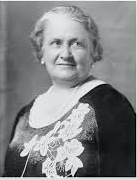 After graduation, Maria joined a research program at the Psychiatric Clinic of the University of Rome, working with mentally ill children where she became convinced that helping her patients was as much a matter of education as of medical treatment. In 1906, the Italian government put Montessori in charge of a state supported program that had sixty students from Rome's slums. Her unique approach was to forego desks for tables and chairs; she eschewed conventional classrooms where "children, like butterflies mounted on pins, are fastened each to his place." Realizing her niche was as an educator more than as a physician, in 1929 Maria established the first Montessori School-the Casa dei Bambini; sister establishments soon spread throughout the world.
Maria fell in love with her colleague, Dr. Giuseppe Montesano that resulted in the 1898 birth of Mario, her only child. As an unwed mother in Catholic Italy would have been a disgrace, the parents entrusted their son to a farming family in the countryside. In 1912, with the passing of her mother, Maria brought the teenaged Mario back to Rome; although she did not acknowledge him as her child they developed a powerful connection.
At the invitation of the Spanish government to implement her pedagogy, Maria and Mario moved to Barcelona where they lived until the rise of Franco's dictatorship. At the same time, Nazi Germany closed all Montessori school and the books she had authored on her methodology ended up in a Goebbels' bonfire. Her refusal to work with Mussolini with his fascist youth movement likewise ended the closure of all facilities that bore her name. Through Ada Pierson, Mario's second wife, Maria, her son, and four grandchildren settled in Amsterdam.
In 1939, Maria and Mario travelled to India for a three-month tour to share the Montessori Method. However, with the outbreak of World War II, as Italian citizens, the British who controlled India arrested Mario as an enemy combatant and placed Maria under house arrest. In 1946, they returned to the Netherlands, the country where she lived for the remainder of her life-a life where she had met the famous and infamous: Mussolini, Queen Victoria, and Gandhi, and had been the recipient of three Nobel Prize nominations. Although known for her achievements, one of her greatest breakthrough was just before her 1952 death, she publically acknowledged Mario. In her will, she identified him as, "Il figlio mio"-my son.