Il Drake
Arguably, one of the world's greatest pick-up lines is, "Do you wanna go for a ride in my Ferrari?" If the answer was affirmative, you can thank car-tsar Enzo Ferrari.
The man who would be praised as "the pope of the North" was Enzo Anselmo Giuseppe Maria Ferrari, born in 1898 in Modena, the Italian village that produced opera great Luciano Pavarotti. At age ten, his father, Alfredo, took him and his brother, Alfredo Jr., (Dino,) to Bologna to watch the Coppa Florio that led to his dream to become a racecar driver. His back-up plans were to be an opera singer or a sportswriter. In 1916, Enzo and his mother, Adalgisa, suffered a twin tragedy with the deaths of Alfredo and Dino. The following year, Enzo served in the Italian army where he shoed mules for the 3rd Alpine Artillery Division. After contracting the Spanish flu, in a convalescence hospital, he awoke to the sound of the hammering of coffin-makers that reminded him of the noise from his father's metal work business.
Upon his medical discharge, after Fiat rejected him, Enzo obtained a position as a driver for Alpha Romero. As a reward for his victories, Mussolini named Enzo a Commendatore of the Kingdom of Italy. After one race, Count and Countess Baracca, the parents of a fighter ace killed in World War I, gifted him the symbol, (based on their family coat-of-arms) that had adorned their son's plane, the Cavallino Rampante (Prancing Horse.) Enzo changed its background to yellow, the color of Modena. When wife Laura, became pregnant, the Ferraris decided it best to bid arrivederci to his career. Their only child was born in 1932; they christened him Alfredo; from its diminutive of Alfredino, he went by Dino.
In Modena, Enzo founded the Auto-Avio Costruzioni; however, Mussolini halted the production of cars and the plant transformed into a munitions factory. In 1943, Enzo relocated ten miles away to Maranello; the Allies bombed the site in 1944 and 1945.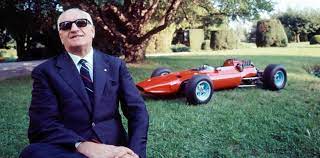 The visionary designed his first car on a sheet of wrapping paper. His red Ferraris- (all Italian Grand Prix entries were assigned that color,) raced to victory in Le Mans and Monaco. Tragically, many of the drivers perished in fiery crashes. In 1957, the Marquis Alfonso de Portago lost control of his Ferrari that resulted in his death, his co-driver, and nine spectators. The Vatican newspaper, Osservatore Romana, denounced Enzo as the mythological Saturn who devoured his own children. Upon learning of a certain fatality, Enzo responded, "And the car…?" He faced a charge of manslaughter for which he was acquitted. Even more crushing was Dino's passing, at age twenty-four, from muscular dystrophy. His death left Enzo reeling; he had once stated, "When a man tells a woman he loves her he only means that he desires her. The only total love in this world is that of a father for his son." His heir then became What he had Piero, his secret son he had fathered with his mistress, Lina Lardi. When Laura died, Enzo gave him the surname Ferrari, as well as 10 percent of company stock that made Piero a billionaire.
In Moderno stands the Enzo Ferrari Birthplace Museum that includes the house where the inventor was born as well as a structure with a gleaming yellow aluminum roof made to resemble the hood of a Ferrari. Memorabilia include the inventors trademark sunglasses, his birth certificate, the fountain pen with purple ink he used for correspondence. A final operatic thread occurred when a Sardinian gang plotted to snatch the auto legend's corpse for ransom. The seed of Enzo's genius: when asked what was his favorite Ferrari he responded, "That which is yet to be built." No wonder the pressed dubbed him, "Il Drake." "The Dragon."