I Do Not Give a Damn (1893)
"The first thing I do in the morning is brush my teeth and sharpen my tongue."
Legions of literary ladies entertain the dream of heading for New York City to become another Dorothy Parker, the rapier wit who achieved renown as the Guinevere of the Algonquin Round Table, a group of Manhattan writers and critics. Would-be Parker acolytes might reconsider walking in her pumps if they understood the pain behind Mrs. Parker's wisecracks.
The woman who descended on New York City, a fire-breathing dragon torching pretension and pomposity, was the daughter of a prosperous "cloak and suitor," (her description) J. Henry Rothschild and Eliza Annie. When anyone asked if she were a relation of the banking family, her invariable response, "My God, no, dear! We'd never even heard of those Rothschilds!" Dorothy, a premature baby, quipped that her birth was her first and only time she didn't arrive late. Upon being asked her ethnicity, Dorothy's answer-one she claimed she would use as the title of her autobiography: mongrel, a reference to her Christian/Jewish parentage. Her obsession with death can be attributed to her mother who "promptly went and died on me" when Dorothy was five years old. An anecdote illustrated the lack of connection with her siblings. Her brother's friend pointed at her and asked if she was his sister. His response: "No."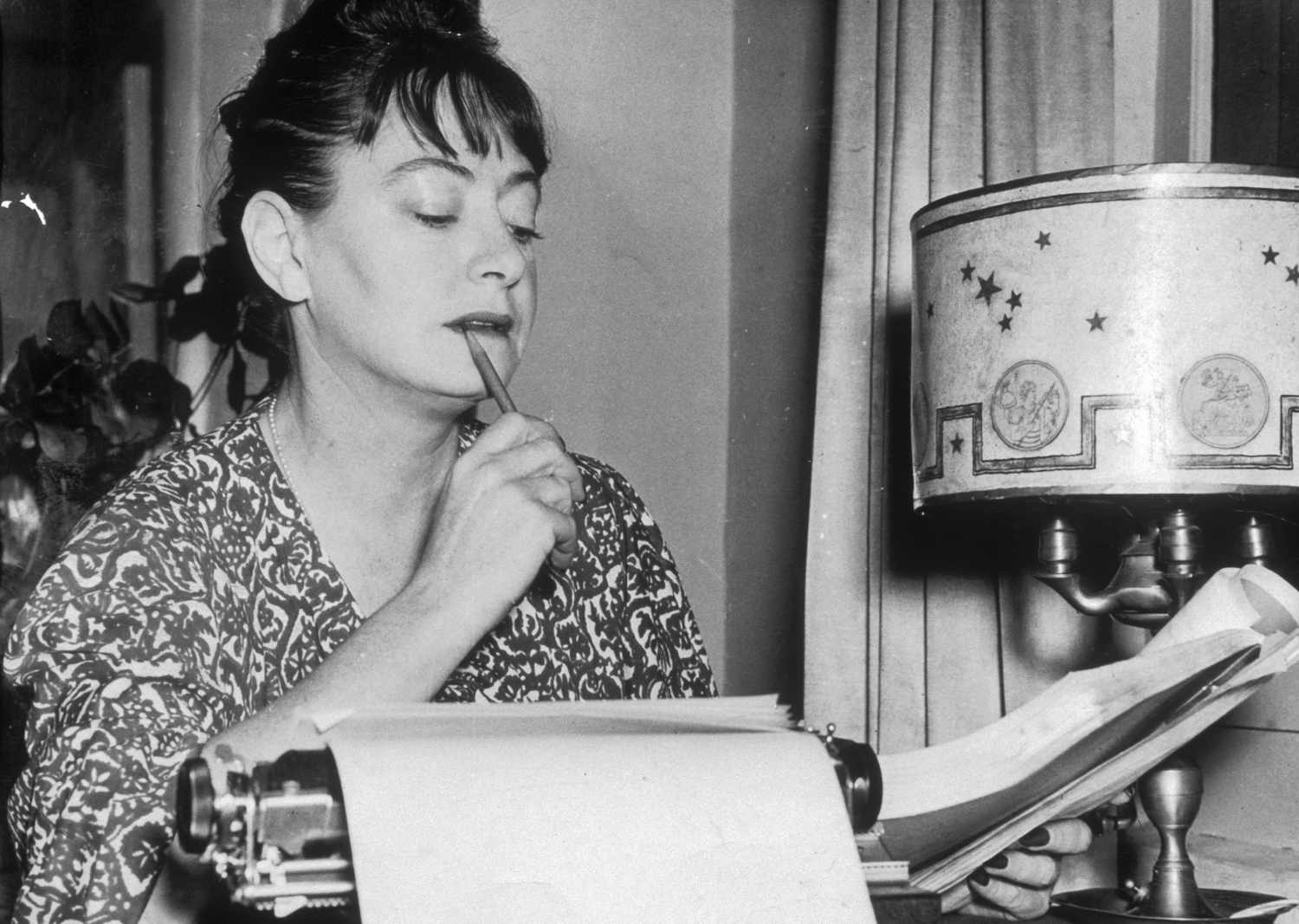 Dorothy described herself as "a plain, disagreeable child with stringy hair and a yen to write poetry," and her self-esteem was not improved when her father and despised stepmother, Eleanor, enrolled her in Miss Dana's School in Morristown, New Jersey, followed by a stint at the Convent of the Sacred Heart school in New York. Her insistence the Immaculate Conception resulted from spontaneous combustion left the nuns unimpressed, and her expulsion, which she referred to as her firing, ended her education.
Her life-long activism manifested itself on the occasion she observed a Christmas scene from her window. She recalled, "I think I first knew what side I was on when I was about five years old, at which time nobody was safe from buffaloes. My rich aunt-a horrible woman then and now-had come to visit. I remember going to the window and seeing the street with the men shoveling snow; their feet wrapped with burlap. And my aunt said, 'Now isn't it nice there's this blizzard. All these men have work.' I knew then that it was not so nice that there were men who worked only in desperate weather." She later groused of the wealthy, "They used to go to Ellis Island and bring them, still bleeding, home to do the laundry."
Henry had invested poorly, and his death in 1914, hastened by grief at his brother's loss on the Titanic, necessitated Dorothy to work as a piano player in a dance school. As Europe was marching over the precipice, Miss Rothschild sent out her poem, "Any Porch" that lampooned the spoiled upper-crust ladies of Connecticut. She was over the moon with her acceptance from Vanity Fair and with characteristic chutzpah requested a full-time job; a few months later, publisher Condé Nast hired her for Vogue, another of his magazines. For a salary of ten dollars a week, Dorothy provided advertising captions. Under the photograph of revealing undergarments, she wrote, "Brevity is the soul of lingerie." (The risqué endorsement must have had the nuns reaching for smelling salts.) Writing kept her sane and rhyming diatribes against rules regulating female behavior predated the sentiments of Sex and the City. Dorothy married Edwin Pond Parker II, who returned from the World War I an alcoholic; she claimed to have chosen him for his "nice, clean surname." Even after their 1928 divorce, she went by the name Mrs. Parker.
After P. G. Wodehouse's retirement, Dorothy assumed his position and became the youngest and only female drama critic at Vanity Fair. For the next decade, she savaged playwrights and actors. Of one of the former, she wrote, "The only 'ism' Hollywood believes in is plagiarism;" of a performance by Katherine Hepburn, Dorothy wrote, "She ran the gamut of emotions from A to B." Her legendary wit proved a two-sided sword: Vanity Fair fired her when she made a wisecrack at the expense of Billie Burke, (Glinda, The Good Witch, in The Wizard of Oz) the wife of Florenz Ziegfeld, Jr., the magazine's top advertiser. Colleague Robert Benchley quit in protest, and the friends rented an office near Times Square dubbed Park-Bench. Mrs. Parker observed, "The office was so tiny that one square less and it would have constituted adultery."
Due to its proximity to Vanity Fair's offices, Mrs. Parker and Benchley, along with other authors, congregated at the Algonquin Hotel, nicknamed the Gonk. In order to accommodate the literary lights, owner Frank Chase furnished the regulars with a large round table, and Mrs. Parker, the only female core member, became its spokesperson. While proper women of her era rarely uttered sexual innuendo, during their libelous luncheons, Mrs. Parker remarked of a Yale prom, "If all the girls attending it were laid end to end, I wouldn't be at all surprised." Peripatetic visitors included F. Scott Fitzgerald, Noel Coward, and Harpo Marx. The group became known as the Vicious Circle, and Ms. Parker-friends called her Dottie- reigned with homicidal humor. Behind her verbal blood sport, Dorothy championed sobering topics, ones not considered the domain of the little ladies of the era. She aimed her poisoned barbs at the Roaring 20s prejudices: sexism, racism, xenophobia.
In a nod to the cliché, "looking for love in all the wrong places," Dorothy's second and third trips down the aisle were with the bisexual actor and writer Alan Campbell. She later proclaimed in public he was "queer as a Billy goat." Lured by the lucre of writing for the silver screen, Alan convinced Mrs. Parker to relocate to the West Coast. Mr. Campbell was the possessor of their contract from Metro-Goldwyn-Mayer; Mrs. Parker was the possessor of her old emotional baggage: fear of loneliness, flirtation with suicide, addiction to alcohol. Of the latter, she explained, "I am not a writer with a drinking problem. I'm a drinker with a writing problem." Her liquid lunches-many downed during Prohibition, led to her line, "One more drink and I'd be under the host."
Mrs. Parker and hubby worked on sixteen screenplays that she pronounced were trite. She was unimpressed by her $5,000 a week paycheck; at the height of the Depression, the average family income was $1,500 annually. Her contempt of the rich was apparent in her quip, "If you want to know what God thinks of people with money, look at the people he gave it to." Even her Academy Award nomination for her contribution to A Star is Born starring Judy Garland failed to improve her relationship with Tinseltown. When Louis B. Mayer sent his assistant to complain about a missed deadline, she told the messenger, "Tell him I was too fucking busy-or vice versa."
Dorothy had once compared love to quicksilver: "The harder you clutch it the more it slips through your fingers," an analogy that echoed her romantic history. A master of self-sabotage, her three marriages, (two with Alan Campbell) and other romantic relationships, hit road-bumps. Dorothy chose emotionally unavailable men or those who had the unwelcome appendage of a wife. As per usual, Dorothy hid her heartbreak behind a wisecrack, "Take me or leave me; or as is the usual order of things, both." After becoming pregnant with playwright Charles MacArthur's baby, she had an abortion. Afterwards, she flippantly remarked, "That's what I get for putting all my eggs into one bastard." Although Dorothy had scoffed at love, the last stanza of her final poem, "War Song," showed it actually was her Holy Grail, "Only for the nights that were/Soldier, and dawns that came/When in sleep you turn to her/Call her by my name." Insight as to why Dorothy never achieved a lasting relationship can be gleaned from a phrase she suggested for her epitaph, "If you can read this, you've come too close."
Dismissive of Los Angeles life, Mrs. Parker threw herself into radical politics. Years before, the police had arrested her as she protested the execution of avowed anarchists Sacco and Vanzetti. Along with Oscar Hammerstein II, Dorothy founded the Hollywood anti-Nazi League, the first union for screenwriters, and she set up a committee to defend the Scottsboro boys-eight black youths falsely accused of raping two white women in Alabama. Dorothy smuggled herself into Madrid, and her account of the siege, a condemnation of the Luftwaffe bombing in Spain, is a heart-wrenching account of the country's freedom fighters. Friends who did not measure up to her standards for militancy against fascism were summarily dropped. Alan worried that her involvement with left-wing causes would result in getting them blacklisted by the studios. She called him a coward, a homosexual, and a "fawn's ass." In 1953, the House Un-American Activities Committee launched an investigation into Ms. Parker's left-wing activities. Asked whether she had ever been a member of the Communist Party, Dorothy pleaded the Fifth Amendment; the curtain closed on Tinsel Town.
Disillusioned, in homing pigeon fashion, Dorothy returned to New York; her old compatriots Fitzgerald, Benchley, and Woolcott, (the latter described her as "so odd a blend of Little Nell and Lady Macbeth) had already drunk themselves to death, and for the remaining four years, she settled down to a life that proved the truth of her earlier observation, "We all become the thing we hate the most." Always lackadaisical in finances, Dorothy rented a furnished apartment at the Volney Hotel, on the Upper East Side, a room that would have sent Martha Stewart running for smelling salts: over-flowing ashtrays, unwashed martini glasses, and the remnants of her dog who never mastered the concept of housebroken contributed to the disarray. Mrs. Parker, who claimed she was just a "little Jewish girl trying to be cute," passed away from a heart attack in 1967, at age seventy-three. Her will left instructions for her cremation, and when no one claimed her urn, her lawyer's partner kept them in his filing cabinet for fifteen years. Thus her remains began a fifty-three-year odyssey.
An activist to the end, Mrs. Parker had instructed Lillian Hellman to give her estate and future royalties to Dr. Martin Luther King, Jr. A year after his assassination, the money went to the National Association for the Advancement of Colored People. Two decades later, they interred her in the grounds of their headquarters in Baltimore. A memorial plaque marked the spot with Mrs. Parker's suggested epitaph: "Excuse my dust." When the NAACP relocated, in 2020, Dottie returned to her beloved New York; her final resting place is in Woodlawn Cemetery in the Bronx, alongside her parents and grandparents.
What was behind Mrs. Parker's "attitude" can be understood in the last lines of her poem "Observation," "But I shall stay the way I am/Because I do not give a damn."