As Time Goes By
In Casablanca Dooley Wilson crooned, "You must remember this/A kiss is just a kiss…" However, in one occasion, a kiss became an iconic image of the 20th century.
World War II launched thousands of photographs that encapsulated horror: the shattered glass of Kristallnacht, the living dead of Auschwitz, the skeletal remains of Hiroshima. In contrast, another illustrates a moment of joyous abandon.
Greta Friedman was working as a dental assistant when she left her office during her lunch break. By doing so, she became a persona dramatis of history. She started life as Grete Zimmer in Wiener Neusstadt, a city south of Vienna, on June 5, 1924. Her family consisted of father, Max, who owned a clothing store, mother, Ida, a home-maker, and her three sisters. As conditions steadily worsened for Austria's Jews, Max and Ida sent their eldest child to the British mandate of Palestine; the three youngest joined relatives in the United States. After arriving in New York City in 1939, Grete changed her name to Greta. Her mother and father perished in the Holocaust.
During the war, Greta apprenticed as a seamstress and studied drama with the hope of finding a career as a theatrical dress designer. To support herself, she obtained a position as a dental assistant. On August 14, 1945, a patient shared the breaking news: the Japanese surrender was imminent. The twenty-one- year old left her office on Lexington Avenue and walked to Times Square where she saw a lighted billboard: V-J Day! V-J Day! In the surging crowd celebrating the victory was George Mendosa, a sailor from Rhode Island, on leave and about to return to his ship on the way to the Pacific. He had been on a date with his girlfriend, Rita Petry, later his wife, at Radio City Music Hall when he heard the electrifying news. The couple had dashed into the street.
Elated with his reprieve, and fortified with alcohol, he spied Greta whose white uniform and white shoes reminded him of the nurses who had treated the wounded at sea. Caught up in the hysteria, he grabbed her and planted a kiss on her lips. She later recalled she was in shock at suddenly finding herself caught up in the embrace of a stranger. Alfred Eisenstaedt, a photographer for Life, captured the sailor and 'nurse' in their celebratory embrace. (In the background Rita looks on in surprise.) On August 27, on page 27 of the magazine, was the photograph of Mendosa bending Friedman backward as her white uniform rode up her thighs. The kissing couple of Times Square epitomized the ecstasy of post-war jubilation.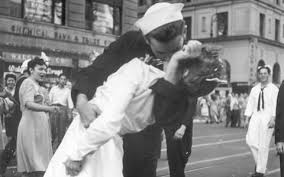 In 1956, Greta married Dr. Mischa "Mitty" Friedman, a U.S. Army scientist, and moved to Frederick, Maryland. A graduate of the Fashion Institute of Technology in New York, she worked as a designer for dolls' clothes, and later, as a book restorer. In 1981, she received a bachelor's degree from Hood College, the same year her son and daughter graduated from university. As a hobby, she owned a studio where she painted and made silk-screen prints. When interviewed about the photograph, Greta answered, "It was a wonderful coincidence, a man in a sailor's uniform and a woman in a white dress…and a great photographer at the right time." Greta passed away at age ninety-two from pneumonia. In a nod to the title of the Dooley Wilson song, because of an immortal photograph, her image will live on As Time Goes By.