Anything But (1912)
"I would rather be a free spinster and paddle my own canoe." Louisa May Alcott
Orchard House, 399 Lexington Road, Concord Massachusetts.
Some of America's greatest authors, Nathaniel Hawthorne, Ralph Waldo Emerson, and Henry David Thoreau, slumber in Sleepy Hollow, a Concord Cemetery. Another notable grave belongs to the mother of young adult fiction, Louisa May Alcott. If, in Spoon River Anthology fashion, Louisa spoke from the afterlife, her story would involve her family, immortalized in her novel, Little Women..
Amos Bronson (he went by his middle name) Alcott was a teacher and a transcendental philosopher whose radical theories destined his wife Abigail and their four daughters to grueling poverty. The penury was daunting to Abigail, of the affluent May family; her great aunt Dorothy Quincy married John Hancock, the signer of the Declaration of Independence. Bronson's Temple School came under fire for admitting a black female. As a result, students withdrew, and newspapers denounced him as "either insane or half-witted." Fleeing the tempest, Bronson left for a six-month visit to England financed by Ralph Waldo Emerson.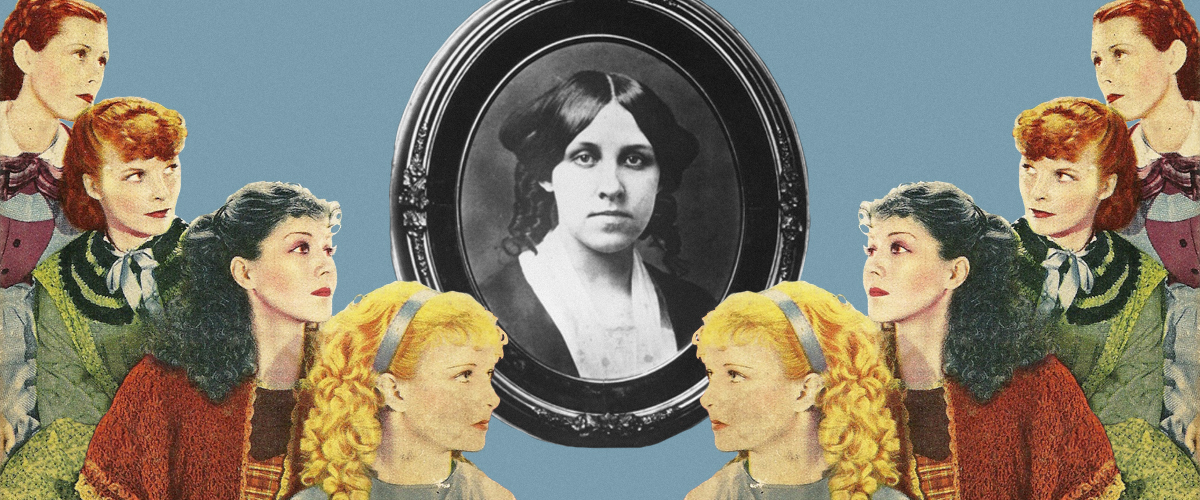 Upon his return, the Alcotts journeyed in a horse-drawn wagon to Fruitlands, a Harvard, Massachusetts, utopian commune that consisted of thirteen members. Adherents could not wear cotton – a product of slavery – leather, it came from animals, or eat root vegetables that grew in the direction of hell. Abigail took in boarders and worked as a seamstress. During the couple's first thirty years of marriage, they lived on family handouts and moved twenty times. One of their homes was Wayside that they dubbed Hillside, a residence that doubled as a station on the Underground Railroad. Abolition brought the Alcotts into contact with Frederick Douglass, John Brown, and Harriet Tubman. When the Alcotts left, Nathaniel Hawthorne became the next tenant. The residence that meant the most to Louisa the 200-year-old Orchard House, nicknamed Apple Slump, so called after the property's forty apple trees that Bronson purchased for less than $1,000, partly financed by Emerson.
Bronson and Abigail were devoted parents who encouraged creativity and allowed their youngest daughter May to paint on the walls. When Louisa showed an interest in writing, Abigail gifted her a fountain pen. An early diary entry of Louisa's read, "I wish we were rich, I was good, and we were all a happy family." Her father built her a semicircular desk set near a window that overlooked an elm tree that dated to the American Revolution.
The woman who never fit into the constraints of Victorian society, Louisa, (she preferred to be called Lou,) was born in Germantown, Pennsylvania, in 1832, on Bronson's thirty-third birthday. The family relocated to Concord, where Emerson offered her the use of his home library; Henry David Thoreau took her on nature walks in the woods near Walden Pond. In Little Women, Louisa's literary alter ego, Jo, states, "I can't get over my disappointment in not being a boy." When her older sister Meg admonished her to behave, as she is a young lady, Jo responded, "I ain't." Her litmus test for male companionship, "No boy could be my friend till I had beaten him in a race, and no girl if she refused to climb trees, leap fences."
At age fifteen, with her financially hapless father and overworked mother, Louisa, determined to contribute to the family coffers, vowed, "I will do something by and by. Don't care what, teach, sew, act, write, anything to help the family; and I'll be rich and famous and happy before I die, see if I won't!"
During the Civil War Louisa worked as a Union nurse where she contracted typhoid fever, a condition that worsened when doctors treated her with mercury that led to poisoning. As a result, she never fully regained her health. Letters home describing her experiences made it into print as Hospital Sketches that served as her first literary success. However, her preferred genre was suspense novels for which she used the pen name, A. M. Barnard. Her stories showcased women on adventures in the high seas and glamorous locales. Renumeration for her writings was a pittance.
Editor Thomas Niles urged Louisa to write a novel for girls, a task she dreaded as she deemed juvenile fiction "moral pap." Her resolve ended when Niles told her that he would publish her father's manuscript on his philosophical theories if she agreed. In 1868, Louisa wrote, "Mr. N. wants a girls' story, and I began Little Women. I plod away, though I don't enjoy this sort of thing. Never liked girls or knew many, except my sisters." Louisa's literary counterpart was Jo: Meg was Anna, Amy was May, Beth was Elizabeth, and her mother Abigail was Marmee. Louisa's fears that her book was dull dissipated when Niles' niece read some chapters and declared them "splendid." The novel sold two thousand copies within two weeks making the author a multi-millionaire by today's standards. With the windfall, Louisa fulfilled her father's dream of opening the Concord School of Philosophy in his study in Orchard House, the country's first adult school.
Although grateful that the Alcott family was finally free of economic woe, Louisa was not comfortable with her role as a literary star. When fans knocked at her door, she pretended to be a maid and sent them away. When the first volume covering the March sisters' childhood proved rite of passage catnip, fans clamored for a sequel that would let them know what happened to the girls as adults. What really irked Louisa was they wanted Jo to marry a variation of Jane Austen's Mr. Darcy. She groused in her journal, "Girls write to ask who the little women marry, as if that was the only end aim of a woman's life. I won't marry Jo to Laurie to please anyone." Bowing to pressure for Jo's wedding, "out of perversity" Louisa "made a funny match" that failed to make readers' bosoms heave. She anticipated the fallout, "I expect vials of wrath to be poured upon my head but rather enjoy the prospect."
Louisa never married though she did spend time as a surrogate mother. In 1880, Louisa became the guardian of her ten-month-old niece and namesake, Louisa May Nieriker, nicknamed Lulu. With her sister's largesse, May had moved to Paris to pursue her passion for art where she passed away from meningitis just after her daughter's birth. After her aunt Louisa's death from a stroke, two days after Bronson's passing, Lulu joined her father in Switzerland.
Fans of Little Women make pilgrimages to Orchard House to step into the world that inspired the classic. The former residence is a time capsule to the era when the Alcotts walked its halls. Visitors are privy to Beth's piano, May's paintings, Lulu's toys. In Louisa's room, from her desk, imagination conjures the scratching of a quill. Black and white photographs rest on antique furniture. Given her immortality, Louisa was anything but a little woman.