Any Other Man
One of the most challenging jobs in the world is that of the evangelist: hand-wrestling the devil over souls. Fortunately, when it came to saving his own, the Reverend Billy Graham had his fellow crusader in Christ, his "soulmate and best friend."
Alexander Pope observed, "Just as the twig is bent the tree's inclined," and Ruth McCue Bell's twig was shaped through a singular childhood. Lemuel Nelson Bell had sacrificed a promising career as a baseball pitcher to become a Presbyterian doctor in a ministry founded by the father of Pearl S. Buck. Lemuel delivered his daughter in his hospital in Jiangsu, China, in 1920, the year of the tiger. Her parents' Asian friends did not ignite firecrackers, as was usually customary at the birth of a baby, because of her gender. Mrs. Bell hired Wang Nai Nai to look after the baby; before the nanny's Christian conversion she had been a procuress of "little flowers," a euphemism for child prostitutes.
Ruth's childhood fantasy was not falling in love with a handsome prince. Her nightly prayer was the Lord would allow her to be captured by bandits, killed for the sake of Jesus. Perhaps her parents harbored similar great notions as outside the ministry walls the country seethed with unrest as battles raged amongst warlords and rebels and thieves. At age twelve, Ruth decided her calling was to become an "old maid missionary" in Tibet. Before that, however, she joined her sister Rosa in Pyeng Yang Foreign School in what would later become North Korea. Post-graduation her parents enrolled her in Wheaton College, near Chicago. She viewed Wheaton as a stop-over on her way to the roof of heaven-the Himalayas.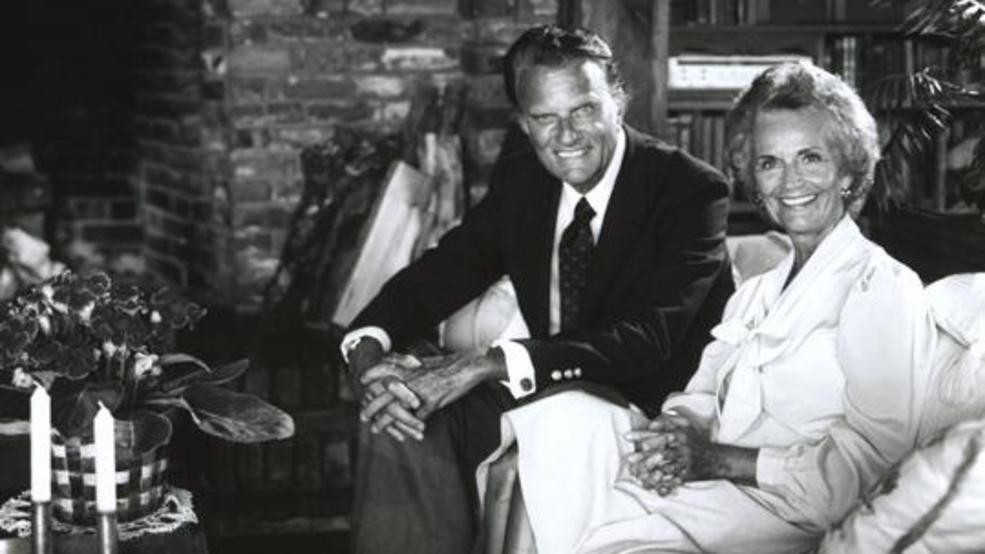 The meeting which was to turn Ruth into the first Lady of Evangelism occurred when a born-again Southern farm-boy, William Franklin Graham Jr., mustered his courage to ask out the girl studying in the school's library. She had no problem choosing her outfit-she only had one good homemade black dress which she spruced up with a string of dime-store pearls. She also wore lipstick, justifying her audacity, "It didn't seem to me a credit to Christ to be drab." Their first date was a Sunday afternoon production of Handel's Messiah. With her presence eclipsing the music, Billy was a bundle of nerves inside a bargain-basement suit. Fighting his urge, he did not dare hold her hand. Smitten, he wrote his mother, "I have just met a wonderful girl. She looks a little like you and even her voice sounds like you. This is the girl I'm going to marry." He later recalled he could see Christ coming out of her face. When Ruth returned to her room, she knelt and prayed, "If You let me serve You with that man, I'd consider it the greatest privilege of my life."
The courting rituals of the young Billy Graham were far from conventional. He subscribed to the Latin quotation, "mens sana in corpora sano," "a healthy mind in a healthy body." Instead of sending Ruth bouquets of roses, he brought her bottles of vitamin pills. Instead of taking her dancing under the stars, he insisted she perform jumping jacks to keep herself in peak shape. While other girls might have placed a well-aimed kick on his face at that, Ruth looked on him with adoration.
When "the Preacher," as the students at Wheaton called him," brought up the topic of marriage, although in love, Ruth demurred. After she explained her commitment to her 'old- maid missionary goal, her suitor responded, "Woman was created to be a wife and mother." Conflicted, Ruth confided to her journal, "If I marry Bill, I marry him with my eyes open. He will be increasingly burdened for lost souls and increasingly active in the Lord's work. After the joy and satisfaction of knowing that I am his by rights, and his forever, I will slip into the background." When she told Billy she believed God would have her say yes, he used every penny of his savings to give her a yellow-gold engagement ring.
The Grahams wed on Friday, August 13, 1943, in Montreat Presbyterian Church in North Carolina. For their honeymoon they drove to nearby Blowing Rock. When the bride awoke the following morning, she was distraught her new husband was asleep on the floor: he claimed the bed was too soft. The empty bed proved an apt metaphor for the Grahams' marriage; over the next five decades she would spend many a night alone, sleeping with Billy's tweed jacket for comfort. However, despite his world travels the couple had five children, whose bassinets were decorated with snippets of her wedding veil. The first, born while Billy was away, was Virginia Leftwich, named after Ruth's mother, but nicknamed GiGi, Chinese for sister. Her siblings were Anne, Ruth Bell, William Franklin III, and Nelson Edman. Graham spent so much time away that on an occasion when he was home, Franklin asked, "Mama, who is that in bed with you?" She also took under her wing a neighbor's child, future crime writer Patricia Cornwell, after her father's desertion and her mother's nervous collapse. Without complaint she raised her brood, largely on her own, with the wifely words, "I'm assuming home responsibilities, to free you for your more important ones."
Ruth kept the home fires burning on the Graham retreat, Little Piney Cove, which sat atop a mountain in Montreat, with a sweeping vista of the Swannanoa Valley. The missus had it constructed of thousands of logs salvaged from old cabins and barns. The workers were aghast at the choice of materials; they had been born in log cabins and their dream home was one of linoleum floors and department store furniture, so why a wealthier preacher's wife would opt for a rustic cabin was beyond them. While Ruth had a nesting nature, Billy's idea of comfort was a hotel room. Ruth used to joke, "When Bill gets to heaven and finds it's not like a Holiday Inn or a Marriott, he'll be back".
The home had a feel of an old sweater, with soft worn couches, braided rugs, innumerable family photographs, and lots of fireplaces. When construction had begun Ruth determined it should have a lot of fireplaces; in their first home they had been so poor that in lieu of one she had wrapped a piece of red satin over a lightbulb. Before the master of the house departed for India, he had ordered there be no more than two log-burning apparatuses; he returned to five. She demurely stated she had thought he had dictated no less than two. As she used to tell her children, "There comes a time to stop submitting and start outwitting." Over the main one in the living-room, she had fashioned a mantle from a heavy slab of wood from what had once been the local lake's diving-board. On it was carved a quotation from Martin Luther, "Eine Feste Burg Ist Unser Gott" "A Mighty Fortress is Our God." When heavy-weight boxing champion Muhammad Ali visited, he declared, "It was the kind of house a man of God would live in."
Raised Presbyterian, Ruth did not subscribe to capitulating to a husband's authority the way Billy, raised in a Southern Baptist family, expected. She was once driving and accidentally hit the accelerator instead of the brake, sending her crashing through a fence. Nobody was injured, but in a call from California Billy demanded she shred her driver's license. After all, his mother, Morrow, had never been behind the wheel. When she refused her husband said, "I don't recall reading in Scripture that Sarah ever talked to Abraham like this." Ruth retorted, "Well, I don't recall reading in Scripture that Abraham ever tried to take Sarah's camel away."
When the Reverend Graham-the most incorruptible evangelist ever to raise a tent or a dollar- was asked how he became the greatest preacher in history, he explained it was because he was offering "the greatest product in the world." But his earthly power, the one who raised him up and yet kept him grounded, came from Ruth, as steadfast as her biblical namesake. Waving a bible overhead, the towering blue-eyed preacher, clad in a green gabardine suit, ("God likes color,") pulled in millions, both in terms of converts and money. He met with twelve presidents in the White House, the Queen in Buckingham Palace, Hollywood stars and business moguls. The aphrodisiac of power and wealth might have corrupted, but Billy had a wife who punctured pretention. When rumors circulated in 1964 that Graham was considering making a presidential run, Ruth informed him, "If you run, I don't think the country will elect a divorced president."
There were many temptations beckoning to the charismatic leader, but Ruth was there as shield. He vowed never to be alone in a room or a car with any other woman than his wife. Members of his evangelic team would enter his hotel room, a vanguard army, to search it for any overly fervent fan or tabloid reporter. Once a society matron batted eyes at Billy, and mentioned it was a shame he was not in politics. Ruth replied, "Maybe the Lord thought politics had its share and decided to give the ministry a break." Perhaps Mrs. Graham's most searing quip was when she was asked if she had ever considered divorce to which she responded, "Divorce? No. Murder. Yes." Ruth kept her husband honest and likewise adhered to a staunch moral code of abiding by Christian ideals. One Christmas her good friend, country star June Carter Cash, gave Ruth a hooded full-length mink coat; Ruth promptly auctioned it for charity.
One of the times Ruth had need of prayer occurred during the years when Ned and Franklin became the prodigal sons. After the teenaged Franklin refused to stop smoking, Ruth made him chain-smoke a whole pack. Similarly, when he would not stop pinching his sisters on a trip to a fast-food restaurant, she locked him in the trunk. Fellow patrons were aghast to see witness her open the trunk and a child's arm appeared to take his bag of food. More serious was when they fell in love with fast cars, liquor and girls and were no strangers to the local police.
In her twilight years Ruth, apart from putting on a gown to accept the joint husband and wife Congressional Medal of Honor, spent most of her time at Little Pine Cove, in the warmth of a glowing fire. Gigi recounted how whenever her husband returned home it was like a honeymoon. Billy, age sixty-nine, confided to his biographer, "You know, we're still lovers."
Although Ruth had her way in the battle of the fireplaces and the driver's license, there was one she lost. She waged a campaign to be buried near her beloved mountain home. Bill had another agenda when he decided their final resting place would be at the Billy Graham Library in Charlotte. She was appalled, referring to it as "a tourist attraction" and "a circus." The center was in the shape of a large barn and silo-a nod to Billy's roots-and a life size mechanical Holstein, Bessie, greeted visitors. Large donors had their names inscribed on the concrete silo.
Ruth's had purchased her favorite apron in Switzerland; it snapped on-an apron without strings. It was not symbolic of the woman who spent her life, often alone, as Christ and his congregation always came first. However, her lot was a unique cross Ruth was glad to have borne. As she said, "I'd rather have a little of Bill than a lot of any other man."