Where Rosemary Goes...(1968)
The ancient Greek games originated in honor of the Gods of Mt. Olympus. After a hiatus of 1,500 years, the 19th century Frenchman Pierre de Coubertin resurrected the Olympics for countries to come together in sports rather than in war. In the 20th century, an American carried on the tradition of sprinkling the physical with the divine.
Eunice Mary - nicknamed by her family "puny Eunie"- was born in 1921 in Massachusetts, the fifth of nine children of Joseph and Rose Kennedy. At her birth her father was already accumulating the stratospheric fortune he later supplemented by investments in Hollywood film studios and through bootlegging. Rose's faith helped her bear her husband's infidelities-including a long-term affair with Gloria Swanson - and repeated tragedies that befell her children: Joseph died in a bombing mission in World War II, Kathleen perished in a plane crash, John and Robert were victims of assassination, and Rosemary had her life shanghaied.
Joseph expected great things from his children and an oft-repeated remark in their compound in Hyannis Port was "We don't want any losers around here. In this family we want winners. Don't come in second or third that doesn't count. Win." During her father's tenure as ambassador to Britain, Eunice attended a Catholic boarding - school and was so devout it was assumed she would become a nun. She did embark on a holy path, just not in the way anyone envisioned.
Eunice had the prerequisites to be an American princess, but a tiara held little appeal to her. She took to heart her parents' recitation of the biblical injunction, "Much is expected of those to whom much has been given." Eunice majored in sociology at Stanford and upon graduation worked as a social worker with female prisoners. Sargent Shriver, Jr. joked that he courted his wife at a federal penitentiary. Her family gave their relationship an enthusiastic thumbs up. Sargent, a graduate of Yale School of Law, was to become the U.S. ambassador to France, a Democratic vice- presidential candidate, founding director of the Peace Corps, and part owner of the Baltimore Orioles. The couple shared the commonality of religion, and Sargent's well-worn rosary went wherever he did. He venerated the saints, something he considered his wife. After eight years, she gave into his entreaties, and in 1963 she became Mrs. R. Sargent Shriver in a wedding at St. Patrick's Cathedral in Manhattan with 1,700 guests in attendance. Five children and eight Labrador retrievers soon followed.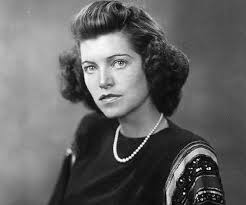 Older sister Rosemary, born with a mild mental handicap, influenced Eunice's main crusade. In a family of overachievers, her limitations loomed large, a source of consternation for the patrician patriarch. In those days most families placed those so afflicted in institutions. Though she remained at home, her parents took pains to hide Rosemary's condition. Eunice had "enormous affection for Rosie," and together they swam, sailed, and travelled in Europe. However, in her late teens, Rosemary became, in Eunice's words, "increasingly irritable and difficult." Joseph had his eyes on the prize of the presidency for his sons and felt the Kennedys' Roman Catholicism was enough of a political handicap. He feared an unwed sister could mean the death knell to his aspirations. When his daughter was 23-without consulting any member of his family-Joe arranged for Rosemary's prefrontal lobotomy. The surgeon later explained the procedure by saying they made an incision in her brain. As he cut, a fellow physician kept Rosemary talking by having her recite the Lord's Prayer and "God Bless America." When she became incoherent, they stopped. The operation ended her outbursts; it also left her in an infantile state. She lived the rest of her years in an institution, mainly staring at its walls. She became the forgotten Kennedy, but not by her older sister and mother. Rose was enraged and it was the one act for which she never forgave her husband. In an act of mea culpa, Joseph created the Joseph P. Kennedy Jr. Foundation that focused on Catholic charities. Eunice later served as the foundation's vice-president and changed its focus to the cause and treatment of mental impairment. The Spartans abandoned disabled babies on mountaintops and American society regulated them to notorious "snake-pits," contemporary leper colonies. When her brother became president, Eunice had a pulpit from which to preach her advocacy for those without a voice. Her younger sibling, Robert, JFK's attorney general, once joked, "President Kennedy used to tell me, 'Let's give Eunice whatever she wants so I can get on with the business of government." Eunice was in the Oval Office when John, at her behest, signed a bill to form the first President's Committee on Mental Retardation. Afterward, he handed her his pen. She made her platform so important to JFK he reportedly left an emergency meeting during the Cuban missile crisis to receive the committee's report.
Eunice felt it would be helpful in changing public perceptions if she told the world the President's sister was developmentally disabled, thereby debunking her family's claim she was living in a convent. In 1962 she revealed the truth in The Saturday Evening Post. Eunice's candor helped move mental disabilities from behind the iron curtain of prejudice.
Yet her greatest contribution occurred as a result of a phone call. A distraught mother shared how her son had to spend summers alone because no camp would accept a child with limited mental capacity. While other society women would have tackled the problem by writing a check or organizing a charity ball, thereby discharging her noblesse oblige, Eunice replied, "Come here a month from today." Camp Shriver's grounds were on the family home Timberland, a huge Civil War-era mansion in Maryland. One of the children's instructors was Mr. Body-builder, son-in-law Arnold Schwarzenegger. Word spread and the camp led to a nationwide campaign for physical fitness for the developmentally disabled. "It didn't hurt to have a brother in the White House," Shriver said of its success. The doctors and experts had been proven wrong. Eunice said of her campers, "They're not accepted in the schools. They're not accepted in play programs. They're just not accepted. We have much to do."
Eunice was thrilled to see how the children thrived with the combination of athletics and camaraderie. Just as Nancy Brinker later founded the Susan G. Komen for the Cure in honor of her sister who had succumbed to cancer, Eunice did likewise in tribute to her own-the Special Olympics. Its oath: "Let me win. And if I can't win, let me be brave in the attempt." The inaugural Summer Game was held at Chicago's Soldier Field, just a month after Eunice's brother, Robert's, assassination at the Ambassador Hotel. In her opening address, Mrs. Shriver said exceptional children could be exceptional athletes. This mindset was contrary to the zeitgeist of the time that promulgated these youngsters should be excluded from physical activity for fear they might injure themselves. She concluded her speech, "In ancient Rome, the gladiators went into the arena with these words on their lips, 'Let me win. But if I cannot win, let me be brave in the attempt. Let us begin the Olympics.'" The 1,000 athletes outnumbered spectators 10 to 1. By its 40th anniversary, 3 million participants from 181 countries competed with millions more gathered to watch, cheer, and encourage. Loretta Claiborne, as Special Olympian, said of her mentor, "I think she teaches that no matter who you are, you are no different than the next person. To me, I think she's hope." A special Olympic torch had been lit.
In the years that followed, the Special Olympics expanded to include winter events, and in 2007 the organization took in revenue of $79.9 million. In words far removed from those of her father, "In this family we want winners," Eunice addressed the 5th Summer Games where teams from as far away as Yugoslavia and Samoa participated, "What you are winning by your courageous efforts is far greater than any game. You are winning life itself, and in doing so you give to others a most precious prize-faith in the unlimited possibilities of the human spirit." Evidence of this philosophy was made manifest at the opening ceremony of the 2007 Special Olympic World Summer Games in Shanghai-Eunice's last attendance at her foundation, where a crowd of 80,000 gathered as President Hu Jintao welcomed more than 7,000 athletes to China, a country with a history of severe discrimination against anyone born with disabilities.
For her advocacy President Reagan awarded her the Presidential Medal of Freedom; she became the first living American woman portrayed on a medal, and Sports Illustrated anointed her with its first Sportsman of the Year Legacy. Her portrait, with four Special Olympians, hangs in the National Portrait Gallery; it remains the first painting of someone who is not a president or a first lady.
The story of the Special Olympics is a tale of two sisters - one tragic, one triumphant. Eunice said of her muse, "If I had never met Rosemary, never knew anything about handicapped children, how would I ever have found out? So where would you find out? Unless you had one in your own family." The lyrics to Edison Lighthouse's 1970 song proved apropos, "Oh, but love grows where my Rosemary goes/And nobody knows like me…"