Beloved Infidel
F. Scott Fitzgerald pessimistically pronounced, "There are no second acts in American lives." He based this on his own free-fall: from golden boy of the twenties to forgotten has-been of the forties. What eased the pain of latter years was the purveyor of a poisoned pen.
Sheilah Graham was a female Gatsby who fashioned her past to fit the romantic backdrop of wishful thinking. She entered the world as Lily Shiel on September 15, 1904, in London, the youngest of six children born to immigrants Louis and Rebecca, refugees from Ukrainian pogroms. At eleven months, her father passed away from tuberculosis on a trip to Berlin and was interred in its Jewish cemetery. His death plunged his family into abject poverty, and they relocated to an East London slum, where Rebecca, who hardly spoke English, found work cleaning public latrines. The Shiels boarded in a basement and subsided on potato soup. In keeping with her Dickensian roots, when Lily was six Rebecca placed her in the Jews Hospital and Orphan Asylum. By way of welcome, the staff cropped her thick, ash blonde hair, prevention against lice. Through the barred windows she would watch children-those without shorn hair.
Lilly remained in the institution till age fourteen when she returned home to care for Rebecca, dying of stomach cancer. Her inheritance was bittersweet-in her mother's purse she found a faded photograph of herself as a child, dressed in cheap apron, hand clutching a wooden spoon.
Lily obtained a position as a toothbrush demonstrator and was surprised her only customers were male. At first, she assumed men cared more about hygiene, until she realized they were interested in more than a gleaming smile. She dated a millionaire who showered her with diamonds but could not sacrifice love for wealth. She wed Major John Graham Gillman-if not her great passion, her great friend. He served as her Henry Higgins, and eased her Cockney accent. Then, as James Gatz had transformed to Jay Gatsby, Lily Shiel transformed to Sheilah Graham when she became a chorus girl.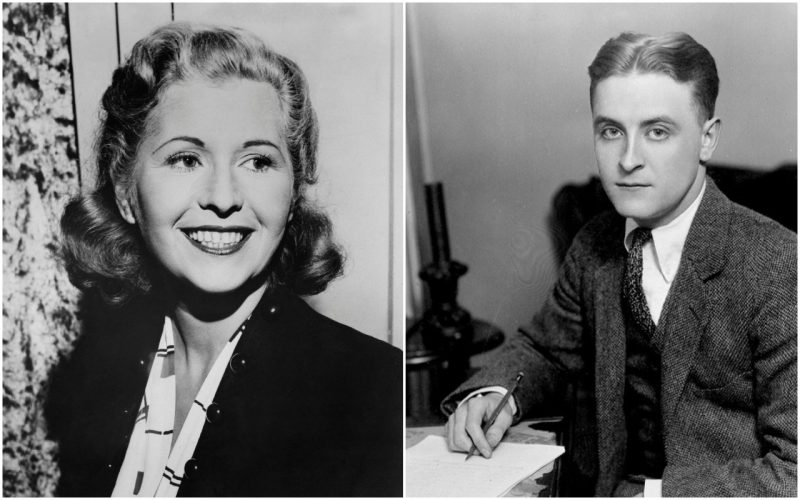 John did not mind when his dancer wife stepped out with well-heeled men, such as Randolph Churchill, (Winston's son,) as he was either impotent or homosexual, and had married Lily to rescue her from the streets. Sheilah, under no illusion her only show biz talent was her legs, segued to journalism and was delighted when The Daily Express paid her two guineas.
Through Tom Mitford, (brother of famed novelist Nancy Mitford,) Sheilah met Charlie Chaplin, fellow survivor of London's slums. She was dazzled by his portrait of America, where one is not judged by one's lineage but by one's success. Afraid her true origins were as indelible as a tattoo, she left John and the Old World for the New. In her purse she carried the faded photograph-photo-shopped to show a little girl with lovely blue frock-wooden spoon replaced with a daffodil.
In 1933, Sheilah moved to New York where she became a professional journalist and three years later was offered a syndicated column in Hollywood. As the celluloid capital was founded on the blurring of reality, the young woman happily headed west. She became a gossip columnist, rival of Louella Parsons and Hedda Hopper, (the Ann Landers and Dear Abby of their era,) and the ladies of the poisoned pens were dubbed the Unholy Trio. They wielded the power to make or break a star's career, and chiefly did the latter. Of the three Sheilah was the youngest and, as she was quick to point out, the prettiest.
Sheilah was ready to forego her $5,000 a week salary and the deference of stars and studio bosses when she received a telegram—a proposal from a former British suitor, the Marquess of Donegal. Delighted with the title and fortune more than the man, she accepted. She felt no qualms of abandoning her typewriter for she felt she merely possessed a quality of "salable mediocre." To celebrate her engagement, writer Robert Benchley threw her a party at his bungalow in The Garden of Allah, where, amongst writers such as Dorothy Parker, she glimpsed F. Scott Fitzgerald-who immediately vanished in a haze of blue cigarette smoke.
Scott and Sheilah met again at the Cocoanut Grove a supper-club where the rich and famous dined and danced the night away under a ceiling painted midnight blue and sparkling stars were strewn both on and under its firmament. Fitzgerald, recognizing her from her engagement party, whispered "I like you." Sheilah responded, "I like you too." She asked him to dance, and he agreed after the next, as it was promised to Dorothy Parker. In her memoir she recounted the magic of floating in Scott's arms, "As we danced, the room and everyone in it faded away. It is hard to put into words how Scott Fitzgerald worked this magic, but he made me feel that to dance with me was the most extraordinary privilege for him…"
Sheilah was shocked at the intensity of her disappointment when Scott cancelled their next meeting because a family friend, actress Helen Hayes, was bringing his fifteen-year-old daughter Scottie for a visit. When Sheilah asked if she could still be included, Scott agreed. The daughter and the mistress got along, perhaps because they both carried a heavy mantle-Sheilah from the orphanage, Scottie as the only child of one of the most famous- and flawed- couples of the 20th century. Her mother Zelda, who had been suffering from mental illness for years, was hospitalized in a psychiatric institution in North Carolina. The fairy tale couple of the 20s were to have no happily ever after. At the end of the evening, when Scott whispered, "Good night, Sheilo," she did not want him to leave. He enveloped her in his arms, and she forgot he was married and a father or that she was engaged. If this were not impediment enough, the great writer's pen had dried up and he barely made enough as a scriptwriter to cover his wife's hospital bills and Scottie's tuition. This didn't deter Sheilah; she returned her diamond ring-as big as the Ritz. She would never be the wife of the Marquess of Donegal.
The years with the self-proclaimed romantic egotist provided both agony and ecstasy. Fitzgerald was in failing health, fighting an epic and losing battle with the bottle. Nevertheless, she believed in her "gold-hatted" lover. She understood the depth of his pain when bookstores no longer shelved This Side of Paradise, The Great Gatsby, and Tender is the Night (ironically bookstore staples today). Similarly, when she introduced him there was always the inevitable embarrassment for many people meeting a man so forgotten, they thought he had already died. In a painful episode, after hearing there was to be a stage production in Pasadena for The Diamond as Big as the Ritz they dressed in their finest and took a limousine to the theater. A tidal wave of pain rushed over them when it turned out to be a student production and they comprised the entire audience.
Sheilah persisted in her belief in his writing and Scott began to work on a novel with a Hollywood backdrop, The Last Tycoon. It revolved around a love affair between Kathleen and Stahr, loosely based on the romance of Sheilah and Scott. Buoyed by love, Scott traded his booze for soda and decided to douse his demons for the sake of Sheilah and Scottie. Although she could not be his wife, Graham felt she was far more than his mistress. Even without formal vows, she committed herself "for better or worse till God do us part."
One day in their beach house on Malibu, rented from Frank Case, manager of Manhattan's Algonquin Hotel, Scott found Sheilah struggling to read Proust's The Remembrance of Things Past. When he showed his surprise as she had attended London's finest schools, she shared with him what she had kept locked in her secret vault- the story of Lily Shiel. In response he became Pygmalion and Sheilah Galatea; he taught her the secrets behind literature's immortal words. Under his tutelage, Proust's Madeline became her potato soup, drawing back the curtain behind which Lily hid. Just as John had helped exercise her Cockney, Scott designed a course of study, "College of One" to give her the education she had been denied. He drew up a list of books for her to read. Immersed in the classics, they pretended to be famous characters from novels by Dickens, Thackeray and Tolstoy. He urged Sheilah to pen her autobiography, insisting she had the writing ability as well as a life story which surpassed most others.
The couple spent hours lying on their sofa massaging one another's feet and egos, or scooping into buckets the fish that came to spawn on the beaches of Malibu. On one occasion they took a trip to Tijuana and in typical tourist fashion, had their picture taken. It captured a beaming Sheilah astride a donkey, beside her stood her urban cowboy, wearing a sombrero and serape. It was their only picture taken together and it was kept beside the sepia-colored one of a little girl in blue dress.
Tragically, paradise had another side-and it came out when Scott relapsed and began to drink- an evil elixir which transformed him from Dr. Jekyll to Mr. Hyde. In The Crack-up he had written of the "real dark night of the soul where it is always three o'clock in the morning, day after day." Impossibly charming when sober, he turned into a monster when drunk. Liquor provoked him into jealous rages, and during the great drinking binge of 1939, he accused Sheilah of returning the affections of men pursuing the beautiful columnist: Errol Flynn, and Gary Cooper. He turned to his nurse, Miss Steffan, who was caring for him, and like a deranged Rumpelstilskin, began chanting, "Lily Shiel! Lily Shiel!" For emphasis he hurtled at her the other buried dagger, "Dirty Jew!" He then brandished a gun in front of the terrified nurse and Sheilah. In response Graham said, "Take it and shoot yourself, you son of a bitch. I didn't pull myself out of the gutter to waste my life on a drunk like you."
Understandably Miss Steffan quit, but Sheilah ultimately did not give up on her Gatsby. They reconciled and the couple reunited at the top of Laurel canyon, overlooking Hollywood, and he swore he would never drink again. If the setting had been a Hollywood script, it would have ended there, with the lovers who had been through hell finding happiness amongst the twinkling stars of Tinsel Town.
In the epigraph of The great Gatsby Fitzgerald wrote, "Lover, gold-hatted, high-bouncing lover/I must have you." Sheilah-for better and worse, did have Scott until shortly before Christmas in 1940. He was reading the Princeton Alumni weekly, eating a Hershey bar while Sheilah read a book on Beethoven. Suddenly he rose, clutched the mantle, and slumped to the floor. A devastated Sheilah ended up in Dorothy Parker's home, and the two women wept the loss. Later Parker would say over Scott's casket the words Nick said over Gatsby's, "Poor son of a bitch."
Scottie gently told Sheilah it was best if she not attend the funeral. Although she was not included, Scott's Sheilo nevertheless grieved for him. His joint tombstone with Zelda applied not just to the Fitzgeralds, but to Graham. It bore a quotation from The Great Gatsby, "So we beat on, boats against the current, borne back ceaselessly into the past." Thanks to her lover, Sheilah not only was able to make peace with her past, but to write about it as well, just as her lover had wished. She chose for its title the name of a poem from Scott, Beloved Infidel.