What Profit a Man? (1902)
A biblical passage segued into a modern morality tale, one whose sordid revelations opened a window on the denizens of the Fortune 400, for, in the words from the book of Timothy, "The love of money is the root of all evil."
Roberta Brooke Russell, the Queen Bee of high society, entered into the moneyed hive on Easter Sunday in New Hampshire. In her memoir, Patchwork Child, her grandparents raised her "rather royally" in their Washington, D.C. mansion while John, her father, a general, served on a lengthy tour of the Orient. She adored him, but the relationship with her mother, socialite Mabel Howard Russell, was problematic. Brooke later recalled that being with her was to be "in the midst of the blinding radiance that was mother." A few years later, the family joined John in his military postings to Hawaii, China, Panama, and Santo Domingo where there was an endless stream of governesses, embassy soirees, and tea dances, a childhood that made Brooke feel like a bird in an exotic cage. When the Russells arrived in Peking in 1910, some girls from the upper class still had bound feet, their society's modus operantis was to keep them docile and dainty in order to make them perfect wives for rich men. Her mother forced Brooke to wear high, tightly-laced boots to keep her ankles slim; Mabel was similarly raising her to be a wife of wealth.
At age seventeen, Brooke returned to the States, and at a Princeton prom, she met John Dryden Kuser, a member of a prominent New Jersey horse-set family. He was also an alcoholic, addicted to gambling and floozies. Mabel, "dazzled" by his substantial fortune, was thrilled with the couple's 1919 wedding. Brooke's introduction to sex was what she termed marital rape, and John broke her jaw when she was six months pregnant. His rage stemmed from the unfounded belief that he was not the biological father of their son, Anthony, nicknamed Toad. For eleven years, the couple lived in great luxury and great misery. The marriage ended when John left his wife for the next Mrs. Kuser. The other woman earned Brooke's undying gratitude for taking the "perfectly horrible man" off her hands.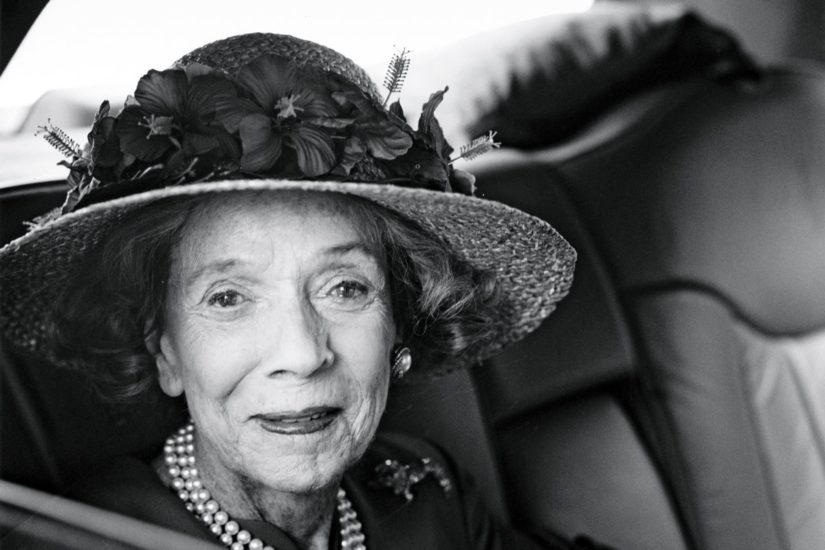 Post-divorce, Brooke and Tony left New Jersey and relocated to Manhattan. Although the six-year-old was upset at leaving his pony, he was relieved to escape from his abusive father. In 1932, Brooke met wealthy lawyer Charles "Buddie" Marshall, who left his spouse and children for her. Tony, although Charles never adopted him and never treated him as his own child, eventually changed his name to Marshall. This action angered Kuser to such an extent that he sued to disinherit his son from his trust fund and as grounds for terminating child support. Brooke wrote of the ensuing court battle, "I rather agreed with the judge-'people who fight over money never seem to me to deserve to have any.'" Engrossed in her new husband, and as Tony physically favored her hated ex-husband, Brooke sent him off to tony boarding schools. Freed from child-rearing duty, the Marshalls sailed to Cherbourg aboard the steamer Europa. Summers were spent at a castle in Portofino, Italy, where Brooke met Max Beerbohm, Evelyn Waugh, and a shirtless Ezra Pound. The two decades she spent with Marshall were, she later said, the happiest of her life. Marshall died in her arms from a heart attack in 1952 on Thanksgiving Day.
Brooke's third trip down the aisle became the projectile that launched her into the stratosphere of New York's social register. Six months after she became a widow, she met the bearer of a gold-plated name: Vincent Astor. He had been a twenty-year-old when he inherited more than sixty million dollars from his father-believed to be the country's first millionaire-John Jacob Astor V, who went down with the Titanic. His grandmother had been the famed Mrs. Astor who had developed the concept of the top four hundred acceptable people of fashionable society-based on how many people her ballroom could accommodate. The name Astor connoted the highest society and lent its name to the Waldorf-Astoria Hotel and Astor Place.
Brooke proved herself to be the social-climbing daughter of Mabel when she married Vincent, an alcoholic recluse who disliked her son. The ceremony took place in a quiet 1953 ceremony at the Bar Harbor home of Joseph Pulitzer. His peers-as well as his own mother-held him in such disdain- he required a solitary seating for lunch at his club. Louis Auchincloss remarked, "Of course she married Vincent for the money. If she married him for his charm, I'd have said she ought to be put in an asylum."
Five years later Vincent died, thus ending a marriage his widow referred to as her "fallow years." Although Astor had lavished her with jewels and houses, he was so controlling he had not allowed her to talk on the phone, entertain, or go out with friends. Tony had also been a casualty of his step-father's misanthropy.
Brooke's life truly started when Vincent's ended. At age fifty-seven, she inherited one of the country's oldest fortunes and the administration of the Vincent Astor Foundation, both of which made her the Grand Dame of New York. Before his death, he told her he was leaving the trust to her, "You are going to have a lot of fun running it Pookie," and fun she had. Instantly recognizable in her Chanel suits, ornate hats, pearls, and trademark gloves, she visited every one of the organization's causes. One of the jewels on Brooke's charitable tiara was the Bronx Zoo who honored her by naming its first baby elephant Astor. The christening might also have been a tongue-in-cheek nod to her affiliation with the Republican Party. At her dinner party for Ronald Reagan, the president-elect crawled under her table to retrieve her diamond earring. Another recipient of her largesse was the New York Public Library; in tribute, her gilt-edged name is carved on its main entrance. Brooke had found a cause and had no desire for a fourth husband. She disliked the notion of "having anyone tugging at my sleeve at ten o'clock telling me it's time to go home. I want to go at my own speed, and it's a lot faster than theirs." She would no longer be a bird in any man's gilded cage.
Almost every night-even in her 90s-she wore many-karat diamonds and dressed in designer gowns. She especially loved to dance and said, "When that music starts, it enters my blood like a fever." Even in her tenth decade, she remained an unabashed flirt. After David Rockefeller asked for a guest list for her 100th birthday, she suggested, "99 men and me." Brooke joked about her horizontal life; she once remarked of her many lovers, "When I can't fall asleep at night, I sometimes start counting them, but I'm asleep before I get to the end of the list." Beats counting sheep. If she did not go out for a night in her town, she would invite people to one of her magnificent homes: on Fifth Avenue, Westchester County, and Maine. An invitation to one of her dinners, where a typical guest would be Nancy Reagan, was a hallmark of the highest approval. The itinerant soldier's daughter never made any apology for her life of wealth, partially because she gave so much of it way. Unlike Queen Victoria, Mrs. Astor was amused-always amused-until she was not.
In her old age, the dowager doyenne disappeared from the society pages that she had dominated for half a century. Most assumed she had finally slowed down and was spending her twilight years in her princely pleasure domes, in the company of friends and her beloved dogs. (Unfailingly polite, she asked for Sir Winston's Churchill's permission to name a puppy after him.) However, in her 104th year, her image appeared again in the media, but this time she was the fodder in the eye of a lurid tabloid scandal.
In a life of many chapters, Brooke's final one became a saga of Greek tragedy. Her grandson, Philip Marshall, filed court papers charging his father, Anthony Marshall, with elder abuse by failing to provide care for his 104 year-old-mother and for using her fortune as his personal piggy bank. Some of the salacious tidbits were although the socialite was no longer going out-her jaw-dropping jewels were-as adornments on Tony's third wife, Charlene, who had left her clergyman husband for Marshall. There was no way Brooke had lent them to her daughter-in-law; she never masked her loathing of her son's two-decade younger wife who a friend of Brooke's had dubbed Lady Macbeth. When Charlene presented her with flowers for her 100th birthday-sent by Prince Charles-she received a look of undiluted dislike. Brooke had commented to her butler about her daughter-in-law, "She has no class and no neck." Philip, a Buddhist and professor at Roger Williams University in Rhode Island, claimed his intention had not been to make his lawsuit a public can of worms: his only aim had been to protect his grandmother. However, when the press got whiff of the scandal that involved the haute monde, staggering wealth, and criminal activity, there ensued a feeding-frenzy of schadenfreude. Anthony Marshall became the American Prince Charles tired of waiting in the shadow of his elderly mother to take possession of his long-awaited birthright.
The court of public opinion vilified Tony for taking advantage of Manhattan's godmother whose fairy dust had enriched the city with two hundred million dollars. His credibility was further weakened when Brooke's powerful friends-David Rockefeller, Henry Kissinger, and Annette de la Renta (wife of famed fashion designer) backed Phillip's charges. They claimed he made Brooke - still adorned in jewels and dressed to the nines- subsist on leftovers that she ate alone on a tv tray, while sitting atop a urine-stained couch. A further accusation: she was kept from her beloved dachshunds-Boysie and Girlsie. Another damning finger was pointed in his direction as his mother's prized painting-one she had earmarked for the Metropolitan Museum at her passing-had disappeared from her living room wall. Tony had sold it for ten million dollars and pocketed a two-million-dollar commission. Alarmed, her employees had installed a baby monitor in her room and eavesdropped on her conversations with her son and lawyer. They claimed while in the clutches of Alzheimer's, she had changed her will-making her son, rather than her charities-the chief beneficiary. Brooke claimed persecution by the men in the blue suits "who make me sign things." A judge revoked her son's guardianship, filed a criminal complaint, and Annette de la Renta assumed care of the once fiercely independent Mrs. Astor.
Tony's agenda may have been fueled not just for material gain; it could also have been triggered by his desire to get back at Brooke who had been of her own admission, "a lousy mother." She had not only always kept him at fur-bedecked arm's length, her famous name, wealth, and social standing had left her son in her shadow. The last Mrs. Astor had freely given of herself to her husbands, her charities, and her dogs, but she had always remained aloof to her only child.
Anthony Marshall became known as Crook Astor, and, at age eighty-nine, a judge sentenced him to one to three years in prison. Like his father before him, Anthony cut off all ties with his son who he viewed as a Brutus. Brooke, in her twilight years, was not aware of the poisonous vapors from her fabulous fortune that had destroyed her family. Mrs. Astor had made it a point to try to revive burned bridges and had called a man she had stopped speaking to for many years. She explained, "I want to be at peace with all my friends when I die." Ironically, she had never resolved her own family feud.
At Mrs. Astor's funeral, Anthony said in a voice, an amalgam of that of an old man and a boy, "New York and her many friends have lost a wonderful person. But I've lost my mother." His tragedy, and Brooke's, was he never had her to begin with.
A biblical injunction that has echoes to the last Mrs. Astor, "For what shall it profit a man if he shall gain the whole world, and lose his own soul?"