Warmed the World (Val- Kil Cottage Museum opened in 1984)
"No matter what happened to one in this world, one has to adjust to it."
Val-Kill Cottage (opened 1984)
Hyde Park, New York
When the World's First Lady-the honorific President Harry S. Truman bestowed upon Eleanor Roosevelt- needed a refuge "far from the maddening crowd" of Washington, D.C., she escaped to Val-Kill, her Hudson Valley hideaway. Of her beloved home she stated, "Val-Kill is where I used to find myself. At Val-Kill, I emerged as an individual."
Anna Eleanor's parents, Elliott and Anna Roosevelt, were members of monied Manhattan. Her mother was a descendent of Philip Livingstone whose signature graced the Declaration of Independence. Her father was the younger brother of Theodore Roosevelt, the twenty-sixth president. Elliott called Eleanor Little Nell after the character in Charles Dickens' The Little Curiosity Shop. Her emotionally distant mother referred to her as "granny" as she rarely smiled; she did not so as she was self-conscious over her protruding teeth.
A happy childhood chapter was when the family, including her brother Elliot, spent time in Italy. A grim episode followed in France where Elliott checked into a hospital for treatment for alcoholism. Anna sent Eleanor to a boarding school run by nuns, a miserable experience.
When Eleanor was eight, her mother died from diphtheria. Anna had arranged for her children to live with her widowed mother, Mary Livingstone Ludlow Hall at Tivoli, Duchess County, rather than with their feckless father. A year and a half later, Elliott passed away from the effects of alcohol withdrawal, and his eldest son succumbed to diphtheria. Her brother Hall was to follow in his father's inebriated footsteps. Triple locks on her bedroom door were "to keep my uncles out."
Escape arrived at age fifteen, when Eleanor attended Allenswood School in England whose students were the daughters of European aristocrats. A favorite of the headmistress, Madame Marie Souvestre who took her on trips to Florence, Eleanor gained self-confidence, no longer stooped to hide her almost six-foot frame.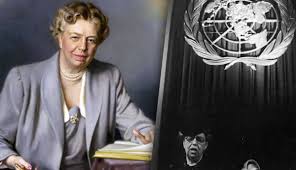 Eleanor returned to New York City for her debut in Manhattan's Waldorf- Astoria. Travelling on a train, Franklin Delano Roosevelt, her fifth cousin once removed, took the seat beside her. They had first met when he was four years old, and she was two at his parents' Hyde Park estate. After her coming-out party, she described Franklin as, "young and gay and good-looking, and I was shy and awkward and thrilled when he asked me to dance." He found her a welcome change from the other debutantes; after she took him to the tenements on the Lower East Side, he responded, "My God, I didn't know people lived like that."
After the nineteen-year-old Eleanor accepted the twenty-two-year-old Franklin's proposal, the couple married in Manhattan on March 17, 1905, as the President would be in the city to attend the St. Patrick's Day Parade. Theodore Roosevelt walked his niece down the aisle as 200 guests watched the exchange of vows.
As a wedding present, Franklin's mother, Sara Delano Roosevelt, gifted the couple a six-story house replete with elevator, butler pantry, library-but it came with a catch-she lived in the adjoining house. Her domineering mother-in-law hired their staff, provided the furnishings, and described herself as her five grandchildren's real mother.
In 1918, while unpacking Franklin's suitcase, Eleanor found love letters from her social secretary, Lucy Mercer. Further probing revealed that Alice Roosevelt Longworth, (Theodore's daughter,) had encouraged the affair that made the cousins not of the kissing variety. Devastated, Eleanor suggested a divorce, something Franklin desperately wanted to avoid as it would blight his political career. Franklin swore he would excise Lucy.
A second wrecking-ball arrived when Franklin came down with polio that would necessitate leg braces and wheelchairs for the rest of his life. Eleanor was a driving force in his successful campaign for governor of New York. Because his infirmity made travelling difficult, Eleanor appeared in his stead.
In 1933, the forty-eight-year-old Eleanor became the First Lady-the only woman in history who held the position for twelve years. The White House proved its own variation of the Little Curiosity Shop. Empathetic to the blight caused by the Great Depression, she travelled so much on the behalf of the downtrodden she garnered the epithet "Everywhere Eleanor." In 1939, when the Daughters of the American Revolution refused to allow the African American Marian Anderson to perform at Constitution Hall in Washington, D.C., Eleanor resigned her membership. She helped organize the concert at the Lincoln Memorial where the audience of 75,000 held senators, Supreme Court Justices, and Cabinet members-but no First Lady. She explained she had been a no show as she was busy with a forthcoming book tour and the arrival of a grandchild. Eleanor was the only First Lady to have a Ku Klux Klan bounty on her head; her activism put her on FBI surveillance with a file that ran to almost 4,000 pages.
When Franklin passed away from a brain hemorrhage in 1945, Lucy Mercer was at his bedside. A further blow was when Eleanor learned that her daughter Anna had arranged for her father's mistress to share his final hours.
Post Pennsylvania Avenue, when a journalist questioned Eleanor as to her plans, she responded, "The story is over." Her words did not prophetic. President Harry S. Truman appointed Eleanor as the representative to the newly minted United Nations. When the UN voted to adopt her Universal Declaration of Human Rights, her fellow delegates-for the first and last time-gave a standing ovation.
When the world's fishbowl proved too stressful, Eleanor retreated to the Hudson Valley that held her heart. In her youth she had lived with her grandmother in Oak Terrace, a brick mansion that looked over the Hudson River and the Catskill Mountains. As Mrs. Roosevelt, she had spent time at Springwood, also on the banks of the Hudson, Sara's thirty-five room estate. Val-Kill was her actualization of Eliza Dolittle's dream, "All I want is a room somewhere."
The genesis of Val-Kill began with a Springwood picnic that Franklin and Eleanor shared with Marion Dickerman and Nancy Cook. Franklin's nickname for the women was the Three Graces; Sara, no doubt, would have called the lesbian lovers, Marion and Nancy, something not as poetic. At the time, Franklin suggested he build his wife her own home on Roosevelt property that consisted of 179 acres of woods and lakes. The three women became the residents of Stone Cottage and its linens bore the monograms E. M. N.
In 1926, Eleanor, Marion and Nancy established the Val-Kill Furniture factory to provide employment for local workers. The enterprise produced impressive replicas of early American furniture. After its closure during the Depression, Eleanor converted the business to her own twenty-room residence that she called Val-Kill after a nearby stream by that name, Dutch for valley stream. She did not share Val-Kill with the other two graces. She wrote to her husband, "The peace of it is divine."
Although Val-Kill looked like any rustic retreat, it was unique as through its door passed John F. Kennedy, Nikita Khrushchev, King George VI and Queen Elizabeth of England, Charles DeGaulle, Prime Minister Jawaharlal Nehru, Prime Minister Winston Churchill, Marshal Tito, and Shirley Temple. Ernest Hemingway and Martha Gelhorn stayed there before their marriage. The driveway often held Franklin's 1936 Ford Phaeton.
Val-Kill has an oval dining-room table set with her favorite china, a 1950s Philco television is in the living-room, a desk holds a misspelt nameplate-Elanor Roosevelt-a gift from a child. The chairs have mis-matched fabrics. In Eleanor's bedroom resides twin beds with a chenille bedspread. There are dozens of photographs of family members and her famous visitors. Several pieces from the Val-Kill factory are on display. The miniscule kitchen is where Eleanor prepared the only food she knew how to make: scrambled eggs and toast. (She had a live-in cook). The grounds hold a swimming pool, tennis courts, horse barn, kennel, huge outdoor fireplace, and flower gardens. The National Park Service that maintains Val-Kill recognizes its importance as an LGBTQ site as Eleanor did not see gender as an impediment to love.
The couple's final resting place is in the rose garden of Springwood; their graves a simple white stone bearing their names, dates of birth and deaths. The Roosevelt Library has a wing dedicated to Eleanor whose entrance bears a tribute by Adelaide Stevenson, "She would rather light a candle than curse the darkness and her glow has warmed the world."
A VIEW FROM HER WINDOW:
From Eleanor's second floor bedroom she could see a pond that reflected Val-Kill, a room of her own.
NEARBY ATTRACTION: Rockefeller Estate
The forty-room mansion that four generations of Rockefellers called home holds an impressive art collection and gardens.