Tikkun Olam (1980)
Traditionally, the colors associated with October were the yellow and red of autumnal leaves, gourds of orange. However, since the advent of the Susan G. Komen Race for the Cure, the month became associated with pink, Susan's favorite color.
Eleanor Goodman, a Jewish homemaker in Peoria, Illinois, raised her daughters with the message, "Fix what is wrong with the world." Acting on their mother's words, the sisters arranged for a backyard fundraiser for a friend who suffered from polio. Susan oversaw selling tickets while Nancy's role was to sing Rosemary Clooney songs. Nancy believed she had a fabulous voice until Susan told her that the next time she would be the singer, and Nancy would be the organizer. When big sis broke a curfew, Nancy convinced their father that their clock was running fast.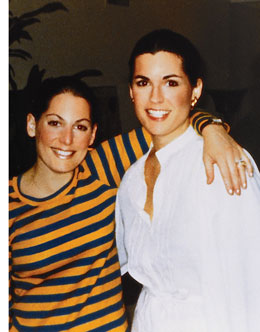 Susan was her high school's homecoming queen; she married her college sweetheart, Stan Komen, with whom they had two children. Nancy took the career path and moved to Dallas where she became an assistant couture buyer at Neiman Marcus. She married Robert Leitstein, the store's executive and had Eric, her only child. In a 1977 phone call, Susan broke the news that the Goodman's family doctor had detected a lump in her breast. Although embroiled in a divorce and custodial issues, Nancy dropped everything to fly home to Peoria. Three years later, the thirty-six-year-old Susan's dying request of her sister was, "fix what is wrong with the world."
On Valentine's Day, in 1981, Nancy married Norman Brinker, founder of Bennigan's and Chili's Restaurant chains. The newly minted Mrs. Brinker could have lived as the wife of a multi-millionaire in a haven of country club luncheons, but she had a promise to keep. Nancy founded the Susan G. Komen foundation, and despite her husband's directive not to pester his wealthy friends, she invited them to a fundraiser at her home. Oil rich Texans donated $1,000,000. The momentum of the organization suffered a setback when Nancy came down with the same form of cancer that had ended her sister's life. In the belief that Susan could have survived had she undergone breast removal surgery, and confident that her femininity did not depend on her bra size, Nancy told her doctor, "I want them both off today! Get them off me!"
After she had regained her health, Nancy went for a run when a vision came to her, of hundreds of women running for the cure. The image inspired her to recruit sponsors who would contribute money for each mile a participant ran.
The first Susan G. Komen Race for the Cure took place on a drizzly Dallas day with 800 runners. Many sported the foundation's logo: a pink ribbon fashioned to look like a runner in motion. Within a few years, millions joined the race that has raised over a billion dollars. For one event, the organization distributed t-shirts with the caption, "If you're going to stare at my breasts, you could at least donate a dollar to save them." In the spirit of breast cancer awareness month, First Lady Laura Bush arranged for the White House to be bathed in pink, police brandished pink handcuffs, the Dallas Cowboys and their stadium were resplendent in pink.
Refusing to be derailed by the end of her second marriage, Nancy accepted the position of the American ambassador to Hungary. During her tenure, she organized a cancer fundraiser in which hundreds of women marched along Cahin Bridge, illuminated with the foundation's trademark hue. The Goodman sisters had truly learned their mother's lesson, the Jewish concept of repairing the world, Tikkun Olam.