Now Abideth Faith, Hope and Love (1912)
When a Southern woman was none too happy with the way her life's cookie had crumbled, rather than throwing a pity party, she adapted a British institution and made it into an iconic American one. She helped level the gender playing field and allowed girls- rather than wear their hearts on their sleeves- to instead display their merits.
Ironically, the organization that was a precursor to the Women's Rights Movement began with a lady destined to live the life of a Southern belle. Juliette-nicknamed Daisy was born in Savannah, the second of six children of William Washington Gordon and Eleanor Lytle Kinzie. To distance themselves from the fierce fighting in Georgia, while her husband fought for the Confederacy, Eleanor took her children to Chicago, where her family, founders of the city who owned its first house, moved in the highest echelons. When the war ended, the Gordons reunited in their Victorian mansion; it was where Juliette met the victorious and vilified General Sherman and inquired as to the whereabouts of his horns. Ms. Gordon soon became known as crazy Daisy because of her eccentric attitude and her insistence in keeping pace with a nonconformist drummer. In her teens she attended a series of prestigious boarding schools where instruction focused on the social graces of upper-class girls. These proved unfulfilling and her defiant nature resulted in breaking rules that led to her mother's comment she was "a pig-headed fool."
As the daughter of wealth and the genteel South, the roadmap of her life after her debutante ball was to embark on the pursuit of obtaining figurines on a white- frosted cake. Disinterested in strait-laced suitors, Daisy fell in love with bad-boy William Mackay Low-who she nicknamed Billow- a British aristocrat, heir to a vast fortune. In 1886 they married in Savannah; however, their wedding left a tragic legacy. A grain of rice thrown at the departing bride lodged in her ear and compounded an earlier mistreated infection. The doctor, in an attempt to dislodge the rice, punctured her eardrum causing Daisy to lose most of her hearing.
The Lows settled in England where they purchased the Wellesbourne House in Warwickshire and spent autumns in Scotland where William pursued his passion for hunting. In London he introduced his bride to Albert Edward, the Prince of Wales, and Daisy curtseyed before Queen Victoria. However, the blue-blood connection wore thin, and Daisy longed for something meaningful to do with her life. However, unable to have children, and as her husband did not approve of charity work, Daisy became an upper-class social butterfly.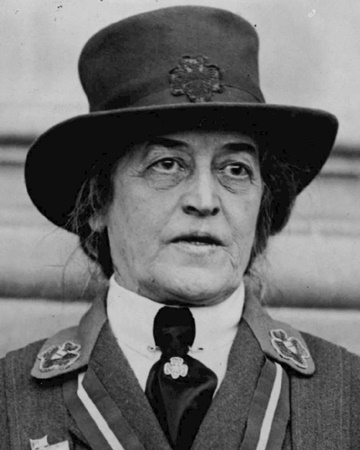 The Low marriage unraveled as Daisy, a strict Episcopalian, did not approve of William's excessive drinking and his second type of hunt-for women. He fell in love with one of them-Anna Bateman- who became his constant public paramour. The intolerable situation prompted Daisy's extended visit to Savannah during the outbreak of the 1898 Spanish-American War where she helped organize a convalescent hospital. Upon her return to England, her husband expected her to share their mansion with his lover though he magnanimously offered her possession of her own wing. In the midst of the divorce, William passed away leaving his assets to Anna. Daisy contested the will and was awarded $500,000 as well as ownership of their Savanna Lafayette Ward estate.
At this juncture, the 51-year-old Juliette Gordon-Low, almost deaf, was at an emotional low ebb. Plan A-her role of wife and mother had gone by the wayside-and she had no Plan B; however, serendipity stepped in. In 1911, at a luncheon party, she sat next to Sir Robert Baden-Powell. She was intrigued when she discovered he had founded the Boy Scouts with the aim of young boys for military experience. Her interest was further piqued when she discovered his sister Agnes had formed a female version, the Girl Guides. The catalyst had been when 6,000 girls showed up in makeshift uniforms in 1909 for the first Boy Scout rally, clamoring for inclusion. This encounter led to Low's eureka moment: a similar organization for girls, not to train for warfare but to help develop life skills-a Plan B. Fired with enthusiasm she started branches in Scotland and London. The effect on its members was so electrifying she decided to spread her idea to the United States. A year later she changed the named from Guides with its connotations of feminine nurturing to the more adventurous Scouts. Low's personality left a different imprint on her American branch than Agnes had on the British counterpart; Agnes placed a heavy emphasis on domestic skills and Daisy adopted Boy Scout traits such as athletics, camping, and shooting.
As soon as she returned to Georgia, she called her schoolmistress cousin, and said "Come right over. I've got something for the girls of Savannah and all America and all the world and we're going to start it tonight!" When Juliette Gordon Low registered her first troop on March 12, it was during an era when few women held jobs, only six states permitted them to vote and only 19 allowed them to participate in jury duty. Her movement allowed girls a taste of autonomy and fostered sisterly solidarity. The initial swearing in took place in the carriage house in the rear of Daisy's home; the first of the 18 girls was Margaret "Daisy Doots" Gordon, her niece and namesake. The original handbook of 1913 encouraged members to shoot rifles and gave instructions for tying up intruders. They were encouraged to play basketball on outdoor courts shrouded from public view by curtains so that men could not glimpse their bloomers. Although the sisterhood was punctuated with a sense of duty, the overall goal was fun. In this spirit Low once showed off a pair of shoes during a session with her girls by standing on her head and told spooky stories around the campfire. She was the troop leader with the mostest.
When the Savannah membership swelled, Juliette was convinced her organization should spread to the national level. Juliette dedicated herself heart and soul to her Scouts and was described as having the "force of a hurricane," only stopping for a year to recover from the death of her beloved father. She used her own finances and the resources of friends and family for her organization and, under the guise of her disability, pretended not to hear when people begged off from volunteering or contributing funds.
In 1917 a troop from Muskogee, Oklahoma, sold home-baked cookies in a bid to garner revenue; the idea spread like the proverbial wildfire and the Girl Scouts partnered with commercial companies to produce their wares. This emblematic fundraiser was launched on a massive scale in 1923 by then Girls Scout President Lou Hoover, later First Lady, and was only interrupted by World War II. Over the past century, Girl Scout cookies have become a ubiquitous annual treat that have generated millions of dollars. Names added to the lexicon of Americana: Thin Mints, Tagalongs, Trefoils- flavors also available as Lip Smackers.
Once the Girl Scouts had been firmly entrenched in the United States, Daisy promoted overseas participation. In 1920, a parade in New York included 6,000 girls of 10 nationalities and the organization had branches from Shanghai to the West Indies. Since that first meeting in a Savannah carriage-house, 50 million girls have been devoted alumnae including Hillary Clinton, Laura Bush, Katie Couric, Gloria Steinem, Mary Tyler Moore, Lucille Ball, Barbara Walters, Venus Williams, and Mariah Carey. Scouts have grown up to be Secretaries of State and scientists, astronauts and actors, teachers and TV anchors, Supreme Court judges and singers-and probably had a hand in inventing s'mores.
Low, not a radical like her contemporaries Emma Goldman and Margret Sanger, did not intentionally set out to institute sweeping social changes; nevertheless, her brainchild set the stage for the women's movement and helped bridge the gender gap.
Daisy stressed inclusion in her troops, perhaps a nod to her own disability. In the 1947 edition of their handbook, watercolor illustrations showed white, black and Asian Scouts, a fact that caused an outcry in the land of Dixie. Dr. Martin Luther King, Jr. called the Girl Scouts "a force of desegregation." Indeed, its liberal attitude has elicited ire: Christians in Texas called for a Girl Scout Cookie boycott because of the organization's support of Planned Parenthood and there was an outcry in the induction of a transgendered child. On the other hand, the Boy Scouts took as their clarion call to exclude gays all the way to the Supreme Court. Perhaps the reason why men are from Mars and girls are from Venus is the differing visions of Sir Robert and Crazy Daisy.
Juliette Low passed away from breast cancer and an honor guard of her troops escorted her casket to Christ Church. She was laid to rest in her Girl Scout uniform with a note from her organization in her pocket: "You are not only the first Girl Scout, you are the best girl Scout of them all." On her tombstone is the inscription, "Now abideth faith, hope, and love, but the greatest of these is love."