The Fearess Girl (1967)
Wall Street is named after an actual wooden stockade built by the Dutch when New York was Nieuw Amsterdam, erected to protect their trading post from the British. Wall Street became synonymous with finance in 1792 after twenty-four prominent merchants, in powdered wigs and waistcoats, founded the New York Stock Exchange to bet on foreign battles, elections, and cockfights. One hundred seventy-five years later, Muriel Siebert scaled the rampart when she became the first woman securities trader.
As a child, Stacey Cunningham thought her father was a sock trader. In actuality, he was a stock trader, the reason he hung a LeRoy Neiman painting of the Exchange in his den. After Stacy became the first female president of Wall Street, he presented her with the painting. Ms. Cunningham takes guests on tours of the Exchange that includes the jumbo Faberge urn that Nicholas II gave for a bond issue, on which he defaulted, owing to his execution. The last stop is Siebert Hall, where a display case holds Siebert's rainbow-striped fur coat.
The lady known as Mickie was born in Cleveland in 1928, the daughter of Irwin Siebert, a dentist, and his wife, Margaret. In the early 1950s, her father was diagnosed with cancer and a Cain and Abel relationship arose after his physician brother, who held the lease on Irwin's office, had him evicted. In her biography, Changing the Rules: Adventures of a Wall Street Maverick, Muriel describes the experience at her first hostile takeover. She denounced her relative's cut-throat behavior as typical for a man who charged his mother for medical treatment when he visited her in her nursing home and was too busy receiving an award from his Masonic lodge to be at his dying father's bedside. The Borgia family drama played out when Muriel was at Flora Stone Mather College, a women's school that became part of Case Western Reserve University in Cleveland. Ms. Siebel had the distinction of being the only woman in her money and banking course. To distance herself from family dynamics, Muriel took respite in bridge, a past-time she quipped became so consuming she did not bother to graduate. The real reason for leaving was because of the Siebert family's reversal of fortune that necessitated her obtaining a full-time job.
Horatio Alger, the 19th-century author, famously advised, "Go west, young man. Go west." In contrast, a young Muriel headed east to the financial Mecca of Manhattan. What had convinced her to do so was a trip she had taken with two friends that entailed a visit to the New York Stock Exchange. The teen tourists received a piece of ticker tape printed with their names as a souvenir. The paper became Muriel's cherished life-long memento that bore the words, "Welcome to the NYSE, Muriel Siebert." As it transpired, she was not given a welcome mat.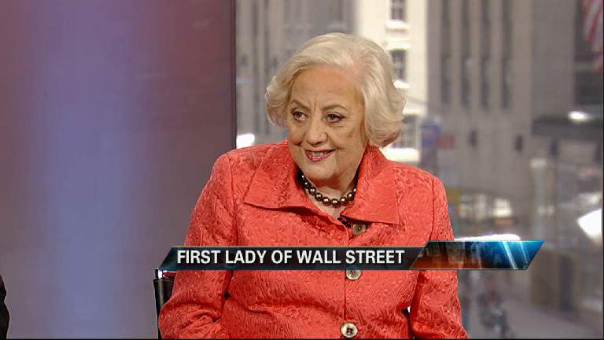 In 1954, Muriel left Cleveland with five hundred dollars, a used Studebaker, and a dream of breaking into the financial sector. Her older, divorced sister offered her a room in her apartment, but Muriel faced grim job prospects due to anatomy. She finally obtained a position at Bache & Co. as a security analyst trainee; in actuality, she was a glorified gopher with a $65.00 a week salary. However, she followed her creed that one creates opportunity by performing, not complaining, and she forged ahead. Comfort derived from the fact that while in college she aced her accounting exams because she could look at a page of numbers, and they "would light up like a Broadway marquee." Eventually, she impressed "the men in dark suits" with her ability of "turning junk into gold," and they gave her a position that entailed working in the then-undesirable field of aerospace. In this capacity, she met the celebrated pilot of World War I, Captain Eddie Rickenbacker who was in charge of Eastern Airlines. She shocked her colleagues during a meeting when she gave the demigod of aviation a series of grilling questions. Timidity was never a part of Ms. Siebert's DNA. Rather than taking offense, Rickenbacker was so taken with her tenacity and intelligence he offered her a job, one Muriel declined. Finance, not flying, set her pulse racing.
In two years, Siebert doubled her salary, but what tempered her joy was the knowledge she was still far behind her male colleagues on the pay and power scale, and as such, she decided to resign. The captain gallantly introduced Muriel to two of his bankers; neither had ever hired a woman and were unwilling to forego tradition.
Passing her resume around the Street did not produce a single response. However, when the placement bureau of the New York Society of Security Analysts sent out her same resume using her initials rather than her first name, M. F. Siebert, potential employers called. In 1958, she received an interview, and a position, in the research department of Shields & Co., for $9,500 a year. Although it was more than she had previously earned, the fact that men in the same position were making $20,000, she voiced her concern. The partners tried to placate her by explaining men, who had families to support, needed to be on a different pay scale. Injustice gave her the gumption to set her sights elsewhere.
In 1965, the year after Title VII of the Civil Rights Act prohibited job discrimination based on sex, race, color, religion, or national origin, Siebert stated in her memoir that the glass ceiling was just inches above her head, frustratingly near, yet unattainable. She was earning more than a quarter of a million dollars a year and had accumulated three times that amount, but she felt stymied as, barred from being a broker, she was restricted to a paycheck. In her book, she wrote that she had consigned her used Studebaker to the junk heap, but it served as an inspiration: "As the car got older, the driver's side door would stick, and when talking to it didn't help, I just had to resort to kicking it. That became a metaphor for life: When you hit a closed door and it doesn't budge, just rear back and kick it in-but hold it open so others can follow you."
In a nod to Lady Macbeth's admonition to her husband, "screw your courage to the sticking place," Muriel lobbied for a position on the New York Stock Exchange. The first gauntlet Wall Street threw down was the stipulation she had to obtain a member to sponsor her application. The first nine men she approached "ran screaming in the other direction." One claimed he did not know her well enough-though she had met him five years prior; another responded, "Holy, shit, Mickie. I won't have a friend left." Ed Merkle expressed an interested in coming to her aide, and his friend Gustave A. Levy, the senior partner at Goldman Sachs, mentioned the Exchange did not have a ladies' room. Merkle responded, "She can pee in her pants for all I care." The Exchange then informed her if they admitted her, she would have to purchase a seat for the sum of $445,000 and furthermore, that a bank had to lend her $300,000 of the total price, something never required of any previous applicants. Muriel, enmeshed in the cross-hairs of a Catch-22, stated, "There would be no loan until I was accepted, and I couldn't be accepted without the loan." Siebert employed her characteristic strategy for dealing with obstacles, "I put my head down and charge." After nearly two years, Chase Manhattan came through. Victorious, Muriel went to the exchange and handed over a check for the balance of her loan, and as she did so, she recalled the power of the almighty dollar embodied in the old proverb, "With money in your pocket, you are wise and you are handsome, and you sing well too." As the first woman on the New York Stock Exchange, Muriel launched a thousand headlines: The Independent Record of Montana: SKIRT INVADES EXCHANGE; from the Salina (Kansas) Journal: POWDERPUFF ON WALL STREET, from State Journal: WALL STREET SLIPPED A MICKIE. A Baltimore paper stated, "When it comes to picking good investments, management is most important. Women spend an awful lot of time trying to manage their husbands, so they have a natural advantage." A New Jersey columnist mentioned her achievement alongside a lament about New York becoming another Gomorrah as an appeals court had sanctioned homosexuals dancing together in public. A New Zealand paper reported, "Muriel Siebert is unmarried, cannot cook, lives in the untidiest apartment on Manhattan's swank Upper East Side and admits to being at least ten pounds overweight. But she does have her good points." Her mother's take on her daughter's trailblazing achievement was she would have much rather boasted about a grandchild. The advent of the first woman broker was a historical day, one not readily repeated. Muriel said, "For 10 years, it was 1,365 men and me." On the romantic front, after her entry she received three marriage proposals, from men in gated communities, also known as federal prison. She declined and never married or had children.
The news met with resistance. In her memoir, she recounted, "There was all manner of concern or my delicate ears-with several articles postulating that a woman couldn't handle the rough language of Wall Street." In addition to the sexism, she had to combat anti-Semitism, often in the form of inappropriate jokes or slurs. In response to off-colored remarks, she mailed her offending colleagues a message, "Roses are red, violets are bluish, in case you didn't know it, I'm Jewish. Mickie." Other historic firsts for the woman with chutzpah to spare was she became the first female to own and run her own brokerage company, Siebert Financial Corporation. She donated millions of dollars from her firm to help women get their start in business and finance. In 1977, she was the first of her gender to serve as New York state's superintendent of banking. Throughout her storied career, she retained her interest in aviation that led The Washington Post to report, "Muriel Siebert is probably the only member of the New York Stock Exchange who reads Aerospace Daily under the hair dryer in a beauty shop." The doyenne of Wall Street claimed it was a source of pride that she could match any male colleague, "Scotch for Scotch." She spoke out against clubs that denied membership to women, claiming it barred her gender from the place where business deals were brokered. She lobbied for a ladies' room and said if she did not receive one, she would provide a portable toilet. Management complied. Ms. Siebert often appeared in public-sporting red cowboy boots, designer pantsuits in red and purple-with Monster Girl, her long-haired Chihuahua, and its successor, Monster Girl 2. She claimed affinities with her pet, noting that they were "not intimidated by the big dogs."
In 1992, colleagues arranged for a luncheon to honor Muriel at which she stated it was not yet time for women to declare victory in the battle for equality on Wall Street. Her argument was that though many women were entering its domain they still were not making partner. Her concluding remark, "There's still an old-boy network, and we just have to keep fighting." And fight Muriel did, until she passed away at age 84 from cancer.
The bronze sculpture of a four-foot girl, hands on hips in a defiant stance, stands in front of the New York Stock Exchange, and her name echoes the spirit of the flamboyant woman who infiltrated the realm of the men in darksuits: the Fearless Girl.