A Bumpy Ride (1941)
Upon hearing the word "president," the image that is conjured is of a man wearing a dark suit and tie standing in the Oval Office. In sharp juxtaposition, during World War II, Bette Davis assumed the same mantle as the Chief Executive when she held the position of the first female President of the Academy of Motion Picture Arts and Science.
The birth of the august body had its origin in 1927 during a dinner at the home of MGM head honcho, Louis B. Mayer. A week later, thirty-six members dined at Los Angeles's Ambassador Hotel (later the tragic site of the assassination of Robert Kennedy;) the International Academy of Motion Picture Arts and Sciences was born. Douglass Fairbanks served as its first president.
The Academy Awards ceremony debuted in 1929 at The Roosevelt Hotel's Blossom Room with 270 attendees. The 13.5-inch gold-plated statuette issued to the winners served as the most coveted of prizes. The official name of the ultimate trophy is the Academy Award of Merit but goes by the vernacular: Oscar.
A theory as to the origin of the moniker links it to Oscar Wilde who, on a U.S. lecture tour, had been asked if he won the Newdigate Prize for Poetry. The wit replied, "Yes, but while many people have won the Newdigate, it is seldom that the Newdigate gets an Oscar." Another legend has it that the Academy librarian, Margaret Herrick, saw a sketch of the prototype and remarked, "He looks a lot like my Uncle Oscar." Bette claimed that after she had won the Award in 1935, she nicknamed it after her husband's middle name because the statue shared the same flat derriere.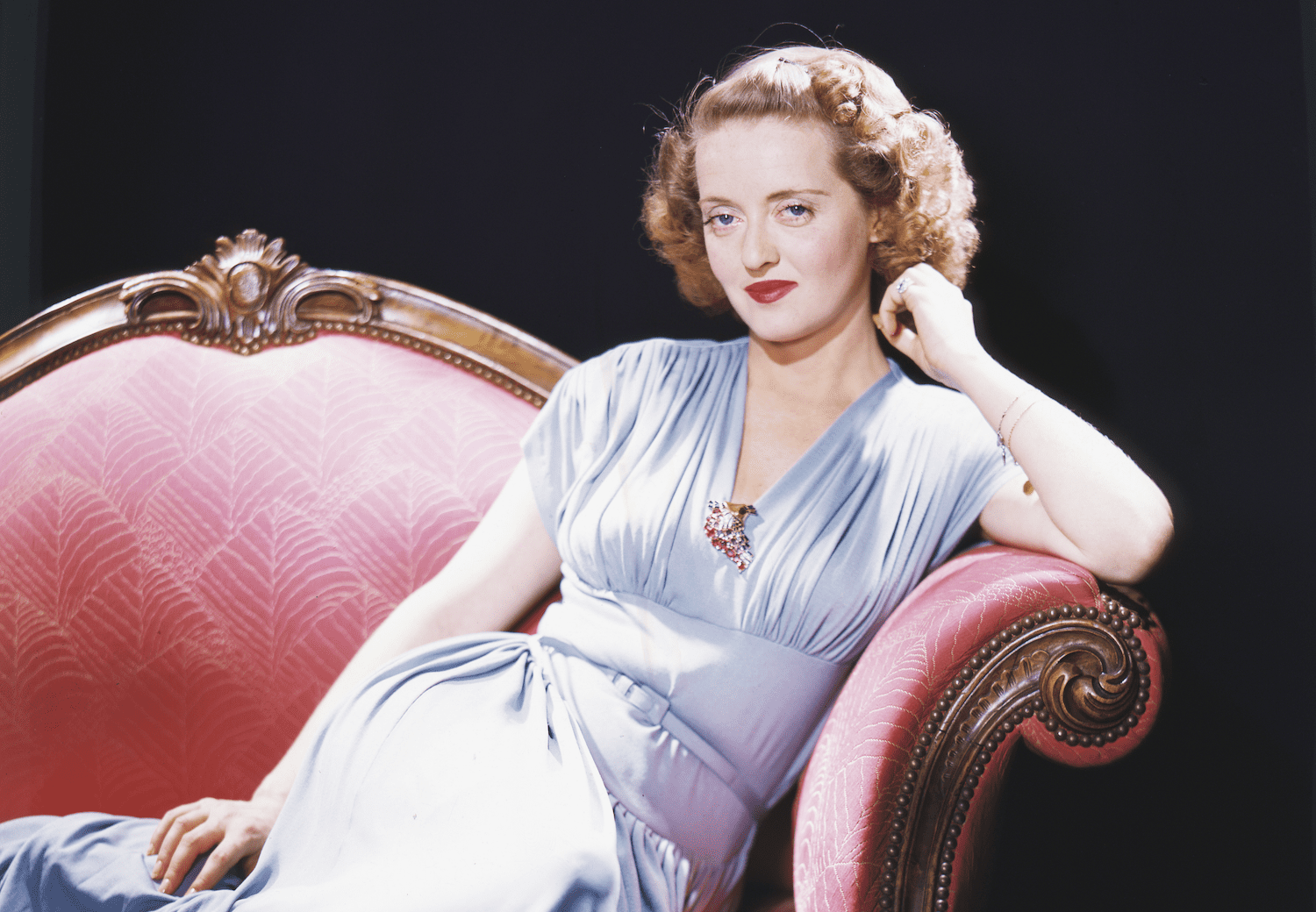 A road less travelled began in Lowell, Massachusetts, with the birth of Ruth Elizabeth in 1908. The driving force of her youth was her mother, Ruth; her father, Harlow Morrell Davis, was a Harvard Law school graduate who worked as a government patent attorney. Harlow divorced his wife when Ms. Davis was seven, and her younger, mentally challenged sister, Barbara, was five. The future star went by Betty until a friend of her mother, who was reading Balzac's La Cousine Bette, suggested the spelling change, with the words it would "set you apart, my dear."
In her teens, Bette returned to New England where, desperate for money, she waited on tables at school, and once posed nude for a woman making a sculpture. She was determined to become an actress, and Ruth took her to Manhattan in 1928 where she unsuccessfully auditioned for a role in the prestigious Civic Reparatory Theater. Her first professional acting job was with a winter stock company in Rochester, run by director George Cukor, who dismissed her after a few months. To offset the back to back rejections, after her New York acting debut in 1929, at the Provincetown Playhouse in Greenwich Village, The New York Times stated she was "an entrancing creature."
The movies had learned to talk a few years before, and Hollywood was keen on luring Broadway actors and actresses who had commanding voices to take screen tests. Ruth and Bette, with $57.00 between them, took the train to the Coast, on a lark they never expected to last a lifetime. Universal Studios gave Ms. Davis a $300.00 a week contract. However, by 1932, her career had consisted of lackluster films, and the studio moguls agreed she had "the sex appeal of a string bean." At five feet, three inches and 112 pounds, she was not the Hollywood ideal of the long-limbed blonde bombshell beauty. At a later date, she would smugly state that over the years, she drew more people into theaters "than all the sexpots put together."
Discouraged, mother and daughter decided to return to New York. That was when George Arliss, the English actor, hired her as his leading lady in The Man Who Played God, her breakthrough movie role. The film was a success, and Warner Brothers signed her, the beginning of a love-hate relationship with the studio, characterized by Bette storming off sets. The burgeoning diva's suspension for refusing to act in what she considered inferior parts culminated in a lawsuit by the star.
Unlike leading ladies of the day, Ms. Davis had no qualms about playing unsympathetic roles and was thrilled in 1934 when Warner Brothers lent her to RKO Studios to play the cruel waitress Mildred in W. Somerset Maugham's Of Human Bondage opposite Leslie Howard as Philip, the crippled hero. She observed, "villains always had the best-written parts." Bette was always proud of her two Oscars, one for Dangerous in 1935, the second for Jezebel in 1938. She said, "I'm not a bit modest about them. I don't use those boys for door stops." A lingering regret was when she turned down the chance to play one of the greatest roles in cinematic history-Scarlett O'Hara in Gone With the Wind. Ultimately, as queen of the red carpet, Ms. Davis became the first person to receive ten Oscar nominations.
Ms. Davis, the possessor of a prickly personality, was dreaded off-screen as much as she was adulated onscreen. The consensus was working on a Bette production proved traumatic for all. Those of a charitable nature referred to her as "a real piece of work." Co-star Brian Aherne pronounced, "Nobody but a mother" could have loved her. Another colleague reported that on the set, Davis needed to be the entire band and all the instruments, "including the bazooka." The New York Times' journalist Jeanine Basinger recalled she had the unenviable task of informing the star that she could not smoke her ever-present cigarette at a dinner honoring Frank Capra, whose asthmatic wife, Lu, had stored her oxygen tank under the table. Bette's rejoinder, "Well, get her out of here!" She made an art out of lighting up; cigarettes were to her what swords were to Errol Flynn. Nevertheless, Bette, the giver of No F****s, did not care about ingratiating herself, either in her personal or private life. She remarked, "Until you're known in my profession as a monster, you're not a star."
A serial bride, her husbands were likewise not in Camp Bette. Her first trip down the aisle was with Harmon (Ham) Oscar Nelson, Jr. (as in Oscar's backside), a prep school sweetheart. She proudly proclaimed he took her virginity on their wedding night-"and it was hell waiting!" He began hitting her and insisted she have an abortion as motherhood would hinder her money-making career. Davis turned for solace to multimillionaire Howard Hughes; she revealed the tycoon told her she was the first woman who had brought him to a climax. Rather than be flattered, she assumed that was just his customary post-coital line. She added, "Huge he was not." Ham found out and threatened Hughes with blackmail who responded by hiring a hitman. At the end, Hughes paid Ham $70,000 which, as a point of honor, Bette repaid. Another lover was actor Ronald Reagan, of whom she reminisced, "I used to think of him as 'little Ronnie Reagan-' not because he was short, he wasn't, he was tall and well-built. The 'little' was for his acting talent." Undaunted, Bette wed Arthur Franworth; he died from a head injury when his colleague found him in bed with his wife and struck him on the back of his head. She described her third marriage as a reign of masculine terror; hubby described it as a failed attempt at castration. William Grant Sherry, a former prize-fighter-turned Laguna Beach artist tossed a trunk at her and threw her out of the car-and that was on their honeymoon. She had three children from her marriages, including Barbara, christened after her mentally handicapped sister; however, detesting the name, she called her B. D. She also adopted children, Michael and Margot. Margot suffered from brain-damage; at age three, Bette placed her in an institution. Divorce arrived when William fell in love with their baby's nanny. Bette's final marriage, to actor Gary Merrill, ended after ten miserable years in their home, aptly called "Witch Way." She said of her unholy matrimonial forays, "All my marriages were charades, and I was equally responsible. But I always fell in love. That was the original sin." She opined she had confused "muscle with strength."
In the 1940s, Bette was the highest paid woman in the country, known as "the first lady of the screen," and as "the fourth Warner brother." At the pinnacle of her profession, the thirty-three-year-old assumed Hollywood's top job when the Academy of Motion Picture Arts and Sciences elected her as the 14th, and first female, president of the 500-member body. Her tenure was brief: she "resigned in fury" after eight weeks because the board wanted her to "be a figurehead only. Because I was a woman, I had to be controlled." Fox studio head Daryl F. Zanuck had nominated her, and Tinsel Town approved. Columnist Hedda Hopper put down her customary poisoned pen, "If any woman here deserves that job, it's Bette." Davis later wrote, "I never imagined that I would hold its most exalted post. As the only woman so honored, I was frankly proud." The position did not prove a love connection, and Bette commented, "I was not supposed to preside intelligently." When she tendered her resignation, Zanuck informed her she would never work in Hollywood again. She did not fade away.
The egomaniac who made everything "all about me" awed in All About Eve (1950), her perfect portrait of an aging actress. Claudette Colbert was originally slated for the role, but, in the words of Bette, "she hurt her back, thank God." In her most frightening role, Whatever Happened to Baby Jane? (1962), Davis, in pancake makeup and a wig of blonde ringlets, played a demented, elderly woman clinging to her glory days as a child star.
In tribute to the first lady of the movies, at age sixty-nine, she became the first woman to receive the Life Achievement Award of the American Film Institute. Upon acceptance of the tribute she stated, "I suppose...they decided 'Let's give it to a dame.'" Even old arch enemy Jack Warner showed up at the gala for "the explosive little broad with the straight left."
The dame who eschewed vinegar and venom to sugar and spice final role echoed the embroidered words on her pillow, "Old Age Ain't No Place for Sissies." In her mid-70s, fate dealt Bette four hammer blows. She underwent a mastectomy, suffered a stroke, broke her hip, and underwent acute alcoholic withdrawal. Nevertheless, in Dylan fashion, she raged against the dying of the light, even though she had a lot to rage against.
Someone once described Hollywood as the place where "they eat their young." In Bette's case, the young bit back. B. D. published My Mother's Keeper, a diatribe in which she portrayed her own Mommy Dearest as a human wrecking ball. Bette said of the book, "I will remember every hate-filled sentence, branded on my soul, as long as I live." Mother and daughter never spoke again; B.D. was summarily disinherited.
Upon Bette's death in Paris at age eighty-one, worldwide tributes poured in, but perhaps the most poignant came from a statement her maid had made years before, "It's nice and peaceful when Miss Davis isn't around. But I kind of miss her disturbances." Her epitaph could well have come from her classic line in All About Eve, "Fasten your seatbelts: It's going to be a bumpy ride."