The Daughter of My People (1912)
The world's largest association of Jewish women is Hadassah, dedicated to the promotion of Zionist causes. Founded by Henrietta Szold, the organization's name is an allusion to Queen Esther.
Those who doubt that one person can make a difference should examine the life of Henrietta, the eldest of eight daughters, born in 1860 in Baltimore, Maryland. Her parents were Hungarian immigrants: Sophie was a homemaker; Rabbi Benjamin Szold was the leader of the city's Temple Oheb Shalom. A childhood memory was when Benjamin carried Henrietta on his shoulders so she could catch a glimpse of Abraham Lincoln's funeral procession.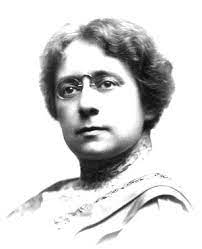 In 1881, as refugees from Russian pogroms poured into the Baltimore docks, Henrietta established a night school for English language learners. In a letter to her sister, she wrote, "I eat, drink and sleep Russians." The dream of the newcomers: a Jewish homeland in Palestine.
After the passing of her beloved father, Henrietta moved with her mother to New York City to work with the Jewish Theological Seminary. A stipulation of her employment was her agreement that she would not seek rabbinical ordination, the provenance of males. Another job was at the Jewish Publication Society where she was its only female editor. Her duty was to serve as a translator for Professor Louis Ginzberg, a recent arrival from Lithuania. The middle-aged Henrietta harbored romantic feelings for Louis, and her world collapsed after his admission he had fallen in love with eighteen-year-old Adele Katzenstein. He had met the teenager in Germany, and she had accepted his proposal on their third date. In the hope of alleviating her daughter's misery, Sophie arranged a tour of Europe and Palestine.
Henrietta and Sophie deviated from the tourist-driven Holy Land itinerary. Instead, Henrietta and her seventy-year-old mother set out on their own in a horse-drawn cart. In Jerusalem, they were appalled by the rampant disease and abject poverty. Sophie suggested that Henrietta and her friends should devote themselves to helping raise the country's standard of living. Revitalized with a sense of purpose, upon her return, Henrietta arranged a meeting at Temple Emanu-El to create a foundation dedicated to Zionism. As the date coincided with the holiday of Purim, Henrietta named her organization Hadassah after the Hebrew name of Queen Esther, the savior of the biblical Jews.
Hadassah's initial coup was when Nathan Strauss, the Jewish owner of Macy's department store, funded a nursing hospital in Palestine that cared for 5,000 patients. In 1920, Henrietta immigrated to her spiritual homeland. A decade later, with the rising anti-Semitism in Nazi Germany, through Youth Aliyah, Henrietta orchestrated the escape of 11,000 children.
In honor of Henrietta's lifelong philanthropy, Boston University conferred upon her an honorary degree through a radio broadcast, and she received a nomination for the Nobel Peace Prize. Always modest, Henrietta downplayed her role and stated that her greatest asset was "a pretty big capacity for righteous indignation."
At age eighty-four, Henrietta passed away three months before the end of World War II—three years before the creation of Israel. Thousands attended her funeral; a boy she had saved read her eulogy. Israel honored her with an internment in the ancient burial ground, the Mount of Olives. The new country also instituted the holiday of Mother's Day after Henrietta Szold. The motto of Hadassah applies to its founder, "Aruchat Bat Ami" "The Healing of the Daughter of My People."