Stirring Salute (1970)
If asked to list three iconoclastic generals, those who might spring to mind: Napoleon, Patton, MacArthur. The common denominator amongst the names is they all carved out a niche in military history, and all were men. The established paradigm shifted when Anna Hays became the country's first female general in a ceremony sealed with a kiss.
Dorothy Parker remarked, "It's a man's world," an observation that rang true regarding America's armed forces. For many years, women could not enlist, and when admitted, they knocked against a camouflage ceiling. A mild-mannered warrior was the catalyst for change. During the ceremony that made her a general, Anna stood at the lectern and quoted Albert Einstein with his words, "What I am I owe to the lives of other men." The lives of other men-and women- likewise owed much to her.
The unfailingly polite and kind Anna Mae Violet was born in Buffalo, New York, in 1920, to Daniel Joseph and Mattie McCabe who both worked for the Salvation Army during the Depression. When Anna was twelve, the family relocated to Allentown, Pennsylvania, a move necessitated by her parents' careers. In her early years, she dreamed of becoming a nurse and practiced wrapping bandages around the legs of a kitchen table on which her parents invited the infirm and destitute to eat.
Anna graduated from Allenstown High School with two passions: nursing and music. Although she played the piano in church and the French horn in her school band, she abandoned her dream of Julliard because of limited finances. Putting practicality over passion, Anna enrolled in the Allentown Hospital School of Nursing, graduating in 1941 first in her class. A day that would live in infamy altered the trajectory of her life and the status of females in the military.
After learning of the devastation in Hawaii caused by Pearl Harbor, with her brother in the Marines and a younger sister living with her widowed mother, Anna enlisted as "it was the patriotic thing to do." She took the Liberty Bell Trolley to Philadelphia where she joined a reserve unit affiliated with the Hospital of the University of Pennsylvania. From there, she was off to Louisiana for training. Never having been away from her parents and siblings, she said, "I was truly scared to death."
The novice nurse spent her deployment caring for U.S. troops in the world's most desolate areas. In 1943, Anna shipped out for the Assam, India, on a troop transport with 7,000 men, facing the danger of attack from Axis submarines and planes. She recalled of those heady days, "It was a strange mix of fear and excitement. For someone who had never really been away from home, it was like an adventure." At the 20th Field Hospital, she worked in a malaria-infested stretch of the China-Burma-India corridor, treating construction workers who were building a new roadway that supplied the Chinese military, as well as the lice-infested special operations Army unit, Merrill's Marauders, who staged raids against the Japanese. All in a day's work entailed burning leeches off her skin, fending off snakes-one wrapped itself around the mosquito netting in her hut- and a cobra made itself at home under her bed. In lieu of a scream, she calmly asked a guard to shoot the snake and remarked, "When one lives in the jungle, one can expect that sort of thing." Malarial monsoons drenched mud floors in eight inches of water. Combat casualties from Burma arrived caked in mud and riddled with lice; ward after ward filled with men stricken with typhus; gangrene amputations haunted the 23-year-old New York state native. She also endured bouts of severe illness. "We were living under quote primitive conditions," Hays recalled. "Disease was rampant...everybody was sick. I had dysentery." In lighter moments, a sacred cow or jackal would run through the hospital or the nurses' quarters, of which she stated, "quite an experience." She ate coconuts fresh from the tree, admired orchids, and attended the occasional dance. She reminisced, "The pilots would come from all over the jungle, as far as 50 miles, just to visit with us for a couple of hours." Two years and 49,000 patients later, the Army promoted her to First Lieutenant.
When World War II ended, Anna contemplated what to do with the rest of her life. Most women returned home to the traditional role of mother and wife, but that was not a path Anna cared to tread. She considered becoming an airline stewardess (a job that often required a nursing degree) but decided to re-enlist. One of her positions was at Tilton General Hospital at Fort Dix, New Jersey, and Valley Forge General Hospital in Phoenixville, Pennsylvania, the latter where the severely disfigured underwent plastic surgery.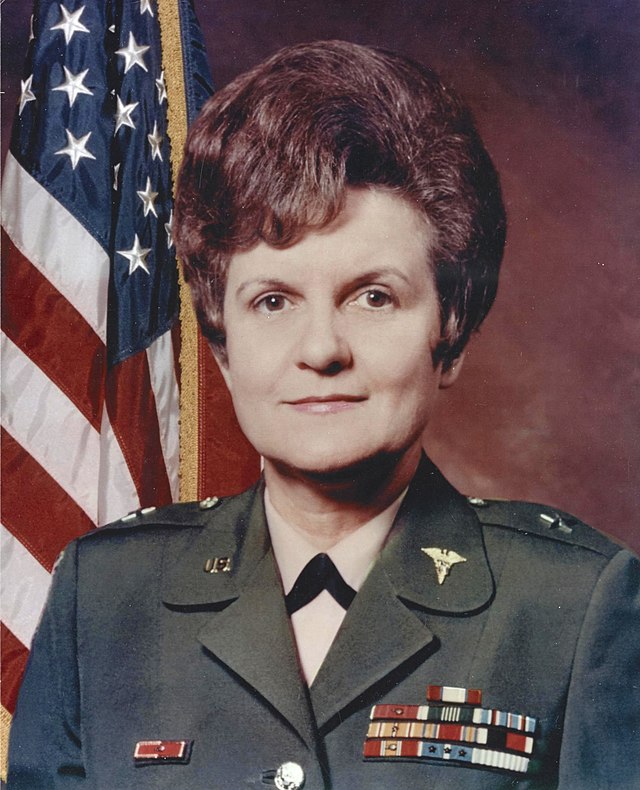 After war broke out in Korea, she served as a nurse in the 4th Field Hospital, one of the first medical units to arrive in Inchon after the United Nations invasion of the Korean peninsula's west coast. She described the conditions in the Korean hospital as even worse than the one in India thanks to the frigid temperatures and lack of supplies in the operating room; she even had to wear an overcoat under her scrubs because of the cold.
When "Jonny came marching home again," Anna was in charge of the emergency room at Walter Reed Army Medical Center in the Washington area. As the personal nurse for President Eisenhower who had undergone intestinal surgery, she stayed by his bedside at night and held his hand. Vice President Richard Nixon came to visit, and Eisenhower, on Anna's recommendation, declined to see him. She went outside, shook Nixon's hand, and explained the President was resting. A lifelong friendship developed between Anna and Ike and Mamie Eisenhower, and they invited her several times to their Gettysburg farm. As a further mark of his regard, Eisenhower sent her a letter or flowers as she ascended the Army's hierarchy.
During her career, the daughter of Salvation Army workers met Vietnam War Commander William C. Westmoreland, China's General Chiang Kai-shek, and Britain's Admiral Louis Mountbatten, the supreme Allied commander in Southeast Asia. She danced with comedian Jack Benny in Tokyo. On the romantic front, she fell in love with William A. Hays who directed the Sheltered Workshops in Washington, D.C., a nonprofit that provided jobs for the disabled. They married in 1956; he died six years later.
Due to Anna's accomplishments, she rose to the rank of Chief of the Army Nurse Corps in 1967, and she deployed to Southeast Asia on several occasions. Through dogged diplomacy, she successfully argued pregnant married women should not be compulsorily discharged, upped recruitment efforts to send more nurses to aid in the war effort, and helped bring about maternity leave for military personnel, all hard sells at the time.
Yet, Hays resisted an association with feminism, "Let's not talk about this" she told the New York Times when asked about the burgeoning women's liberation movement; she remained committed to her belief only men should participate in combat. Ironically, she became a symbol of unprecedented female achievement when the Army-under President Nixon's auspices- promoted her to the one-star rank of brigadier general, the first time a woman ever achieved the distinction in the United States Armed Forces. Only three years earlier, the position had been unattainable by law until President Lyndon B. Johnson opened up the possibility of a female attaining the privilege-the first "in the Western world since Joan of Arc" General Westmoreland quipped. Hays described the breakthrough as "a giant step forward."
In a Pentagon ceremony, Westmoreland introduced Anna as an "able and attractive lady," gave her the Silver Star insignia, and what Time magazine described as "a brassy kiss on the lips." Of the smooch, the Army chief of staff joked, it was all part of "a new protocol for congratulating lady generals." Time magazine added, "They do it in France, but U.S. generals caught kissing each other would be likely to lose their stars." General Hays laughed, though after a second, and a third, kiss from two other senior officers, she shook her head and stood at the lectern to accept her high honor. Mamie Eisenhower presented the new General with the stars her husband received when he had been promoted to brigadier general in 1941.
The news elicited elation from some quarters and derision from others. A political cartoon showed two men at a bar with the caption, "Well, we've got everything, Sarge, the atomic bomb, guided missiles, the M16 rifle, and now a lady general." A New York Times article that covered the historical event devoted more column inches to General Hay's hemlines (she liked them above the knee, and two inches higher still for civilian outfits) and dress size (12), than her career saving lives during three American wars. But she appreciated her new status: a military policeman who saluted the flag at the front of her car gaped when he saw there was a woman in the back.
Westmoreland, who became a lightning rod for controversy not for kissing lady generals but for his running the Vietnam War, shared an anecdote. He said his wife Katherine, (Kitsy) ran into Anna at the hairdresser and told her that she wished she would marry again. When Hays asked why, Mrs. Westmoreland replied, "I want some man to know what it's like to be married to a general." As it transpired, Hay's gender was not the only distinguished aspect of her high command. The army bestowed on her the Distinguished Service Medal-the Pentagon's highest noncombat award-and the Legion of Merit. However, when recalling her storied career, one that entailed wearing gas masks, she did not mention her three tours of duty, the A-listers she had met, or her ground-breaking role in history. The Brigadier-General recalled, "I was always disgusted with most of the other girls in my unit because they couldn't keep in step."
After three decades in the army, General Hays lived in Spain and then Virginia. Her only regret was retiring in 1971, and she said of her career, "If I had to do it over again, I would do it longer." When asked how she wanted to be remembered, Hays replied, "First of all, as the first woman general, but as a very honest person, as a kind individual who did her best-and succeeded."
Anna passed away from complications following a heart attack in a Washington, D.C. nursing home at age 97. Because of her military rank and high profile, Anna could have been buried at Arlington National Cemetery, but she had decided to lie next to her father in Grandview Cemetery in South Whitehall Township. For a lifetime of dedication, for breaking the army's 195-year history on banning women from the top brass, General Hays deserves a stirring salute.