Spectacular (1995)
The New York Four comprised the most popular personalities in television sit-com history. While it is common knowledge the titular character portrayed comedienne Jerry Seinfeld, what fans may not realize is the show's producer modeled attorney Jackie Chiles on legal eagle Johnnie L. Cochran Jr.
Nothing in Johnnie's modest beginnings suggested that he would become one of America's most legendary lawyers, that he would inspire a character for the country's most acclaimed series. Johnnie was born in 1937 in Shreveport, Louisiana, the great-grandson of slaves, grandson of a sharecropper. Although his middle initial did not stand for anything, Johnnie was determined to stand for something. The family moved to California where he was one of two dozen black students integrated into 1950s Los Angeles High School. After graduating from the University of California, Johnnie attended Loyola Law School. An early case was his prosecution of comedienne Lenny Bruce.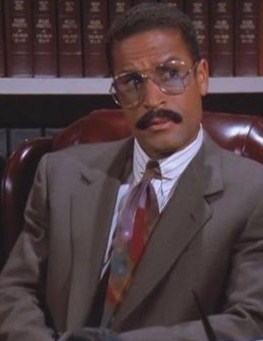 The rhyming couplet, "If it doesn't fit, you must acquit," led to an innocent verdict in the O.J. Simpson trial of the century. With the resultant stratospheric status, Johnnie took celebrity clients such as Sean "P Diddy" Combs, Tupac Shakur, Snoop Doggy Dogg, and Michael Jackson. He enjoyed the scene from Lethal Weapon 4, in which a policeman advises a criminal suspect that he has the right to an attorney, then warns him, "If you get Johnnie Cochran, I'll kill you."
Despite running his law firm, penning his memoir, A Lawyer's Life, driving his Rolls Royce, appearing on a nightly talk show on cable television, Johnnie had a dramatic personal life. While married to his first wife, Barbara, with whom he had two daughters, he had a secret second family with his mistress, Patricia, with whom he had a son. The defense rested from a brain tumor at age sixty-seven left behind his widow, Dale. With his passing, America's accused were left asking the question from Ghostbusters, "Who you gonna call?"
For Cosmo Kramer's off-the-wall lawsuits, he turned to attorney Jackie Chiles, a doppelganger for Johnnie Cochran. The characters shared the same initials, career, narcissism, and style. When Kramer wanted to sue a cigar company for his disfigurement, Jackie responded, "Your face is my case." Jackie also represented Kramer who blamed his car accident on Sue Ellen Mischke-the heiress of the Oh Henry! Candy bar fortune- for distracting him by wearing a bra in public. Jackie declared such an act was "Lewd, lascivious, salacious, outrageous!" The lawsuit collapsed during the court proceedings when Sue Ellen tried on the bra to prove it was hers; it didn't fit, and the jury had to acquit.
However, Jackie was only one side of Johnny. The part of him not portrayed in Seinfeld was his passionate commitment to justice on behalf of his clients whose civil rights had been violated. Johnnie claimed he was just as committed to the O.J.s as "the No Js;" he served as the voice of the voiceless.
In the Finale, the last episode of Seinfeld, the four Manhattan Musketeers hire Jackie after they violated the Good Samaritan Law. Jackie is humiliated with the guilty verdict. However, as compensation he slept with Sidra, Jerry's ex, (from the episode The Implant,) whose relationship imploded over Jerry's fears her breasts were man-made. The last words Jackie tells Jerry is the same ones Sidra had used after the break-up, "They're real and they're spectacular."
Because Johnnie had supported the underdog as well as the fat cats, because of his meteoric rise to the top of his field, because of his oversized personality, an apt description of him: He was real, and he was spectacular.