GET OUT OF JAIL FREE (1936)
GET OUT OF JAIL FREE (1936)
Monopoly's mustachioed, multi-millionaire is the world's most famous board-game icon. Yet its most dedicated players may not realize is its creator based him on John Pierpont Morgan.
The Gilded Age financier started life in Hartford, Connecticut, in 1837, the son of rich commodity banker, Junius. The family tree had impressive roots as it included Aaron Burr and the composer of "Jingle Bells." The family moved to London; John attended the University of Gottingen in Germany. Post Emancipation Proclamation, John, a one-man Federal Reserve, bailed out the United States' government with the crippling debts incurred during the American Civil War. His wizardry shifted the financial center of the world from London to New York. John created U.S. Steel, the first billion-dollar corporation, established General Electric, and founded the bank that still bears his name. Known as the Napoleon of Wall Street, John's Machiavellian bent is apparent in his quote, "A man generally has two reasons for doing things-one that sounds good and a real one."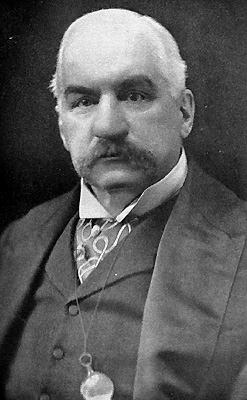 Despite his bulbous nose, a result of rhinophyma, his fortune ensured he had no trouble attracting women. His wife, Amelia, passed away after from tuberculosis four months after their wedding. His second marriage, to Frances, resulted in four children. Incompatible, John tried to ensure they lived on different continents. For distraction, John acquired multiple estates, yachts, and lovers though his chief passion was amassing art. He filled his London estate with so many treasures that a critic remarked that it resembled "a pawnbroker's shop for Croesuses." He commissioned a few portraits of himself but, anxious to make money, he could not sit still. In 1912, John cancelled his reservation on The Titanic, but the Grim Reaper claimed him the following year as he was vacationing in the grandest suite of Rome's Grand Hotel. With his bulbous nose and celebrity status, he was often at the receiving end of cartoonists. Passing away before the advent of Monopoly, he never knew he was to serve as its mascot.
The chairman of the board's social media profile:
Name: Rich Uncle Pennybags/Milburn Pennybags
Net Worth: $7.1 billion
Source of Income: Atlantic City Real Estate/utilities/railroads
Age: 71
Marital Status: wife (Madge)
In 1935, Parker Brothers asked political cartoonist Frankling "F.O." Alexander to provide the illustrations for their upcoming board game. He patterned Rich Uncle Pennybags after J. P. Morgan: the top hat, moustache, cane-and deep pocket. Frankling did not collect $200.00 for his effort; indeed, he received neither compensation nor recognition. The whitewashing was something that Elizabeth Magie, who had invented the Landlord's Game, (the prototype of Monopoly, though hers was firmly anti-capitalist) would have understood. Charles Darrow "borrowed" her idea, and as a result he became Park Place worthy.
A devout Quaker, Elizabeth would have felt vindicated with the 2019 edition: Ms. Monopoly. While the boardrooms of the world are dominated by males, in this board edition women players start off with more money than males. The box showcases Rich Uncle Pennybags symbolically relinquishing his top hat in favor of his niece who holds a coffee cup emblazoned with the word BOSS, M stud earrings, and a green t-shirt, a replica of the GO space.
Although Maggie would have been pleased with the feminist version, no doubt she was suitably miffed at Monopoly's yellow Community Chest card where Pennybags, sprouting wings, is escaping from a bird house jail. The caption represents a pass for the robber barons of yesteryear and today: GET OUT OF JAILL FREE.