Set the Night on Fire
Cemeteries do not rank high in the hierarchy of romance with the exception of Pere Lachaise in Paris where several immortal couples lie together for eternity: Abelard and Heloise, Gertrude Stein and Alice B. Toklas, Simone de Beauvais and John Paul Sartre. Another tomb with echoes to love is Pere Lachaise's most visited grave- of rock royalty Jim Morrison. A photograph taken over it features a ghostly apparition, a white figure with arms outstretched- the prince of music bemoaning separation from his cosmic mate.
Perhaps the reason why the Doors' front man was trying to break on through to the other side was because he was reaching for his titian-haired muse. Pamela Susan Courson was born December 22, 1946, in a town whose name became her passion, Weed, California. Its sole literary association is Weed was where Lennie had to flee to escape lynching in Steinbeck's Of Mice and Men. Pamela was the younger sister of Judith and daughter of Columbus "Corky," a junior high school principal and home-maker wife, Pearl, "Penny." The family fit in well with the conservative Orange County mentality and morality of the 1950s whose residents declared they were "to the right of Buckley." Their slogan was in reference to William F. Buckley Jr. whose political agenda was to make conservatism predominate, an ideology he espoused in his column, "On the Right." The exception was Pamela, a rebel against many causes. Her first act of defiance was her refusal to wear the Brownie uniform of her troop, which she considered ugly; the troop's leader declared her a bad seed. In high school she dyed her hair black and dressed as a beatnik, which immediately set her apart from the other girls with their Aqua-Net bouffant hair and poodle skirts. In her senior year she followed Lennie's lead and escaped- to Los Angeles-where she met her dark angel-and became a footnote in rock history.
Pamela enrolled in Art College and dressed her rail thin body in hippie garb; her scale never registered more than two digits as a result of anorexia. In the evening Courson frequented Sunset Strip, a major artery for the counterculture, where emerging groups such as Led Zeppelin played. Although Whisky-a-Go-Go was the hot spot, she ended up at the London Fog where an unknown band, the Doors, was performing. (Its singer had named the band after a line in a William Blake poem, which Aldous Huxley also borrowed for the Doors of Perception.) Behind the scenes, Morrison preferred to be considered a poet and took to heart Blake's quotation, "The road of excess leads to the palace of wisdom."
Jim Morrison was so sexy Pamela, like other legions of ladies, fell for the tousled haired singer with the Botticelli face and six-pack abs. Morrison was equally mesmerized with Pamela's fiery hair and white skin whose fragility cried out for protection. Another point of attraction was her frayed jeans with a heart embroidered on the butt. While Jim was intellectually into the doors of perception, sexually he was a 'back-door man," and he took this as an open sesame. Although Jim felt he was genetically indisposed to fidelity, (his one-night drunken debauches with other women were legion,) he gave it his best shot with Pamela, who he dubbed his cosmic soul-mate.
After the Doors snagged a record deal with the Elektra label, Jim and Pamela, always looking for the untried, tried their hand at domesticity. They moved into a 1922 house in Laurel Canyon; although it was mere minutes from the Strip the rural retreat seemed light-years away. The neighborhood was comprised of legends in the making: Three Dog Night, the Bryds, Crosby Stills and Nash, the Mamas and the Papas. A feeling of community flowed in the neighborhood whose residents shared song lyrics and marijuana-laced Brownies. In tribute to Pamela, who called herself Mrs. Morrison and wore a wedding-band, Jim immortalized his home in his song Love Street. The scenic spot brought out Pamela's nesting instincts and she cooked while Jim penned poetry. They would sit on their balcony with their beloved golden retriever Sage and watch the endless stream of hippies. When he toured, he took every opportunity to call her and share his latest poetic entries, immune to teasing from the other Doors. For her steadfast faith in his writing, he dedicated his book of poetry The Lords and the New Creatures "To Pamela Susan."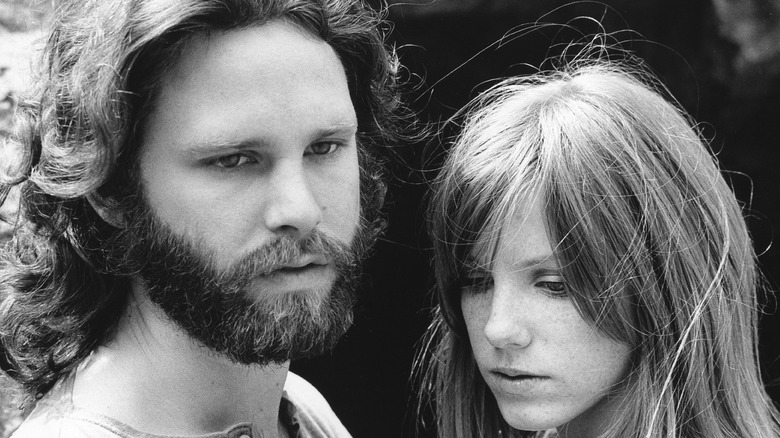 The couple was content in their cocoon, but it carried a short shelf life. Jim's wandering eye lit the fuse and domestic tranquility was shattered when groupie Pamela Miller was lured into the Morrison home by the strains of Jim's lyrics emanating from within. When she entered, she saw the shirtless singer in tight leather pants and proceeded to demonstrate her suppleness by performing a back-bend that sent her purple velvet mini-dress flying over her head. Believing this was overly neighborly, the red-haired lady of the house threw her out. Soon the quiet was punctuated by the sounds of smashing vinyl against the wall. Jim merely ducked the flying records and smirked, "That chick has one hell of an arm." Another form of retaliation included tossing his books out the window. Pamela once stealthily wrote "Faggot" on the back of a vest he wore to a performance.
She also took to taking her own lovers. Jim bought her a Porsche and when she got involved with someone else, Pamela and her fling took off for New York and left the car at the airport with drugs in the trunk. Never grounded with practicalities, she did not return for the vehicle for two months. After it ended up in a tow yard, the police showed up at her door.
Pamela proved Jim's match for crazy antics: in flirtation with death, she drove without headlights on Mulholland Drive's windy road. Jim's specialty was hanging from hotel balconies. What augmented their insanity was their ever-increasing addiction to drugs and alcohol. Jim downed three bottles of liquor a day while Pamela turned to heroin, a habit she did her utmost to camouflage. Ray Manzarek, ex-Door bandmate stated, "Pamela was Jim's other half. The two of them were a perfect combination; I never knew another person who could so complement his bizarreness."
With the Doors ever escalating success, especially after their hit single Light My Fire, their excess grew exponentially. While Morrison was increasingly engaged with the demands of fame and frenzied groupies, Pamela felt at loose ends. To placate her Jim gave full rein of their finances to pursue her dream of opening a fashion boutique. The Santa Monica Boulevard shop, which they initially wanted to name Fucking Great, was changed to Themis, after the Greek Goddess of Justice. Pamela gleefully travelled the globe, buying exotic items of clothing, and decorated the ceiling with innumerable peacock feathers, tie-dyed curtains for the fitting rooms, accompanied by incense burners to offset the scent of marijuana. One of its designers said Themis was 'incredibly exclusive,' both because of its exorbitant prices and the fact it was rarely open. However, when Pamela did manage to show up, so did the wealthy, one of which was Sharon Tate who purchased a black and white outfit. Morrison sank approximately $300, 000 into the losing venture, a fact which did not bother him as it made Pamela happy.
But fame caused Morrison to spiral further out of control. When Ed Sullivan told him to delete the drug reference in Light My Fire during his appearance on the host's show, the uncompromising artist instead sang, "Girl, we could not get much higher" over international airwaves. When the show's producer told the Doors they would never work the Ed Sullivan Show again, Morrison replied, "Hey, man. We just did the Ed Sullivan Show."
Morrison, who always lowered the bar on behavior, met his 1969 Waterloo in his birth-state of Florida. He appeared at a Miami concert and launched into a drunken and profanity-laced anti-authority rant. He was accompanied by a lamb which he claimed he would not have sex with as it was too young, and grabbed a policeman's cap and threw it into the audience shouting "Love your neighbor-'till it hurts." However, the real legal bone of contention, so to speak, was he was accused of "taking it out." What with the screaming fans, the haze of marijuana fumes, the truth was blurred. The keyboard player, Ray Manzarek, claimed Jim only pretended to expose himself and there was no debut appearance of Jim's "magnificent member." Florida didn't agree, donning the robes of Thetis and sentencing him to six months in prison and a $500 fine.
Frantic at the threat of jail time, he decided to escape to Paris. The city appealed to his romantic imagination as he felt he was following in the footsteps of the famous ex-patriot writers such as Fitzgerald, Hemingway and Stein. The only remnant of the old world he took to his new one was Pamela. They envisioned living in a converted church, a spiritual cocoon, in which he could write and love in peace-a place to detox from the insanity. However, in Steinbeck fashion, "The best laid plans of mice and men do often go awry." And indeed, they did for these cosmic soulmates.
In Paris Jim and Pamela stayed in the L'Hotel on the Left Bank, where Oscar Wilde had met his demise. On the night of July 3, 1971, they went to a late night showing of the Robert Mitchum film Pursued and then came home and went straight to bed. Upon awakening Pamela discovered Jim's lifeless body in the bathtub. The cause of death was a heart attack, presumably brought on by an overindulgence in Pamela's stash of heroin.
Pamela dissolved into full-blown grief; Jim had been the sun on which her world revolved. She gave his occupation as poet on the death certificate and purchased a double plot in Pere Lachaise Cemetery. In a state of shock, she returned to the States where she found some comfort, if only material. In his will he had left everything to Pamela; he had tried to protect her in life and tried to do the same in death.
Pamela's mental stability had always been as frail as her waif-like body and after Jim's death she became increasing reclusive. On one afternoon she walked into Themis and poured perfume over all the clothing. Afterwards she drove a truck headlong into the storefront, shattering its windows and damaging the front of the building.
In April 1974 Pamela was twenty-seven, the same age Jim had managed to survive until he had "broke on through to the other side." Unable to continue life without her soul-mate, she most likely embraced death by injecting an overdose of heroin. Ray Manazak said of her demise, "Pamela and Jim are going to go down in the history books as great lovers. It's Romeo and Juliet; it's Heloise and Abelard. It's Jim and Pam." Her parents listed her burial site as Pere Lachaise, but due to legal issues she was interred in Fairhaven Memorial Park in Santa Anna, California, under a marker bearing the name Pamela Susan Morrison. At her funeral, guests were asked not to wear black and Manzarek played a haunting rendition of Love Street. Although Jim's Pere Lachaise grave is France's most visited and Pamela's is long forgotten, in this Southern California spot lies the muse behind the man of the Dionysian 60s who "set the night on fire."