Pentimento (1905)
"One sits uncomfortably on a too comfortable cushion."
In 1968, country singer Jeannie C. Riley sang of the hypocrisy of her hometown who pointed fingers at the widowed Mrs. Johnson although they were guilty of worse transgressions. Sixteen years before, a playwright had socked it to a more powerful body than the Harper Valley P. T. A.
The American actress, Tallulah Bankhead observed, "They say it's the good girls who keep diaries. The bad girls never have the time." The American writer, Lillian Hellman, disproves the quotation as she was a bad girl who kept a diary-in the guise of her memoirs. The woman who became one of the most famous female authors of the twentieth century was Lillian Florence Hellman, born in Louisiana. Her parents, Max and Julia, shared the commonality of German- Jewish roots, but hailed from different social strata. Max had to make his own way in the world, while Julia's family, the Newhouse branch, had made a sizable fortune in the banking industry. After the shoe business Max had established with his wife's money failed, he became a travelling haberdashery salesman. Lillian spent her early years shuttling between upper West End Avenue in Manhattan where she lived with her rich relatives; the other half spent in New Orleans' where her unmarried, paternal aunts ran a boarding house. (She found the eccentric cast of characters in New Orleans more interesting). The nomadic living situation was hard on Lillian, an only child, and she turned to books as a refuge. After a scolding, at age fourteen, she ran away from home. She returned after two days, and later recounted she had learned something "useful and dangerous-if you're willing to take the punishment, you are halfway through the battle." In another anecdote, she said in order to buy books she had pawned a ring that her uncle, Jake Newhouse, had given her for her fifteenth birthday. After she confessed, he laughed off the incident and spoke the words that she would incorporate into her play, The Little Foxes, "So you've got spirit after all. Most of the rest of them are made of sugar water."
After graduating from Wadleigh High School in New York, Ms. Hellman enrolled at the Washington Square campus of New York University for three years before she transferred to study journalism at Columbia University. Although academically inclined, she cut classes to spend time in bohemian Greenwich Village. After dropping out of school, Lillian took a job at the new publishing house of Boni & Liveright.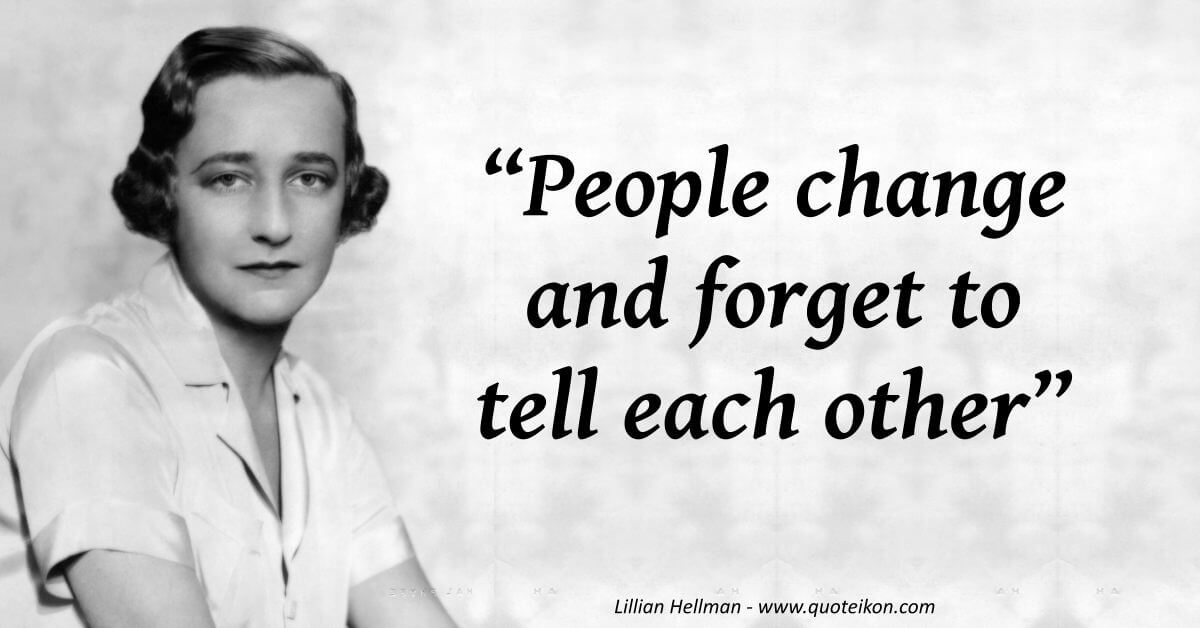 Ladies with less self-confidence than Ms. Hellman might have despaired of finding love; first, there was her prickly personality; secondly, there was her disfigured nose. In her early teens, Lillian had seen her father, who she adored, go off for a dinner date with a lady- not her mother. In a rage, she had thrown herself out of a tree in which she had been playing that resulted in a broken nose. A future detractor, William F. Buckley, featured her on the cover of the National Review showing Lillian looking into a mirror and asking, "Who is the ugliest of them all?" Instead of sympathy, her nanny, Sophronia, admonished her to keep quiet about Mr. Hellman's indiscretion, "Don't you go through life making bad trouble for other people."
On December 31, 1925, Lillian married Arthur Kober, a Jewish press agent from Brooklyn. She said of their decision to marry on this date, "We had a crazy idea that if we'd marry on New Year's Eve, we'd remember it." Within a few years, they moved to Hollywood, and Lillian found a position at Metro-Goldwyn-Mayer reading scripts. She also spent time in France where she was a part of the expatriate circle of Gerald and Sara Murphy's that included Scott and Zelda Fitzgerald. For the main part, during this period Lillian drowned her discontent with alcohol and chain-smoking. Her gravelly voice was a result of her life-long cigarette habit.
In Hollywood, Lillian met the man who made her forget the significance of her New Year's Eve anniversary, the man who chased away her blues. Dashiell Hammett, the famous author of The Maltese Falcon, was also known for his ability to match anyone in alcoholic consumption. He was likewise no slouch in the promiscuity arena, and given his predilection for prostitutes, suffered from bouts of gonorrhea. Hellman was smitten. Lillian's recollections tended to vary; however, the one she usually gave on how her relationship with the man she called Dash unfolded: after meeting him, they talked in his car till dawn about T. S. Eliot. Although Lillian and Hammett were together-on and off- for the next thirty-one years, monogamy never factored into their relationship. Hellman slept with men who whet her sexual appetite, a fact that earned her the reputation as a "she-Hammett." Another commonality was their strong sense of social consciousness; at this juncture, Lillian was engaged in organizing her fellow screenwriters to form a union. The fact that both were married did not factor into their romantic equation. Hammett was separated from his wife, and Hellman, preferring the bad boy, obtained a divorce. In 1934, Dashiell dedicated his novel, The Thin Man, TO LILLIAN. He told her that she was his inspiration for Nora, the book's protagonist. Nora was a breakthrough in the representation of women in detective fiction: neither victim nor femme fatale, an equal partner to her husband, and just as hard drinking.
When Lillian shared her aspiration to be a writer, the extremely private Dashiell joked she should not write his biography because, with her egotism, it would end up revolving around Lillian. Instead, he suggested she dramatize a case that occurred in nineteenth-century Scotland in which a malicious student destroyed the lives of her two teachers by falsely accusing them of a lesbian affair. Ms. Hellman, who was then reading scripts for the producer Herman Shumlin, sat in a corner as he read her manuscript. After the first act, Shumlin said it was swell; after the second act, he said he hoped it kept up the pace. When he finished, he announced that he would produce it. The Children's Hour opened in 1934 and transformed Hellman into a celebrity. However, because of its scandalous subject matter, theaters in Boston, Chicago, and Britain banned any production. The play also never made it to South Africa as Lillian refused to have anything to do with a country mired in Apartheid. The proceeds earned Hellman $125,000 from its first run and a $50,000 contract from Samuel Goldwyn for the movie version. The Pulitzer Prize committee considered it too risqué for consideration, a decision that outraged the New York theater critics. Conscience called, and Lillian left for Spain to aid the Loyalists fighting against dictatorship in the Spanish Civil War. Her form of combating oppression was also manifest in her antifascist play, Watch on the Rhine.
Lillian also wrote a play based on her mother's family; her close friend, Dorothy Parker, came up with the title: The Little Foxes. Scared of success because of what it did to people, Lillian fled from the Broadway opening. In 1980, Elizabeth Taylor starred in a future production, and it went on a national tour. As a well-heeled woman, Lillian bought an estate in Westchester County that she converted to a farm where she grew white asparagus.
In 1952, Hellman revived The Children's Hour, an arrow directed at McCarthyism that saw red under every bed. 'C' had become America's scarlet letter. The message of her play was an attack on the moral landscape of the country: how unfounded rumors victimized the innocent. A month later, Arthur Miller produced The Crucible; his parable also a bullet aimed at McCarthyism. Although both plays satirized the same target, Hellman's was the more radical of the two as it also touched on the persecution of homosexuals.
As with other liberals of the time, Hellman was a committed leftist whose political affiliation resulted in a subpoena to appear before the HUAC (the House Committee on Un-American Activities). The purpose of the institution was to investigate the film industry in the fear they would inject communist propaganda into movies. In order to save their own skins, people testified before the court and named names. Hellman later denounced them as "Clowns who took to the hills." Some of these "clowns:" Walt Disney, Elia Kazan, Ronald Reagan.
In 1951, in his appearance before the HUAC, Dashiell repeatedly invoked his Fifth Amendment right; the judges cited him with contempt of court and sentenced him to six months in a federal prison. He emerged in shattered health, and Lillian served as his steadfast nurse. When her Dash passed away in 1960, Lillian shed light on their relationship in an interview. She told a journalist, "We did have two periods of planning to be married. The first time, he disappeared with another lady. That's not really fair-I was disappearing too." Her sexual escapades lasted for the rest of her days. At age seventy-nine, Lillian propositioned a man at a dinner party the night before she died of cardiac arrest.
Ms. Hellman received her summons the following year. Although she did not view jail time with a Gandhi-like equanimity, she placed principle above self-preservation. In her finest hour, Lillian told the prosecutors that she would testify about her own activities, but, in a nod to Sophronia added, "I will not go through life making bad trouble for people." She continued to sock it to the HUAC, "To hurt innocent people whom I knew many years ago in order to save myself is, to me, inhuman and indecent and dishonorable. I cannot and will not cut my conscience to fit this year's fashions." However, she was not above following that year's fashions on another level and tongue-in-cheek said that the Balmain dress she wore that day made her "feel better." Hellman knew that by disrespecting HUAC, she risked imprisonment; as it transpired, the government blacklisted Hellman, making her a person non gratis in Hollywood. Her income dropped from $150,000 a year to a pittance. Trapped in a financial strait-jacket, she sold her farm and worked briefly as a salesclerk in a department store under an assumed name.
In her later years, Hellman published her memoir, Pentimento; one chapter recounts how Ms. Hellman smuggled $50,000 to bribe Nazi guards to free prisoners. The Hollywood movie version, Julia, starred Jane Fonda as Lillian, Vanessa Redgrave as Julia. Millions watched on television as Hellman received a standing ovation at the Academy Awards. She had traversed the road from blacklist to the Academy in the span of two decades.
In her memoir, she explained the Italian term that served as the title of her book. In the Preface she wrote, "Old paint on canvas, as it ages, sometimes becomes transparent. When that happens it is possible, in some pictures, to see the original lines. This is called pentimento because the painter 'repent ed,' changed his mind. Perhaps it would be as well to say that the old conception, replaced by a later choice, is a way of seeing and then seeing again. That is all I mean about the people in this book. The paint has aged now, and I wanted to see what was there for me once, what is there for me now." For the woman who often reinvented her life, the title of the memoir can serve as her encapsulated biography, Pentimento.