Jingle, Jangle Morning (1965)
Upon hearing the lyric, "Hey, Mr. Tambourine Man," the knee jerk reaction for Bob Dylan fans is to follow with the words, "Play a song for me." But what fans may not realize is that the composition sprung from the flesh-and-blood tambourine man: Bruce Langhorne.
Oddly, the tambourine began with a Turkish frame drum. Bruce was born in 1938 in Tallahassee, Florida, where his father was an English professor at Florida Agriculture and Mechanical College, a black, segregated institution. His parents separated when Bruce was four, and he and his mother, Dorothy, left for New York where she supervised the Harlem library system. A gifted pianist who, in the words of her son, "played Schumann's Sonatas on her piano, until I took it apart to see how it worked." At age twelve, Bruce recounted, "I made a rocket that I had planned to launch out of my bedroom window. I realize now that there were significant gaps in my knowledge of both chemistry and ballistics. The rocket exploded before it took off. I blew my hand off. Basically, my face was covered in blood." The loss of his thumb and two middle fingers ended his career as a violin prodigy. In the ambulance, Bruce told his sobbing mother, "At least I won't have to play the violin anymore." He had been the first African American admitted to the prestigious Horace Mann in the Bronx; the school expelled him for involvement in gang activity. Bruce had turned rebellious after getting picked on "for looking too white, for looking too black, and for looking too Puerto Rican." At age sixteen, Bruce stabbed one of his aggressors, and, to escape repercussions, he fled to Mexico for two years.
Bruce started playing the guitar at age seventeen where he developed a unique style as he could only strum with three fingers. Upon his return, Bruce migrated to Greenwich Village where he performed gospel music for Brother John Sellers who introduced him to Gerde's Folk City, a neighborhood coffee house that sponsored musicians. He played with Alvin Ailey's African American dance company where he met and married dancer Georgia Collins; their marriage lasted eighteen months. He toured with the folk singer Odetta, and they performed "Oh, Freedom" moments before Dr. Martin Luther King Jr. delivered his "I Have a Dream" speech. In demand, Bruce played backup for Richard Fariña and his wife, Mimi, Joan Baez' younger sister. Other collaborations were with Joan Baez, Gordon Lightfoot, Harry Belafonte, Peter Paul and Mary, Judy Collins, and Buffy Sainte-Marie.
His most significant association was with Bob Dylan, (who he met at Gerde's), on his album Bringing It All Back Home. Bob credited the inspiration of "Mr. Tambourine Man" to Bruce who arrived for a 1964 recording session with a gigantic Turkish drum, bells attached to its edges. Bob reminisced, "If you had Bruce playing with you, that's all you would need to do just about anything." Bruce returned the compliment, "The connection I had with Bobby was telepathic-and when I use that word I mean it. The communication was always very strong."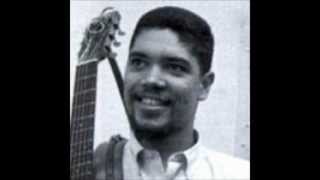 A fan of hallucinogenic drugs, Bruce met his last significant other, Janet Batchelor, through the Arica School dedicated to higher levels of consciousness. The couple took off for a Hawaiian cane shack where they became macadamia nut farmers. When the business proved unprofitable, they relocated to Venice Beach, California.
On his coffee table, Bruce kept a hardback edition of Bob Dylan's Chronicles that held the inscription, "Back then it was better to be in chains with friends than in a garden with strangers. So true, huh? From Bob Dylan to Bruce-Mr. Tambourine Man." Kidney failure ended Bruce's life at age seventy-eight. But evocative guitar notes sketch an audio image of young artists in Greenwich Village, awaiting the promise of a "jingle, jangle morning."