Lobster (1994)
"Oh, I'm sorry. Did my back hurt your knife?"
The 18th century Tivoli Fountain in Rome is forever associated with the image of Anita Ekberg frolicking in its water in a scene from Federico Fellini's La Dolce Vita. A far different, but equally iconic fountain appears in the opening credits of the television series Friends in which six Manhattan Musketeers sport in the water to the backdrop of the lyric, "I'll be there for you."
It is a truth universally acknowledged that for a series to segue into a classic it must tug at the heartstrings of viewers-what Friends did, in spades. The show spoke to twenty-somethings who had flown their parents' nests and were not prepared to make a new one with a spouse. Younger audiences tuned into as the show provided a road map that helped them navigate the thorny transition from youth to maturity. The appeal for older viewers was Friends helped them reminisce what life was like before the weight of adulthood had dimmed their dreams. An iconic decorating touch of the purple-walled apartment was the empty gold frame that hung over the peephole. Photographs are time capsules, and the coterie were not ready for a freeze frame.
The spark that ignited the classic began with Marta Kauffman as she cruised Beverly Boulevard. She had recently relocated from New York to Los Angeles and missed her East Coast companions with whom she had spent every possible moment. From her car window she noticed the funky-looking Insomnia Café and envisioned a series about a clique who congregated at a local hangout. Over huge cups of java they philosophized on topics such as whether foreplay is more important to women or men. The concept was simple yet entailed the spectrum of emotions from the agony to the ecstasy-and the reverse. Love came and went but there would always be a seat waiting at the orange sofa at Central Perk. Along with co-writer, David Crane, the partners pitched Insomnia Café, (one of several hypothetical titles.)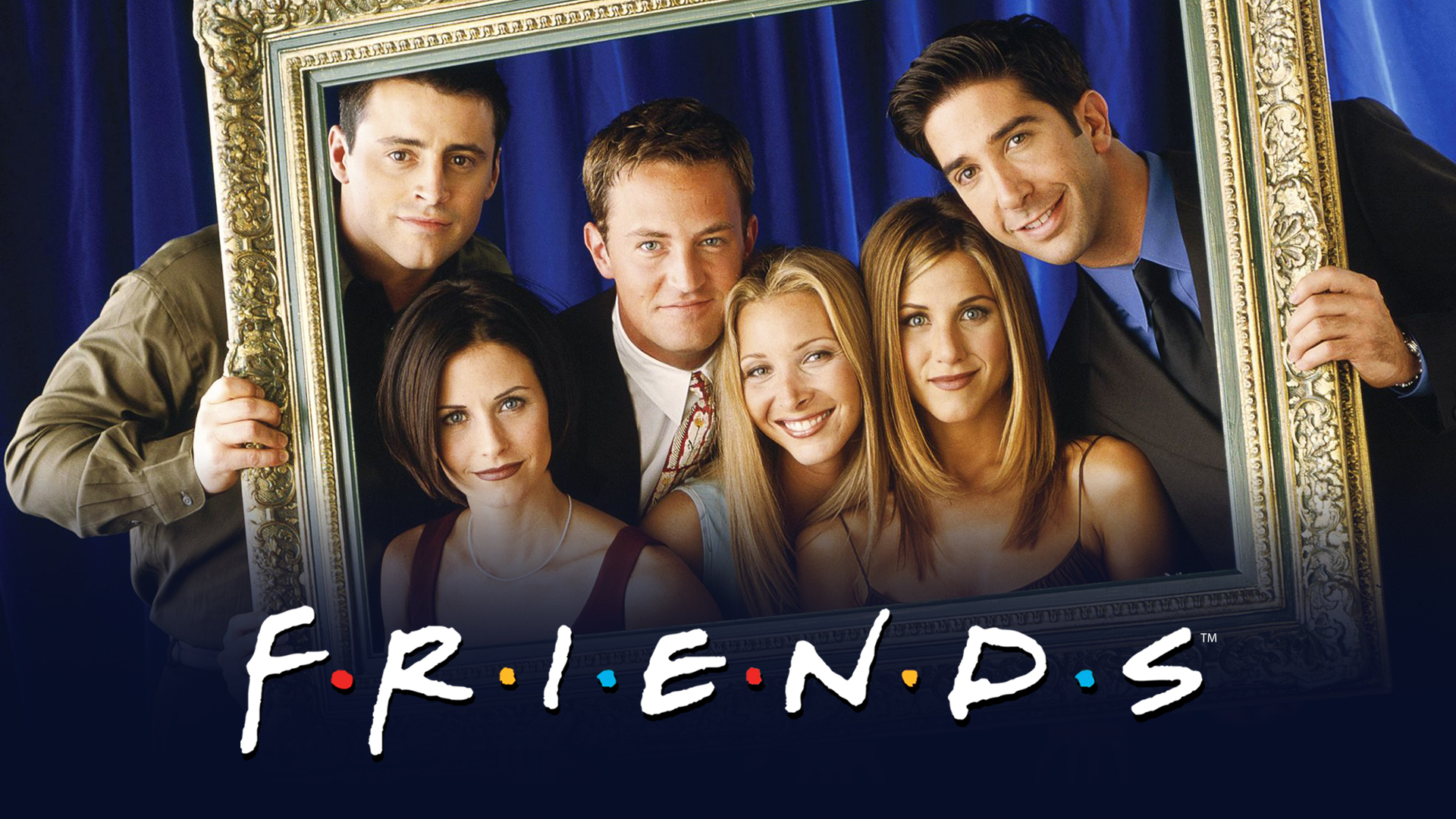 In the inaugural, the five core members-Phoebe, Monica, Chandler, Joey, and Ross-are in the Central Perk when a teary woman in a wedding dress, hair damp from the rain, burst in. Rachel recognized Monica from their Long Island high school and explained why she was a runaway bride. After gazing upon her wedding gift of a Limoges gravy boat she realized that she was more turned on by it than Barry, her orthodontist groom. The moment led to the revelation that if she did not escape Teaneck she would end up with if not Barry, then Gary or Larry. After losing the status of Mrs., in a further stab at independence, she cut up her father's credit cards, symbolically severing ties to her family. After the desecration, Monica pronounced, "Welcome to the real world. It sucks. You're gonna love it." The theme song of the show also proved prescient, "So no one told you life was gonna be this way. Your job's a joke, you're broke, your love life's DOA…." Ross was likewise unlucky in the nuptial arena; his wife, Carol, had left him for her lesbian lover while pregnant with his baby. The characters came with baggage-they were the children of divorce, suicide, a cross-dressing dad-but they had ten shoulders to cry on.
Despite the rotating cast of characters, no one else entered their charmed circle. In the episode, "The One with Rachel's Sister," after a knock at the door, (actress Reese Witherspoon,) caused Phoebe to count everyone in the room. The result was the gang perceived that as the six of them were present, no one else mattered. Regardless how rocky the road-one that entailed bad relationships, divorce, parental fallouts, babies- the sextet banded together over Twister, Pictionary, and Etch-a-Sketch messages-and lots of sex. Although the directors vetoed overt images such as a condom wrapper, there were any number of raunchy moments. The friends had 138 carnal encounters over the course of 236 episodes. Joey, the Lothario in leather, scored the most with fifty-two.
Friends appeared the same evening as Seinfeld and followed a similar narrative arc: a group of friends, in and out of one another's New York apartments. On occasion, plotlines were mirror images such as when Monica and Joey tried to break up a couple so that they could have the newly single partners for themselves just as Elaine and Jerry made the same predatory moves on David and Beth Lockner. However, there was an underlying difference. While writer Larry David's rule for Seinfeld was, "No hugging and no learning," Marta Kauffman stated, "We weren't afraid of hugs on Friends."
The series became a cultural phenomenon, and The Rachel hairdo became as sought after as Farrah Fawcett's had been; Rolling Stones pronounced it "America's First Hairdo." Friends drew an audience of twenty-five to thirty million viewers a week, thus making Marta and Dave the possessors of a bottomless gold mine. Despite the "tell me it's not so" reaction, after a decade the lights went out in The Central Perk as the show was never meant to be about thirty-somethings. The last shot was of the now empty purple apartment with its framed peephole.
In the show's finale, (that had an audience of 52.3 million, and dubbed in forty languages,) Rachel and Ross wake up in the same bed after a break-one of many, that led Rachel to remark, "You've learned some new moves." Later, as she was on a plane en route to her new career at Louis Vuitton, Ross convinced her to get off the plane where she was heading to Paris for her position at Louis Vuitton. Although cliched, there would have been rioting in the streets if the Romeo and Juliet not taken the long-awaited trip down the aisle. Equally traditional, Monica and Chandler had babies and left for the suburbs, (though it would have been hysterical had he ended up with Janice,) and Phoebe married Mike. Fans wept at the series departure that despite ostensibly being about friends was really about family.
No doubt that Jennifer Aniston, who played Rachel Green, arrived as a modern-day Aphrodite from the sea. More prosaically, she was born in 1969 in Sherman Oaks, California, the daughter of Greek parents, John and Nancy. Her godfather was Telly Savalas, the star of television's Kojak. After a return to Greece for a year, the family returned settled in New York where her father had a part in the soap opera, Days of Our Lives. Her mother had roles in The Beverly Hillbillies." At age nine, her parents divorced, and Nancy lived mainly with her mother, Nancy. The show that made Jennifer an international sweetheart was Friends; it also made her a multi-millionaire. After the show ended, Jennifer transitioned to movie star and 1n 2012 received a star on Hollywood's Walk of Fame where her proud papa looked on.
While Jennifer was always catnip to the paparazzi-her word for rabid paparazzi is ratzies- they went into overdrive with her marriage to Brad Pitt in a cliff-top ceremony in Malibu. She did not invite her mother as they had fallen out over an interview Nancy had given about her famous daughter. The two were estranged for fifteen years. Four and a half years later, Angeline Jolie was Brad's new love, thus signifying the end of the Anniston-Pitt marriage. With the demise of her union to husband II, Justin Theroux, the press dubbed her America's Suffering Sweetheart, and the rumor mill has made much of her missing the brass ring of babies. Jennifer stated, "That's part of sexism-it's always the woman who's scorned and heartbroken and a spinster."
Despite her single status, hope springs eternal. According to Phoebe, lobsters fall in love and mate for life. Hopefully, Jennifer will, like Rachel, find her lobster.