Lilibet (1900)
An 1865 poem by William Ross Wallace states, "The hand that rocks the cradle rules the world." Because good ole mom shapes society, the matriarch of the world's most famous family was a magnet of scrutiny. Born in the dawn of the twentieth century, the royal remembered as the Queen Mother died a year after it ended and met the era's most famous.
Lady Elizabeth Angela Marguerite Bowes-Lyon grew up when Britannia ruled the waves. She was the ninth of ten children of Lord Glamis, a nobleman whose family's seat was Glamis Castle, in Scotland, the place where Macbeth murdered King Duncan in Shakespeare's play. Another family residence was in the fashionable Knightsbridge section of London. The young Lady Elizabeth had a sunny disposition. Her favorite hobby, she once stated, was "making friends."
In 1911, tragedy intruded when Elizabeth's brother, Alec, died of a brain tumor, the result of a cricket ball landing on his head. World War I erupted on Elizabeth's fourteenth birthday, and her parents patriotically turned their ancestral home into a convalescent hospital for injured officers. Elizabeth did her best to bring cheer to the men, who, in appreciation, referred to her as Princess. To shield her mother from bad news, Elizabeth waylaid the mailman every morning so she could be the first to check their letters. In 1915, her sibling, Fergus, a captain in the Black Watch, died in the Battle of Loos. After the loss of another son, her mother, Lady Bowes-Lyon, fell into a deep depression that overshadowed her life.
When the war ended, Elizabeth's days consisted of a serious search for a husband. Had she met an ordinary partner, her life would have followed the prescribed path of an upper-class lady - balls, dogs, high tea. Instead, Elizabeth met Prince Albert, nicknamed Bertie, Frederick Arthur George, the second son of King George VI and Queen Mary. Along with his elevated status, Bertie carried the burden of crippling shyness, a severe stammer, and life under the shadow of David, his debonair older brother. When Bertie's formidable mother learned of his romantic inclination, she paid a visit to the Bowes-Lyon home and gave her approval. Elizabeth did not. Over time, however, Albert's unwavering devotion eroded Elizabeth's resistance. In 1923, Lady Elizabeth finally accepted the prince's proposal; she later stated, "I felt it my duty to marry Bertie, and fell in love with him afterwards."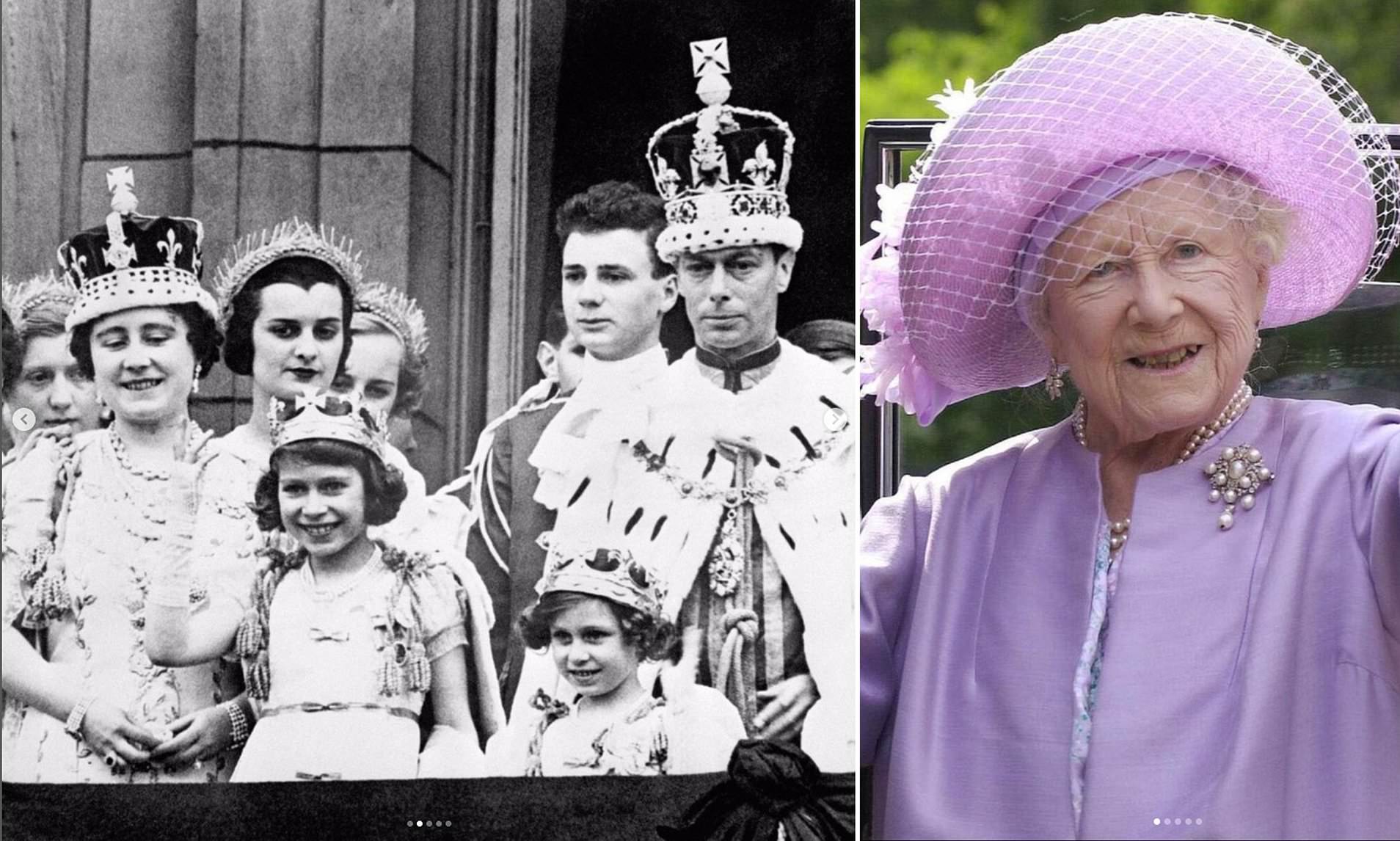 Their 1923 wedding was a national extravaganza, and crowds swarmed Westminster Abbey in a ceremony conducted by the Archbishop of Canterbury, Randall Davidson. The Abbey's clergy did not allow the event to be broadcast on radio because of their fear that men in the audience might not remove their hats. Although Elizabeth had initially been a reluctant royal- "afraid never, never again to be free to think, speak and act as I feel I really ought to," she graciously accepted her role, understanding that great privilege came with great responsibility.
The newly minted Duchess of York and Albert moved into a twenty-five room Piccadilly home, replete with twenty-one servants. Their first child was Princess Elizabeth Alexandra Mary, so called after three English queens, followed by Princess Margaret Rose. Besides child rearing, another duty was to support her husband; he hated the spotlight but made ever more public appearances as David appeared more interested in his social life than affairs of the crown. Forced to speak in public was torture for Albert, and, encouraged by Elizabeth, he sought treatment for what was called his "affliction." When delivering a speech, Elizabeth sat nearby, mouthing the words. His condition proved to such an extent that his father sent the couple on their first royal engagement for the opening of the Australian parliament. In contrast to Albert's shyness, Elizabeth was gregarious. On one occasion, waiting impatiently for his wife, Albert told her, "If we do not pass on, I shall soon pass out." Her husband was grateful for a partner who gave him the sympathy and support that he had never found in his parents' castles.
Albert and Elizabeth would have been regulated to a forgotten footnote of history had it not been for an affair that sent shock waves throughout England. In 1936, following Silver Jubilee celebrations that touched George V by the outpouring of support, the king passed away. David became King Edward VIII; however, the newly minted monarch continued to step out with Wallis Simpson, a twice-divorced American. Unsurprisingly, the prospect of a Queen Wally did not sit well with Queen Mary, the Prime Minister, and Albert. Confronted with the dilemma of relinquishing the crown or the woman he loved, David chose Mrs. Simpson. After the abdication, Albert reigned as King George VI; Elizabeth became the Queen Consort and the last Empress of India whose new residence was Buckingham Palace.
Shy and self-conscious, Albert dreaded the prospect of living in the world's greatest fishbowl and confided to his cousin, Lord Mountbatten, "Dickie, this is absolutely terrible. I'm quite unprepared for it. David has been trained for this all his life. I've never even seen a state paper." Nevertheless, he rose to the occasion and stated, "With my wife and helpmeet by my side, I take up the heavy burden which lies before me." Elizabeth-the antithesis of Lady Macbeth- said, "We must make the best of it." Making the best of it included buying Balmoral Castle and Sandringham from the former monarch. Albert also made the provision that for David to receive the income that would allow him a kingly lifestyle, he, along with Wallis, would not be permitted to return to England without royal consent. David, in the role of deserter, left for exile in France and communications between the brothers resembled those between Cain and Abel. Elizabeth-never forgave David or Wallis for besmirching the royal reputation and forcing her husband into the Firm - the family business. She viewed David, a Nazi sympathizer, who forfeited his birthright, as a royal turncoat. Elizabeth was instrumental in convincing her husband that while David could continue as his "royal highness," his wife would not receive the HRH status she desperately coveted. When the Duke and Duchess of Windsor married, only twelve people attended the Paris ceremony, none of whom were members of David's family. Wallis reciprocated her sister-in-law's animosity, and dubbed her Cookie, a jab at Elizabeth who did not share Wallis's abhorrence of carrying excess weight.
In 1939, Bertie and Elizabeth were the guests of President F. D. Roosevelt and First Lady Eleanor where the Brits first tasted hot dogs. In her memoir, Eleanor described the meeting where her husband said, "My mother does not approve of cocktails and thinks you should have a cup of tea," to which Albert replied, "Neither does my mother." They both had cocktails.
At the outbreak of World War II, the British Cabinet advised Elizabeth to seek refuge in Canada with her daughters. She refused, "The princesses would never leave without me, and I wouldn't leave without the king, and the king will never leave." She remained in London, where she took up target practice at the palace with a revolver, a gift from the new Prime Minister, Winston Churchill. In 1940, as the royal couple was at home, the Luftwaffe bombed Buckingham Palace. Elizabeth endeared herself to her nation with her remark, "It makes me feel I can look the East End in the face," a reference to the working-class area of London that had sustained great damage in the Blitz. Ironically, the greatest tribute to the Queen came from Adolf Hitler. Watching Elizabeth's morale building visits to bomb weary Britons, the Fuhrer deemed her "the most dangerous woman in Europe."
King George's always-fragile health worsened with the stress of the war, the demands of the crown, and his forty cigarettes a day habit caused him to pass away from lung cancer in 1952. Bowled over with grief, Elizabeth wrote to President Eisenhower that "one cannot imagine life without him, but one must carry on as he would have wished." The Times reported that no monarch in history had owed more to his wife. The fifty-one-year-old widow assumed what was to be the longest role of her life: that of Queen Mother. Although she lived a Marie Antoinette lifestyle, by betting at the races, shooting pool, and knocking back a pint, she made the world's least ordinary family seem somewhat ordinary. Proof the Queen mum was no stuffed shirt occurred when she called down from an upper floor of her palace to request help from her household staff that included several homosexuals, "Are there any old queens down there who'll fetch a gin and tonic for an old queen up here?" The apogee of her later years was on the commemoration of the fiftieth anniversary of V-E Day when Elizabeth appeared on the balcony of Buckingham Palace as she had a half century before. She was a Rock of Gibraltar sheathed in pastel silk, crowned with a feathery hat.
At age 101, two months after the death of Princess Margaret, the Queen Mum passed away. To the beat of a gun salute from the Royal Artillery, and 1,500 soldiers in scarlet tunics and bearskin hats, 400,000 onlookers paid homage. The coffin travelled on a horse-drawn carriage, draped in her personal standard, topped with a diamond encrusted crown and a wreath of white roses. The bouquet held a card with the words, "In loving memory," and the nickname by which the Queen Mother called her daughter, Queen Elizabeth II, "Lilibet. Lord Halifax had captured Elizabeth's essence when he had described her as "a steel hand within a velvet glove."