Gonna Fly Now (1976)
A Simon and Garfunkel song describes a boxer who "carries the reminders of every glove that laid him down." The lyric describes Rocky Balboa and the real Rocky: Chuck Wepner.
Outside the Philadelphia Museum of Art, next to the seventy-two steps Rocky ran up as part of his training regimen, is an 8-foot-6 statue of the Italian-stallion, gloved hands raised in victory. The monument is a magnet for selfies, but the public did not make much ado about the macho muse behind the movie.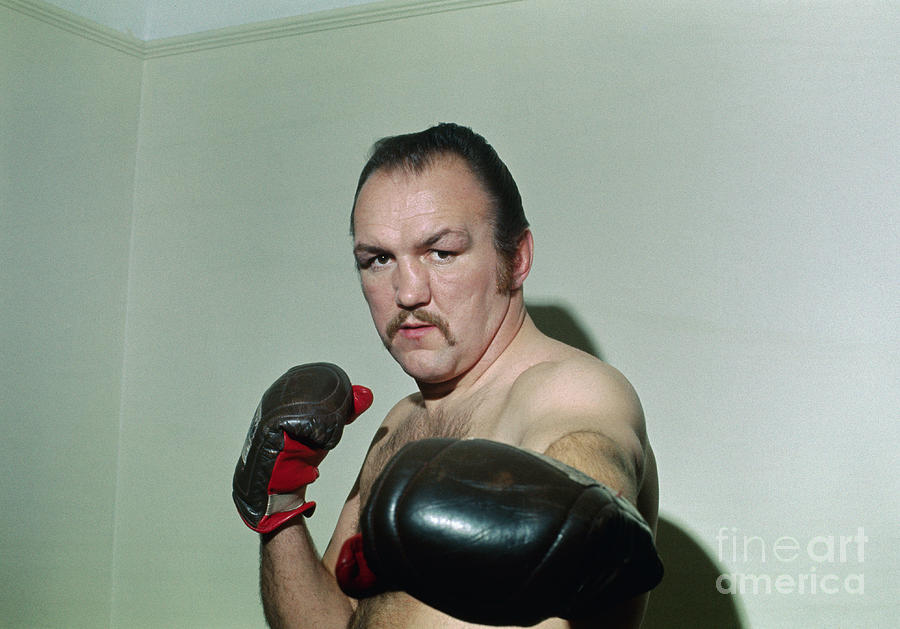 Born in 1939, Chuck Wepner grew up in public housing in the tough town of Bayonne, New Jersey, where every day was a duke-out, a reality aided by his six-foot five-inch frame. After high school, Chuck enlisted in the marines and joined its boxing team. The self-proclaimed "undefeated" bar brawler had a day job as a liquor salesman and turned pro in 1964. He worked his way up from cheap joints in Bayonne to taking on prominent fighters such as George Foreman. A match with Sony Liston left Chuck with a broken nose, 71 stitches in his face, and his nickname, the Bayonne Bleeder. Of his fifty-two pro fights and nearly 100 amateur bouts, Chuck claimed he won most of them and added, "And in bar fights I'm undefeated."
The thirty-five-year-old Chuck regarded himself as a has-been who never had been much when serendipity stepped in. Promoter Don King proposed a match between the Bayonne Bleeder and the self-proclaimed 'I am the Greatest," Muhammad Ali. Chuck was an improbable choice for the heavyweight boxing champion of the world, but Ali was looking for an easy win and a $1.5 million pay. Chuck's take was $100,000, ten times more than he had ever earned in the ring. With the hope of finally becoming a contender, Chuck kept to a demanding schedule that consisted of eating raw meat and running up the forty-six steps of Hudson County Park. On the morning before the match, Chuck gave his wife a sexy blue negligee and told her, "Wear that to bed tonight, honey. You're gonna be sleeping with the heavyweight champion of the world."
During the bout, the 225-pound Chuck delivered a blow to Ali's ribs that left the champ on his rump. Elated he had beat the unbeatable, Chuck headed to his corner and told his manager, Dominick Bufano, "Start the car-we're going to the bank." His manager replied that Ali was getting back up. Although Ali proved the victor, Chuck was proud that he had held his own against history's greatest fighter. When he arrived back at his hotel room, Mrs. Wepner was wearing her blue negligee and asked, "Is Ali coming to my room or am I going to his?"
In 1975, a struggling actor and screenwriter, Sylvester Stallone, was in a Los Angeles theater watching a close-circuit broadcast of the Goliath facing off against David. Sylvester banged out Rocky that won an Academy Award for Best Picture. While Sylvester became Hollywood royalty, Chuck served eighteen months in jail for cocaine and battled cancer. Still not down for the count, in 1976, Chuck faced off against Andre the Giant that he lost when the 7-foot-4, 500-pound fighter flung him out of the ring. Embittered that he did not share in his celluloid's stardom, Chuck won a lawsuit for undisclosed damages against Sylvester.
To show their hometown hero was the real Rocky, Bayonne erected their own monument. Unable to afford the $500,000 price of the Philadelphia one, local sculptor, Wu Zhen, did the job for 440,000, the price of the materials. The eighty-three-year-old true blue Bayonne still drives around town in his Lincoln with a CHAMP license plate with mini boxing gloves dangling from the mirror. Perhaps on its radio is the lyrics from the movie's theme song, "Gonna fly now/Flying high now/Gonna fly, fly."