A Good Judge (1981)
Before the first female presidential nominee of a major political party was a twinkle in the nation's eyes, before there was a female speaker of the House of Representatives, a female attorney general, or a female secretary of state, there was the F.W.O.T.S.C. – the first woman on the Supreme Court-an acronym Sandra Day O'Connor used when she ascended America's loftiest bench.
The fact a tomboy would one day join the United States' most exclusive male club serves as a harbinger of hope. The oldest of three children born in 1930, Sandra's childhood was spent at the Lazy B Ranch, situated on 160,000 rain-starved acres on the Arizona-New Mexico border. The little girl did not own a pet cat; she had a pet bobcat. While her contemporaries played with Shirley Temple dolls, Sandra held a rifle. Her family kept one in their truck, and if they saw a coyote, Sandra would take aim from her window to kill her prey to save the ranch's small calves. Life in the homestead provided a litany of lessons: caring for sick animals without access to a veterinarian, heating water using only the sun's rays, finding entertainment without television. Sandra's early years left her with a sense of self-sufficiency and an aversion to whining. Years later, her orders to her law clerks made no mistake as to her expectations, "No excuses. Get the job done." Her early grit was to serve her well.
Sandra's parents wanted more for their bright daughter than pet bobcats and moving target practice, and at age six, they sent her to her maternal grandparents in El Paso where they enrolled her in a finishing school. Unlike meals at the Lazy B, Sandra ate in a home with white tablecloths and studied Latin and Greek. Her father held hope his daughter would attend Stanford, his own youthful aspiration that had fallen by the wayside.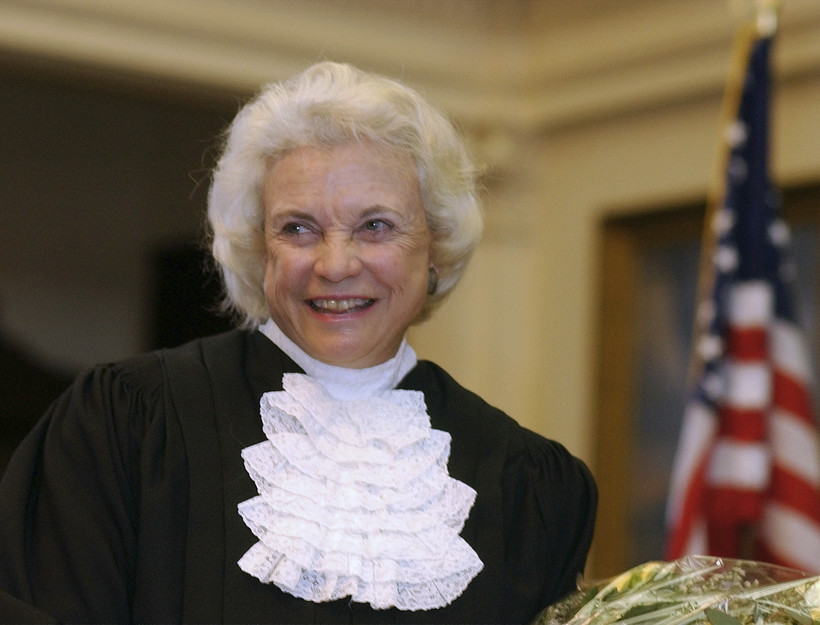 As an attractive sixteen-year-old, Sandra left for college, followed by law school at Stanford, an extremely unconventional route for a woman of her era. To her surprise, the male student body was not intimidated by her combination of beauty and brains. World War II had just ended, and the returning G.I.s crowded the campus, many looking for relationships. She received four marriage proposals, one from a lanky Midwesterner with a flattop haircut, William Rehnquist, slated to become the Chief Justice of the Supreme Court. They met in class and bonded over picnics, bridge, and charades. His intentions imploded when he failed to please her papa. Mr. Day offered his daughter's beau a bull's testicle he had gilled on a branding fire, and William flinched. After he struck out, a man with a stronger stomach wooed and won Sandra's heart: John O'Connor III, her colleague on the Stanford Law Review. Nevertheless, William persisted; during his tenure as a clerk on the Supreme Court, he wrote to her in a lawyerly style-the equivalent of flinching at bull testicles- "To be specific, Sandy, will you marry me this summer?"
Sandra's marriage to John proved to be of the ilk said to be made in heaven. The O'Connors and their three sons settled in Phoenix, as did Rehnquist and his wife. Despite the demands of motherhood, the future justice actively sought a job in a law firm. Although she had been third in her class at Stanford law, she only received offers as a legal secretary. The country was not yet ready to embrace an ambitious, married mother who could argue legalities as well as shoot a jackrabbit at fifty yards. She recalled of those not-so-good-old-days, "No one gave me a job. It was very frustrating because I had done very well in both undergraduate and law school and my male classmates weren't having any problems. No one would even speak to me." Exhibiting the persistence and initiative for which she would later become renowned, Sandra sought out a county attorney in San Mateo, California, who had once had a woman on his staff, and agreed to work as a volunteer. Four months later, she was a full-time employee and only left to work as the Judge Advocate General's Corps in Frankfurt during the Korean War after the government drafted her husband.
When the O'Connors returned to Arizona in 1957, Sandra again struggled to find work until she eventually convinced a man to co-own a law office. They primary took on cases for clients with limited funds and soon the firm garnered a sterling reputation. Consequently, the Republican Party elected Sandra a precinct committeeman and later promoted her to a vacancy in the Arizona State Senate where she served two terms. After infiltrating the senatorial band of brothers, in 1973, to everyone's amazement-including her own-she became the majority leader. Obtaining the lofty position was a momentous event as it was the first time a woman in the United States had ever held a legislative leadership position.
Sandra's life was the embodiment of the cliché "Having it all." In addition to her unprecedented political successes, her marriage was a happily ever after. John and Sandra skied and golfed; hobnobbed with bigwigs such as Chief Justice Warren Burger and raised their Stanford educated sons. One of their boys also ascended a lofty height when he went on to climb Mount Everest.
Mrs. O'Connor eventually returned to law in 1975 as an elected county judge, and four years later became a member of the Arizona Court of Appeals. If these laurels were not heady enough, in 1981, she had the shock of her life. During Ronald Reagan's presidential campaign, he had promised to appoint the first woman to the Supreme Court, undertaken to woo the female vote. When he chose Sandra Day O'Connor for the singular honor, the gobsmacked future justice stated, "I had never worked at court. Had never worked as a law clerk there. Had never tried a case at court. It was far removed from our life in Arizona and I was not trying to move to Washington, D.C. I was not sure if I went to the Supreme Court that it would be a comfortable choice for me." John helped quell self-doubt, "Come on, you'll be fine." In the first televised confirmation, the Senate Judiciary Committee confirmed her in 1981 by a sweeping majority of 99-0. The missing senator, Max Raucus of Montana, sent her a copy of Norman MacLean's A River Runs Through It as an apology for his absence. The bench broke its trend: it had been populated exclusively by men for the previous 192 years.
Although it was not easy to be a sister amongst the band of brothers, Mrs. O'Connor was clearly a popular choice, even if her approval was due in large part to the President's popularity. Had Sandra chosen William over John, she would have achieved another historical landmark-as part of the first married couple on the Supreme Court. With her entry, the term Mr. Justice went the way of the dodo. By age fifty-one, Sandra had shattered the seemingly impenetrable glass ceiling of the Supreme Court.
Over her twenty-four years wearing the black judicial robes, Sandra left her brand: her vote saved abortion rights, her decision preserved affirmative action, and her voice delivered the presidency to George W. Bush in 2000. Not a bad resume for the girl from the Lazy B Ranch. Her presence on the bench proclaimed that women had a niche on it, and since they belonged there, there is no place they did not belong. Because of her singular accomplishments, she became one of the most consequential women in American history, something that makes her as notorious as the next woman to occupy the precipice of power, Ruth Bader Ginsburg.
In her spare time, Sandra-apparently a member of some more evolved species-cooked every recipe in Julia Child's Mastering the Art of French Cooking. A friend commented, "Oh, for God's sake, Sandra, do you always have to overachieve?"
Sandra, a pivotal pioneer in jurisprudence, enjoyed a magical life, but her golden years were tarnished. At age seventy-five, (a spring chicken for those who preside over the bench) she retired in order to nurse John through the onslaught of Alzheimer's. Hours after her announcement, the other members of the nation's highest court and three retired justices released statements praising Justice O'Connor. Ruth Bader Ginsburg stated, "She strived mightily to make what was momentous for women in 1981 no longer extraordinary, but entirely expectable. I am among legions of women endeavoring to follow her lead." The disease proved the only obstacle Sandra could not successfully arm-wrestle; John quickly slipped into a place his wife could not reach. With the grit she had learned from her early years, she turned down her doctor's prescription for antidepressants as it went against her philosophy of tackling troubles head-on. When John's condition worsened, Sandra had to make the heart-rending decision to place him in an assisted living center. In the facility, her husband of fifty-five years carried on a romance with another patient; when Sandra came to visit, she observed him as he sat on a porch swing with the other woman as they held hands. Sandra was pleased to see him content and was devastated when John passed away in 2009.
Former Justice O'Connor determined there was life after loss, and the widow became far from the conventional octogenarian grandmother. In addition to raising awareness for Alzheimer's research, she heard cases in appeals courts, lectured, and demystified the judicial process for teens. After discovering that only a third of young people could name the three branches of government, Sandra established ourcourts.org as an educational tool that proved a resounding success.
In 2018, at age eighty-eight, Sandra announced her departure from public life. She wrote, "While the final chapter of my life with dementia may be trying, nothing has diminished my gratitude and deep appreciation for the countless blessings in my life. As a young cowgirl from the Arizona desert I never could have imagined that one day I would become the first woman justice on the U.S. Supreme Court." The words echoed an earlier letter, one penned by President Reagan, who had encountered the same struggle, "I now begin the journey that will lead me into the sunset of my life." In an ironic twist, the man who had put Justice O'Connor on the Supreme Court and the man for whom she had left it is now the one arm-wrestling the same disease. Although she may no longer remember the country she served, America should remember her as a trailblazer.
Sandra knew what she wanted her legacy to be. While she was a justice, she told her sons that she hoped she had helped pave the pathway for other women. And pave it she did: Ruth Bader Ginsburg, Sonia Sotomayor, Elena Kagan. However, the balance of justice is still lopsided considering of the 113 justices only four have been women. Mrs. O'Connor was clear on what she wanted on her tombstone: "It was what I told Congress when they were interviewing me. Here lies a good judge."