A Joyful Noise (1963)
The dust will never settle on stirring lines from speeches such as "Ain't I a Woman?" "Four score and seven years ago," and "I have nothing to offer but blood, toil, tears and sweat." One iconic quotation would not have been delivered if not for the Queen of Gospel.
Mahala Jackson, the granddaughter of a slave-nicknamed Halie- grew up in a three-bedroom New Orleans shack that bordered railroad tracks. Water from the Mississippi was so brackish that cornmeal was used as a filter. From birth she suffered from bowed legs, which a doctor wanted to correct by breaking them so they would grow back straight. A residential Aunt advised against it, and as a homeopathic cure, her mother, Charity, rubbed her down with greasy dishwater. Undaunted, the little girl danced for the white woman for whom Charity worked as a maid and laundress. Mahala was the third of six children of father, Jack, a longshoreman by day, a barber by night, and a clergyman on Sunday. The Jackson residence qualified as a full house as thirteen people- extended family members, as well as a dog - called it home.
Charity passed away when Mahala was five, and her care fell to her Aunt Mahala, called the Duke, because of her authoritarian manner. She subscribed to the biblical injunction 'spare the rod and spoil the child,' and if Mahala failed the white-glove test – to check if she had cleaned thoroughly - she received a beating. Motherless and mistreated, she crooned to a doll made of rags and grass and took refuge in the plaintive notes of Blues singer Bessie Smith that wafted from her cousin's record player. She also loved the gospel of the Mt. Moriah Baptist Church and said of it, "We Baptists sang real sweet and did beautiful things with our hymns and anthems. When those sanctified people lit into 'I'm So Glad Jesus Lifted Me,' they sang out with a real jubilant expression." Mahala, who never learned to read music, joined in "because I was lonely." Her powerful contralto could fill a cathedral, and the congregation knew her as the little girl with the big voice. School was not her Aunt's priority, and Halie left after the eighth grade to work as a cook and washerwoman.
In 1928, sixteen-year- old Mahala departed New Orleans as part of the Great Migration-an exodus of millions of African Americans who fled Jim Crow for the Promised Land of the North. Although freed of government-backed racism, they still faced economic disparity. For the first several years in Chicago, Mahala worked as a maid in a hotel, and she said, "I can still iron a man's shirt in three minutes." Once again, she took solace in music when she sang with the Greater Salem Baptist Church where her soaring voice "made a joyful noise unto the Lord."
Jackson received her career break in 1929 when she met composer Thomas A. Dorsey, the Father of Gospel, and his composition "Take My Hand, Precious Lord," became her signature song. Seven years later Mahala added the letter 'i ' to her name and married Isaac Lanes Grey Hockenhull (Ike). The marriage fell apart when he insisted she accept jobs as a blues singer that offered the greatest pay. However, she believed gospel was God's own music and would sing no other-even when tempted by the lure of a huge paycheck. Isaac was less than pleased as he needed money to finance his addiction to gambling on horses. Their marriage ended in divorce as did her second to Sigmund Galloway, both of which did not produce children. She explained her decision, "Blues are the songs of despair. Gospel songs are the songs of hope. When you sing gospel you have the feeling there is a cure for what's wrong, but when you are through with the blues, you've got nothing to rest on."
Mahalia's meeting with Dorsey, was, in the words of Casablanca, "the beginning of a beautiful friendship." His music and her voice proved an irresistible combination. Under his patronage, she took part in a cross-country gospel tour that attracted attention in the black community with songs such as "He's Got the World in His Hands," and "God Gonna Separate the Wheat From the Tares," the latter her first recording. She sang with such fervor the combs flew out of her hair, and she moved her listeners to dance and shout. By the 1950s she had broken into the white communities through her records that sold in the millions, and she performed to a packed house at Carnegie Hall. As she did before every performance, she read selections from her Bible "to give me inner strength." With her wealth she bought a Cadillac that was big enough for her to sleep in when she performed in areas with hotels that did not provide accommodations for blacks. She also packed food so when she toured the segregated South, she would not have to sit in the rear of restaurants. Between tours Jackson lived in a ranch-style house she bought on Chicago's South Side. There was a racial outcry when she moved into the all-white enclave and a bullet was fired through a window as a variation of a welcoming committee to the neighborhood.
News of the Gospel Queen reached a white audience and requests poured in from Ed Sullivan, Bing Crosby, Red Skeleton, Dinah Shore, and Steve Allen. However, just as she refused to sing the blues, she likewise refrained from ever compromising her gospel music. Mahalia turned down an offer for $25,000 from a Los Vegas nightclub, even with their assurance no liquor would be served, as it was not God's venue.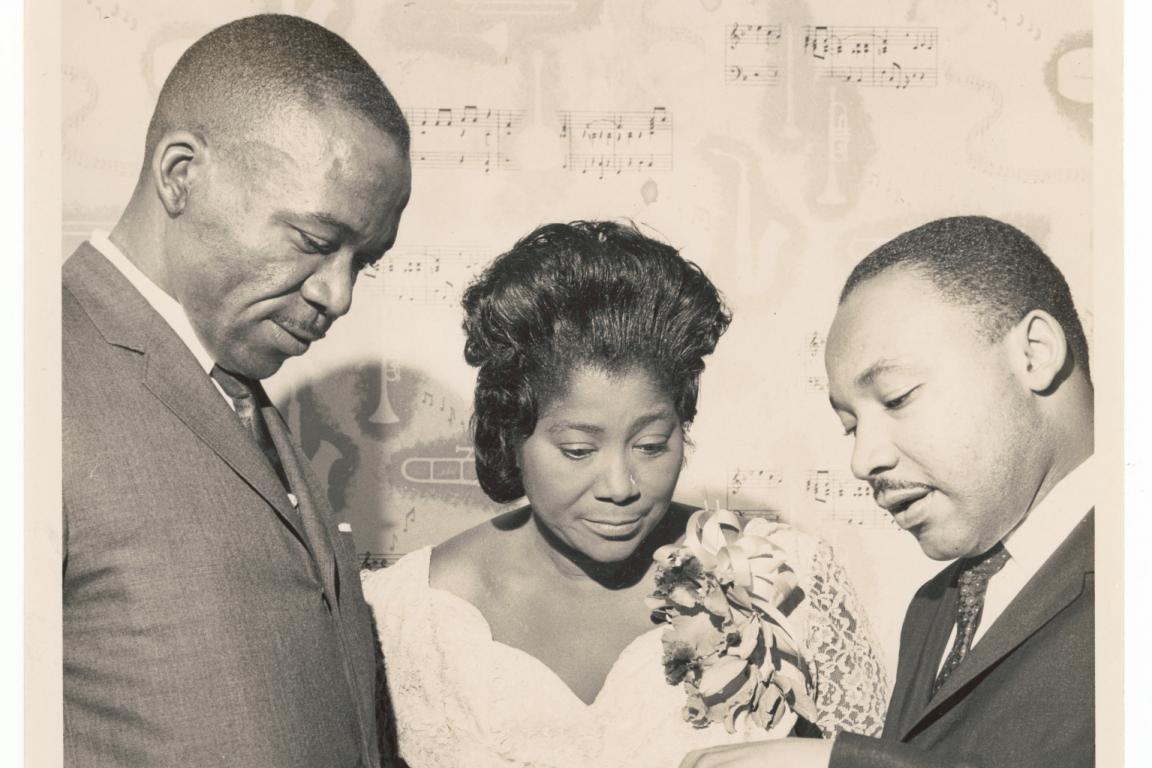 One of the highlights of her career was when she became the first Gospel singer to perform at Carnegie Hall. She said, "Think of it, me-a washwoman standing there singing where such persons as Caruso stood. I've never gotten over it." In 1947 Jackson signed with the Apollo label and recorded "Move On Up a Little Higher" that sold eight million copies that posthumously received a Grammy Hall of Fame Award. Its success catapulted her career to the stratosphere, and she sang for Presidents Truman, Eisenhower, and Kennedy, as well as Queen Elizabeth and Prime Minister Indira Gandhi.
If the legendary gospel vocalist Mahalia Jackson had been elsewhere than the Lincoln Memorial in Washington, DC in 1963 her place in history would still have been assured. However, her presence launched one of the world's most iconic speeches, a landmark in the Civil Rights Movement. During the historic March on Washington, to the accompaniment of a Hammond organ, Mahalia sang "I've Been 'Buked, and I've Been Scorned" and "How I Got Over" as her friend Dr. King clapped his hands on his knees and called out to her as she sang. Jackson had a particularly intimate emotional relationship with King who when he felt discouraged would call her for "gospel musical therapy." He had said, "A voice like this one comes not once in a century, but once in a millennium." In front of the assembled crowd of 250,000 and millions more watching from home, Bob Dylan, Joan Baez, Marian Anderson, and Peter, Paul and Mary performed, but the consensus was Jackson's songs had seized the spirit of the day. Rabbi Joachim Prinz, president of the American Jewish Congress, followed, and recalled his years in Nazi Berlin, "A great people who had created a great civilization had become a nation of silent onlookers. They remained silent in the face of hate, in the face of brutality and in the face of mass murder. America must not become a nation of onlookers." Dr. King was next, and as he moved towards his final words, he sensed his speech was failing his vision. He was winding up what would have been a well-received but, by his standards, unremarkable oration when, behind him, Mahalia Jackson cried out, "Tell 'em about the dream Martin! Tell 'em about the dream!" She had heard him deliver the dream refrain in Detroit, and it had moved her, and she felt this time his dream speech would elicit the same response. Her words changed the trajectory of his address, and he put his papers to the side and his fingers clenched the lectern. In an instant he had transformed from a public lecturer to a fiery Baptist minister. In the sea of onlookers were Paul Newman, Sammy Davis, Jr., Sidney Poitier, Harry Belafonte, Josephine Baker, Burt Lancaster, and Charlton Heston. Marlon Brando wandered around brandishing an electric cattle prod, symbol of police brutality. Through the catalyst of Jackson, Dr. King told of his hope that black and white people would one day live together equally, punctuating his points with the refrain, "I have a dream." For all of King's meticulous preparation, the part of the speech that would become part of America's legacy was added extemporaneously at the exhortation of Mahalia. Although Martin was well known before, he stepped up to the lectern, after he spoke he landed into the sphere of legend. President Kennedy, who had been watching the televised speech from the White House, remarked, "He's damned good. Damned good." William Sullivan, the FBI's assistant director of domestic intelligence, noted the crowd's reaction, and made a recommendation to his Bureau, "We must mark him now as the most dangerous Negro of the future of this nation."
Five years later an assassin's bullet ended Dr. King's life and Mahalia sang "Precious Lord Take My Hand" at his internment, the same hymn Aretha Franklin delivered at Mahalia's 1972 funeral. Chicago paid homage as thousands filed past her mahogany, glass-topped coffin. Together the Baptist King and the Gospel Queen had dedicated their lives to making "a Joyful Noise."