We Are the Champions (1985)
"Being a gay American, I know what it means to look at the flag
and not have it protect all your liberties."
The woman with pink pixie hair lazed like a fiery comet over the sporting world skies leaving a trail of controversy in her wake. Her story began in Redding, a small, conservative, working-class city in Northern California. Her father, Jim, worked in the day as a construction contractor while her mother, Denise, worked nights as a waitress at Jack's Grill. The household included seven children, including the three they had together: son, Brian, and twins, Megan and Rachael. Brian, five years older than his sisters, set up cones on the lawn to teach them how to dribble, thereby sowing the seed to fame. As female athletes were invisible at this time, the posters in Megan's room were all of Michael Jordan. A dedicated Denise drove her daughters two and a half hours each way for practice in Sacramento.
As a senior at Foothill High, her classmates voted Megan Most Likely to be Famous. Concerned her daughter's head would swell as her school's shining star, Denise told her, "You're not the shit just because you're good at sports." The girls were in second grade when Brian started using drugs; they were ten when they heard a radio announcement: Brian Rapinoe has been arrested for burglary.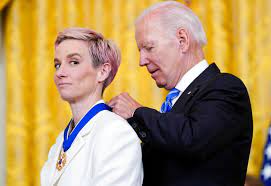 Although the possessor of a close-knit family and an athletic prowess that assured her popularity, as a teen Megan felt lost and alone. However, with the realization she was gay, she understood what had been nibbling at her soul, and she was ready to move on. Megan came out at the University of Portland in Oregon and recalled, "I didn't struggle to come out. I thought: 'Well, yeah, obviously, I'm gay.' Everyone should have told me: it was obvious for my whole childhood-hello?" Indeed, she reveled in sidestepping the mainstream and felt conservatism highly overrated. Her parent's worried about what people would say, but Megan's attitude was Jimmy crack corn-she did not care. When her mother confided to her friends that both her teens were gay, the Redding response was their kids were dropping out of high school, high on drugs; perspective served as a salve.
Upon graduation, the girl with the pastel hued hair enjoyed a meteoric rise. After debuting for the national team in 2006, Megan's professional career began in 2009 when she signed with the Chicago Red Stars. Over the next decade, she moved between clubs in Philadelphia, Boca Raton, Sydney, and Seattle, before signing with France's Olympique Lyon, arguably the strongest team in women's soccer. She returned to the United States later that year to play for her current team, Reign, near Seattle. Her breakout occurred during the 2011 World Cup where the U.S. defeated Colombia; in celebration, Rapinoe grabbed an on-field microphone and sang Bruce Springsteen's song "Born in the U.S.A."
Although the athlete slash performance star basks in the limelight, she does not depend on crowd approval for self-affirmation. She expressed this concept when she stated, "Of course I like the attention. Who doesn't want 50,000 people going: 'You're awesome!' But, in the same sense, I'm not a slave to it; it's not the reason why I do or say those things." Affirmation comes not from the masses but rather from those closest to Megan: her mother, her twin, her best friends and Sue. Sue Bird, an Israeli American WNBA basketball star and four-time Olympic champion, is Megan's girlfriend; sparks ignited at the Rio Olympics where Megan also garnered a gold medal. The power couple became the first same sex couple to pose nude for ESPN's Body Issue. Asked how it felt to lead the U.S. soccer team, Rapinoe cried out, "Go gays!"
The athlete turned activist felt the stadium to be a powerful platform. In 2016, Megan knelt during the national anthem, a gesture inaugurated by the NFL star Colin Kaepernick in protest against police brutality directed at African Americans. In this regard, Rapinoe became the first high-profile female athlete to undertake the gesture of civil disobedience. Clearly unimpressed, the owner of Jack's, with the approval of customers, took down Megan's photos that a bartender had hung in the restaurant. Her father, an army vet, although upset at what he considered his daughter's lack of patriotism, was nevertheless incensed with the hate mail that arrived at the Rapinoe home. The U.S. Soccer Federation amended its rules and required all their players to "stand respectfully;" Ms. Rapinoe agreed, but she refuses to sing or place her hand over her heart. Instead, she silently replays the names of blacks who have lost their lives as victims of hatred: Trayvon Martin, Michael Brown, Tamir Rice…At a Glamour Magazine event, Megan pointed out while she and Kaepernick had engaged in the same act of civil disobedience, because of white privilege, fans feted her as a World Cup champion while he remained unemployed. Ms. Rapinoe told The New York Times Magazine that her involvement in social issues reflected the work of movements such as #MeToo, Black Lives Matter, and L.G. B.T.Q. advocacy. When she received FIFA's award as the top player, she mentioned "Blue-Girl," the Iranian woman who disguised herself as a man to go to a soccer game then set herself on fire to avoid charges for violating a ban against women in stadiums.
As an unofficial spokeswoman, Michelle Obama recruited her to join in a voter-participation initiative, Congresswoman Alexandria Ocasio-Cortez invited her to Washington, and Gloria Steinem thanked Rapinoe for carrying her torch. Megan acknowledged that Brian's struggles with drugs had influenced her social conscience, and one of her battles is for society to view drug-addiction as an illness rather than a moral failing.
A rebel with many causes, Rapinoe spearheaded a lawsuit against the US Soccer Federation, alleging "institutionalized gender discrimination" in a bid to achieve equal pay with their male counterparts. In protest, in Dallas to face off against Japan, the Women's Soccer Team wore their royal blue warm-up shirts turned inside out, leaving a blank space where their crest would normally be displayed. One of the financial inequities is while the Women's World Cup players receive $30 million in prize money, the Men's World Cup Players receive $400 million.
Always a media magnet, in 2019 Megan launched a blitz of coverage before the World Cup Final against the Netherlands in Lyons, France. Prior to the tournament, President Trump had told the team that if they returned victorious their reward would be a visit to The White House. Although the soccer team had been the guests of President Barack Obama, Megan, a self-proclaimed "walking protest" against the current POTUS, responded in a video that went viral, "I'm not going to the fucking White House." President Trump tweeted, "Megan should WIN first before she TALKS! Finish the job." And she did.
The woman from Redding, although performing on the international stage and under attack by a world leader, dominated. To the accompaniment of fans chanting, "Equal pay!" Rapinoe scored that brought the American team a record fourth title. She was tempted to flash double-middle fingers, but she resisted, stating that even she had limits. After the final score, she struck The Pose that became the sporting image of 2019: pink head tipped back, arms outstretched, eyes closed as if in prayer to the soccer gods. In the sea of spectators were her parents and twin sister. Brian had watched his kid sister's first two World Cups from prison. However, this time he was able to cheer her on from a transitional facility in San Diego.
Although the U.S. Women's Soccer Team were no-shows at 1600 Pennsylvania Avenue, they did make it to New York where the city honored them with a ticker tape parade. Thousands of die-hard fans, clad in red, white, and blue, some who had arrived as early as 5 am for prime viewing spots, lined the stretch of Broadway known as the Canyon of Heroes as a caravan of floats carried the twenty-three member squad to City Hall where Mayor Bill de Blasio presented them with keys to the city. Construction workers sounded air horns from buildings high above; confetti rained down from skyscrapers of Manhattan's Financial District. The soccer stars wore black T-shirts that read "World Champions;" co-captain Rapinoe also sported oversized bright red sunglasses that added to her swag. Post-parade, DK Khaled's "All I do is Win" blared from the loudspeakers. When Rapinoe stepped to the dais, she spoke to her fans, "This group is just so badass. There is nothing that can faze this group. We're chilling. We have pink hair and purple hair, we have tattoos and dreadlocks. We got white girls and everything in between. Straight girls and gay girls." She concluded with a plea to love more, to hate less, to make this world a better place. As the crowd cheered and her teammates seated behind her rose to their feet, Rapinoe adopted The Pose and shouted, "New York City, you're the mother fucker best!"
The ticker tape parade planted another laurel on Megan's pink hair, and her reception was far different from another female soccer player's historic moment. The Norwegian athlete, Ada Hegerberg, was the first winner of the women's Ballon d'Or award, an achievement that recognized her as the number one women's soccer player. Until then, the distinguished award had only been presented to men for more than 60 years. In the Grand Palais in Paris, she raised a golden soccer ball over her head before kissing it. After Ada delivered a moving speech in which she encouraged girls to "please believe in yourselves," French disc jockey Martin Solveig, the event's host, asked her, "Do you know how to twerk?" Visibly uncomfortable, Hegerberg shook her head. Had he posed the question to Megan, her response would have been more along the line of a foot to groin movement.
The year ended with another singular honor when Sports Illustrated named Megan Rapinoe Sportsperson of the Year in which she joined Chris Evert, Mary Decker, and Serena Williams as the only women in the 66-year history of the award. Megan had the unique distinction of being the only gay model. The cover showcased Megan holding a sledgehammer. She wore a gown by Valentino, shoes by Maison Margiela, but the pink hair and sass were pure Megan.
Ms. Rapinoe, touted as her generation's Muhammad Ali, points out that any wind beneath her wings are her fellow teammates who can be described by the lyric they sang as they disembarked their plane from France, "We are the Champions."