Vertubenflugen (1985)
Rose to Blanche, "I thought you wore too much make-up and were a slut. I was wrong. You don't wear too much make-up."
Picture it: Miami, 1985. NBC aired a novel series that featured women of a certain age who did more than strategize where to place their crotchet creations. Instead, the Four Musketeers from The Golden Girls proved there was life post menopause.
The cast of characters who shared a home, (and endless slices of cheesecake,) were the precursors of Manhattan's quartet who pursued sex in the city. In the show that introduced the word "lanai" to those who resided outside Florida, lived Blanche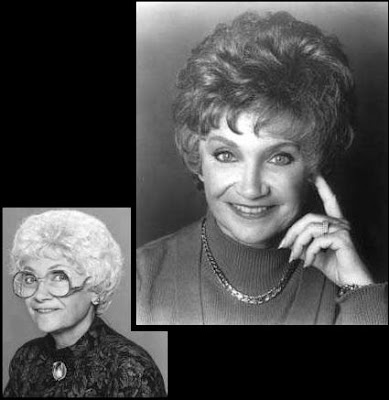 Devereaux, a Southern Wife of Bath, Rose Nylund, a naive transplant from St. Olaf, Minnesota, Dorothy Zbornak, a Brooklyn-born substitute teacher, and Sophia Petrillo, a sassy Sicilian with a mouth like a sailor. Rose likened their meeting as a miracle that saved them from tarnishing their golden years with the specter of loneliness. Rose explained, "We get married, we have kids, the kids leave, and our husbands die. You don't work that hard, you don't go through everything you go through to be left alone." Although the show proved that older women should not be put out to pasture, it also did not shy away from examining the seamy underbelly of the gag gift of Father Time. There were endless jokes about sagging skin, incontinence, senility, and dates who viewed women as a nurse and a purse. In a poignant scene, Dorothy saw "an old woman's face" in the mirror and does not recognize it as her own.
One of the stereotypes that The GG punctured was that women who had made significant inroads on the biblical "three score years and ten" sat in their rockers or were off their rockers. Before the ladies of the lanai, the common assumption was that sex and seniors was not on the table; the golden girls proved it was on the table, as well as several other venues. Sex-crazed Blanche, (a slut, as Sophia put it,) saw most of the action in her bedroom that bore the imprint of huge palm leaves. Unapologetically lustful, Blanche recounted, "When I am backed into a corner, I come out fightin' like a wildcat! Unless I've had too much to drink, in which case I slide down the wall and make mad passionate love on the carpet." During one of her erotic reminiscences, Dorothy remarked, "I could get herpes just listening to this story." On another occasion, Blanche effused, "I treat my body like a temple." Sophia's come- back, "Yeah, open to everyone, day or night." As a mea culpa for her mother's forthrightness, Dorothy explained, "You'll have to excuse my mother. She suffered a slight stroke a few years ago which rendered her totally annoying." Sexual innuendo stumped Rose such as Dorothy's observation that her ex-husband needed to be naked to count to twenty-one. By way of explanation, Rose countered it was not her fault that her cousins in St. Olaf have been marrying each other for generations. In a sentimental scene, Rose had her first affair since the death of her beloved husband, Charlie X, who had passed away fifteen years earlier. The only divorcee, (the others were widowed,) Dorothy complained of her unfulfilled romantic aspiration, in Miami "all the single men under eighty are cocaine smugglers." In one episode, a seventy-something couple attempted to recruit Sophia for a ménage a trois; in another, Rose is the love interest of a lesbian. Although the pursuit of relationships was central to their emotional make-up, the common thread was men came and went, friendship-and cheesecake- were constant. Given the number of shenanigans in the Miami suburb, what is hard to believe is that the original title was, in a tongue-in-cheek nod to NBC's hit, Miami Vice, dubbed Miami Nice.
As with all great satires, The Golden Girls used humor to puncture societal ills. Today's Monkey Pox was yesterday's AIDS, whereby America turned a deaf ear to President Roosevelt's admonition, "We have nothing to fear but fear itself." In an 1989 episode, Rose was aghast that she had contracted AIDS from an infected blood transfusion. In response, Sophia wrote the letter "R" on Rose's coffee mug. Through the intercession of her daughter and Blanche, she learned that she had been pandering to the current zeitgeist of panic. The show concluded with Sophia drinking from the R-lettered cup.
Another occasion when the GG's championed gay rights was Blanche's seemingly macho brother arrived in her Miami home accompanied by his fiancé. Casting off her initial prejudice, Blanche understood that her brother's feelings were the same that she harbored for her late husband. Before his departure, she had given him her blessing to marry the man he loved. The scene would have been a perfect occasion for Sophia to remark, "Picture this, a world where everybody has the right to wed free from societal condemnation." In the series' finale, Blanche encapsulated the love of her friends, "You're my family, and you make me happy to be alive."
The 2014 edition of Guinness World Records profiled the actress who immortalized Rose as the longest ever career for a female entertainer. Betty Marion White nicknamed "the first Lady of Television," was born in 1922, in Oak Park. Illinois, to an engineer father, Horace, and homemaker mother, Tess. During the Depression, the family relocated to Los Angeles. At Beverley Hills High she had a lead role in a school play that convinced her of her calling. During World War II she drove a "PX truck" to deliver supplies to soldiers stationed in Santa Monica and Hollywood. She married a P-38 pilot, Dick Barker, who took her to live on his family's chicken farm in Ohio. She later referred to the experience as a nightmare. Her second marriage, to Lane Allen, ended as he did not want her to hold a job. Her children were of the four-footed variety as she was devoted to animal welfare. In 2006, the Los Angeles Zoo named her "ambassador to the animals" and dedicated a plaque in her honor. In a nod to her priorities, Betty stated, "Being remembered for Rose and Sue Ann and the others would be wonderful, but I also want to be remembered as a lady who helped the animals."
Her largesse also extended to helping those who were the victims of prejudice. In 1954, critics condemned Betty for inviting Arthur Duncan, a black tap dancer, on a variety show she was hosting. Her response was to give Duncan even more airtime. Her unpopular action resulted in her show's cancellation. By the early 1960ss Betty was a regular guest on game shows such as To Tell the Truth, What's My Line? and Password whose host, Allen Ludden, became her third husband, the one she called the love of her life. When asked if she would ever remarry, she answered, "Once you've had the beset, who needs the rest?" Her breakout role was as the sexpot next door Sue Ann Nivens on The Mary Tyler Moore Show. On one episode, when asked how she was feeling, her double entendre reply, "I didn't sleep a wink all night. I feel wonderful." At age eighty-eight, Betty served as the host of Saturday Night Live where she quipped that at her age she contacted old friends not with Facebook, but with a Ouija board. The Television Academy Hall of Fame inducted her in 1995, and she continued accepting roles until her nineties. In 2019, Betty was the voice of a tiger teething toy, appropriately named Bitey White, in Toy Story 4. When asked if there was anything she still wanted to do after her long career, Betty quipped, "Robert Redford." Betty, was predeceased by her fellow Golden Girl actresses, passed away three weeks before her 100th birthday. Rose once declared, "I'm not one to blow my own vertubenflugen." However, Betty White, now making the angels laugh, should not hesitate to blow her own vertubenflugen.