Trixie: A League of Her Own
When one contemplates baseball's greatest hit, most likely the image is of Yankee slugger Babe Ruth hitting the ball until it disappears into the horizon. However, the sport's greatest hit was made not on the field, not in a stadium. Rather, it originated over a century ago in a New York City subway.
A popular actress and suffragette, Trixie Friganza was born in 1870, in Grenola, Kansas. By age 19, she was a vaudeville star; however, offstage she dedicated her life to advocating for women's social and political equality. Dressed in a white hat and a dress adorned with a silk banner, she attended rallies where she argued for the passage of an amendment that would grant her gender the ballot. In 1908, she told fellow protestors, "I do not believe any man-at least no man I know-is better fitted to form a political opinion than I am."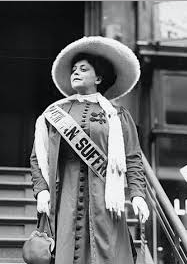 Despite her career and activism, Trixie made time for romance when she fell for Jack Norworth, a fellow performer. The fly in their romantic ointment was his marriage to actress Louise Dresser. Their 1908 affair was going strong when Norworth, riding the old Ninth Avenue El, spotted an ad for the Polo Grounds, the Giants' home field, in upper Manhattan. The words inspired lyrics that he jotted down on an envelope, entitled, "Take Me Out to the Ballgame." However, while even those who do not possess an iota of interest in the game know the lyrics of the refrain-test yourself-most do not know that is an ode to a fiery feminist.
Norworth shared his song with his friend Albert von Tilzer, and the duo-neither of who had ever attended a game-registered "Take Me Out to the Ballgame" with the U.S. Copyright Office on May 2, 1908. On the same day, The New York Clipper, a sports and entertainment newspaper, printed an ad for the sheet music. America's unofficial national anthem made its debut with a public performance at the Amphion, an opera house in Brooklyn. Within a month, the words written on an envelope catapulted onto the Top 10 charts. The dashed off ditty became so iconic that it is estimated to be the most popular song in America after "Happy Birthday to You" and "The Star-Spangled Banner." The original lyrics are on display in the National Baseball Hall of Fame in Cooperstown, New York.
In "Take Me Out to the Ballgame," Trixie's fictional counterpart, Katie Casey, insisted her beau take her to the stadium though at the time it was a male provenance. In her front row seat, she dared to tell the umpire he was wrong and roused the home team crowd by leading them in the chorus of, "Root, root, root for the home team…"
When Norworth's divorce came through, he married his Ziegfeld Follies costar Nora Bayes; the news that she had struck out came as a surprise to Trixie. Nevertheless, in the vein of Jimmy Dugan, (Tom Hanks in the Penny Marshall film) "There's no crying in baseball," Trixie went on to star in twenty films, wed twice, and continued to agitate and donate for the rights of women and children.
While football has a long history of objectifying women as cheerleading sex symbols in couturier by Heffner, baseball has never glorified this approach. And another hit for the game is its unofficial, feminist anthem. So, next time you're scarfing Cracker Jacks and cheering/jeering in the stands, take a moment to superimpose Trixie's image on the twelve men on the field. In a nod to the movie, she was in a league of her own.