There's No Place
"I am constantly having to make an upheaval for some reason." – Sarah Winchester
Winchester Mystery House (opened in 1923)
525 S. Winchester Blvd. San Jose, California
How the West was won - or lost - depending on one's perspective was determined by who wielded the Winchester Repeating Rifle. The heiress to the company's fortune, Sarah Winchester, had a life bookmarked by guilt and guns.
A century ago, Silicon Valley held only endless orchards. Now all that remains from yesteryear is a 160-room curiosity that sticks out amidst the suburban sprawl like a misplaced Addams Family dwelling. Magician Harry Houdini, who relied on logic to execute his escapes, sensed shades of the supernatural in the secluded mansion.
The chatelain of the one-of-a-kind manor, Sarah Lockwood, (her parents chose her middle name after a family friend), Pardee, was born in 1839, in New Haven, Connecticut, the youngest of five children. Her paternal ancestor, George Pardee, surname derived from an old French oath, par Dieu, meaning "by God." Sarah was also a descendent of Elizabeth Yale, a cousin of Elihu Yale, the university's namesake. A guest to the family home was Henry Bergh, the founder of the American Society for the Prevention of Cruelty to Animals, (ASPCA)
At age twenty-three, Sarah married William Wirt Winchester, the stepson of Eli Goodyear, a relative of the patent holder for the vulcanization of rubber for tires. William inherited his father, Oliver's, rifle company that employed Wild West legends. Buffalo Bill Cody claimed that for "Indian fighting" the Winchester was "boss." Annie Oakley also endorsed the product that made her a sharpshooter. President Theodore Roosevelt took several Winchester rifles on his hunting trips; the Canadian Mounties adopted them as their official weapon. By 1876, the Philadelphia Centennial exposition showcased the iconic brand. With coffers overflowing, the couple built a palatial home on the outskirts of New Haven overlooking the family factory.
Death shadowed Sarah who lost her mother and sister in quick succession. After the passing of her one-month-old baby, Annie Pardee Winchester, her devastated parents went into a yearlong seclusion. No further pregnancies followed. When William succumbed to tuberculosis, Sarah buried her husband in Evergreen Cemetery next to Annie. Reeling under the visits from the Grim Reaper, the widow departed to San Jose. Despite its baking sun, Sarah dressed in black dresses, and later appeared in public with a black veil. In California, she befriended Leland and Jane Stanford, also consumed with grief over the death of their child.
While the Stanfords became associated with the university that bore their doomed son's name, Sarah's claim to notoriety was her Guinness worthy estate. Miss Havisham had Satis House; Miss Winchester had Llanada Villa. She purchased an eight-room cottage that she expanded and renovated in the Queen Ann style from 1884 till her 1922 passing. Dozens of nationalities were included in the decor: French paintings, Austrian glass, German chandeliers. In the ballroom is a Louis Comfort Tiffany stained-glass window bearing a quotation from Shakespeare's Richard II. Confined to a cell, the king laments the lost world of what could have been, "These same thoughts people this little world." Even the owner did not know what lay behind the 2,000 doors. Fiercely private, Sarah's seven Japanese gardeners planted a towering hedge that thwarted prying eyes. The only employee with whom she interacted daily was her Chinese butler who served her meals on a $30,000 gold dinner set. Sarah's wealth and estate made Llanada Villa a likely place for President McKinley to stay when he visited San Jose; no invitation was forthcoming. President Theodore Roosevelt expressed interest in meeting with Sarah as he brought several Winchester rifles on his hunting trips. Her response, "My regrets to the President but I never receive strangers in my home." The Winchester fortune had left her 20.5 million-$530 million in today's currency- that provided Sarah with ample means to construct a seven-story mansion at the cost of $5 million, ($71 million today).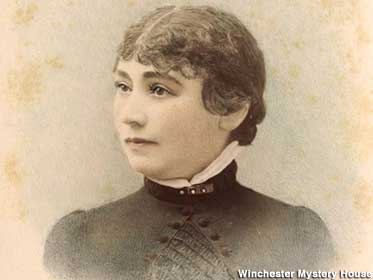 Due to damage from the 1906 San Francisco earthquake and laissez faire renovations, there were skylights that never saw the sky, doors that opened onto brick walls, staircases that led to ceilings (par dieu). A Penelope working in wood rather than yarn, Sarah wove and unwove until Llanada Villa became a labyrinth that would perplex even the Minotaur. When a decorating idea dawned, Sarah wrote it down on napkins, paper bags, or any available surface. After the hammering ceased, the United States' largest private residence of the era held forty bedrooms, seventeen chimneys, forty-seven fireplaces, and trap doors. (Marie Kondo would run screaming from the premise-and not in fear of ghosts). The exterior was equally outlandish with a mishmash of turrets, gables, and towers. She held occasional nighttime séances in a turret of the blue painted house, aptly known as "The Witch's Cap." The lingering question: why?
One explanation is a medium told Sarah the reason for the Winchester deaths was revenge perpetrated by bullet-ridden spirits, the victims of their rifles. With the guilt of a Lady Macbeth, Sarah's endless additions would prevent evil spirits from hunting her down. As a further safety precaution, Sarah always slept in different rooms. She believed that to stop building would signify her end. A recluse in her mansion, Sarah spent her days seeking safety, seeking absolution.
Sarah Winchester was the non-celluloid Norma Desmond, a woman held hostage in her own home, imprisoned in sorrow. Of all the artifacts in her mausoleum, perhaps the most telling was those found after her death. A concealed safe held two obituaries and two locks of hair-mementoes of William and Annie. Upon her death at age eighty-two, she joined her husband and daughter in Evergreen Cemetery. A. granite monument bears their names and dates of death.
After Sarah's passing, John H. Brown assumed control of the Winchester House and capitalized on its association with ghosts. He was a roller coaster designer whose creation, the Backety-Back, operated in Canada. After a woman died on the attraction, Brown took off for California. He opened Sarah's home to the paying public where guests could go where none had gone when Sarah was its chatelaine. If the mistress of the manor did not welcome presidents, she most certainly would not have welcomed the curious. Her spirit most likely haunted Brown with one of her husband's weapons. Aspects of the tour she would especially dislike would be the gift shop-the only exit from the estate-that sells assorted kitsch. An illustrated guidebook explores Mrs. Winchester's fixation on the number thirteen. For example, the thirteenth bathroom has thirteen windows while her will had thirteen sections that she signed thirteen times.
In the Walk with Spirits Tour, guests learn about spiritualism and the paranormal. The event begins with a simulation of a Victorian wake in the front parlor to showcase the era's traditions regarding mourning. In the upper floors, visitors can partake in a séance. Upon reaching the parking lot, tourists feel they have viewed a monument to madness. An alternative view is Sarah was merely eccentric, a price that she paid for in the court of public opinion.
The California Sarah, like the Kansas Dorothy, can understandably murmur, "There's no place like home."
A View from Her Window
In contrast to the interior of Sarah's random rooms, her four-acre grounds provided an island of aestheticism. Her Victorian gardens held hundreds of flowers in a profusion of colors. Her private park displayed dozens of statues such those depicting Cupid, cherub, hippopotamus, Native American hunter, deer, and frogs. Many of her original trees survive such as the Saucer Magnolia, Spartan Juniper, and Creeper Trumpet Vine. An aviary held exotic birds that added. Perhaps under the Californian wedge-wood-hued sky, and her well-tended garden, Sarah had a respite from her demons.
Nearby Attractions: The Rosicrucian Egyptian Museum
The Egyptian emporium has a large collection from the land of the Nile: a sarcophagus, mummified animals (a cat, a gazelle and baby crocodiles), papyrus writings and the ancient board game Senet.