The Pink Queen Bee     (1963)
The color pink brings to mind Barbie, Disney Princesses, Hello Kitty, and pussy cat hats. A woman whose fascination with pink left her rolling in the green, and her name became beauty's calling card.
The high priestess of pink was born Mary Kathlyn Wagner in Hotwells, Texas. As her mother, Lulu, worked around the clock as a waitress, from age seven Mary Kay was the caregiver of her father, bedridden with tuberculosis. At seventeen, Mary Kay married Ben Rogers, who played with a local band, the Hawaiian Strummers. Her world shattered when Rogers returned from World War II and asked for a divorce; he had been strumming more than his guitar.
As a single mother of three, Mary Kay took a job at Stanley Home Products; she quit after twenty-five years, ineligible to climb the company ladder as a woman in a suit-and-tie world. At age forty-five, Mary Kay purchased a skin care formula for $500 developed by an Arkansas tanner, J. W. Heath, who noticed his hands remained wrinkle free when he tanned his hides with the product. She invested her life savings of $5,000 into her company, Beauty by Mary Kay, established in a 500 square foot Dallas storefront; her salesforce consisted of nine women. Packaging was pink and embossed with her name. Borrowing the concept of house parties from her years at Stanley, associates invited friends to their homes where they pitched their wholesale products at retail prices. The guiding principle of the business: God first, family second, career third. In an era where women could not obtain a home loan on their own, Mary Kay offered financial autonomy and self-esteem. A midcentury alchemist, she turned pink into gold.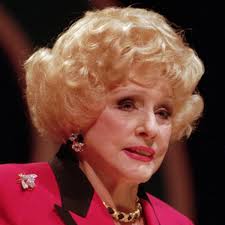 Understanding that showmanship was an entrepreneurial essential, in 1964, Mary organized her first convention-what she termed a seminar-in a warehouse that she festooned with balloons and crepe paper. The hostess prepared chicken, jalapenos, and Jell-O that she served on paper plates to her 200 strong salesforce; tears and pink predominated. By her side was husband number three, Melville Jerome Ash. Despite the drab association of his surname, they remained married until his passing.
Another technique in Mary Kay's bag of marketing tips was offering incentives to the top sellers- "Cinderella gifts-" in galas that rivalled a Las Vegas extravaganza. Thousands of her salesforce met to hear, cheer, and revere their guru. The crème de la crème of trophies was a pink Cadillac; after the cosmetic empire branched out to other countries, Mary gifted pink Toyotas in Japan, pink Fords in Argentina, pink Volkswagens in China, and pink Mercedes in Germany.
The founder of a billion-dollar empire built on rewards, recognition, and religion celebrated her success with a $5 million, thirty-room pink palace that held a Grecian swimming pool; one of the eleven bathrooms was a duplicate of her friend's, Liberace, whose centerpiece was a gigantic, pink marble bathtub. The garage housed her pink Cadillac.
An apt metaphor for Mary Kay Ash was one of the prizes she gave out on Award Night: diamond studded broaches in the shape of a bee. She explained the symbolism, "Aerodynamically the bumblebee shouldn't be able to fly but the bumble-bee doesn't know that so it goes on flying anyways." In the annals of female entrepreneurs, Mary Kay left her mark as the pink Queen Bee.