The Mill (1896)
Upon occasion, it requires more than a box of Godiva chocolates or a Hallmark card to capture the heart of a ladylove. Richard Wagner composed the "Siegfried Idyll" as a birthday gift for his wife, Cosima. Tsar Alexander III presented jewel encrusted Fabergé eggs as Easter gifts for his tsarina. Richard Burton wowed Elizabeth Taylor with a 69-carat pear-shaped diamond. Yet these gestures pale in comparison to what a royal relinquished for this ladylove.
In 1936, King Edward VIII climbed the Gothic stairway of Windsor Castle and delivered perhaps the most renowned radio broadcast of the twentieth century. Edward Albert Christian George Andrew Patrick David, (who preferred David), later claimed he had written the speech with only slight help from Winnie, his nickname for Winston Churchill. As he held a microphone, the king declared, "You must believe me when I tell you that I have found it impossible to carry the heavy burden of responsibility and to discharge my duties as King, as I wish to do, without the help and support of the woman I love." In his speech, he never mentioned the object of his devotion - Bessie Wallis Warfield Spencer Simpson.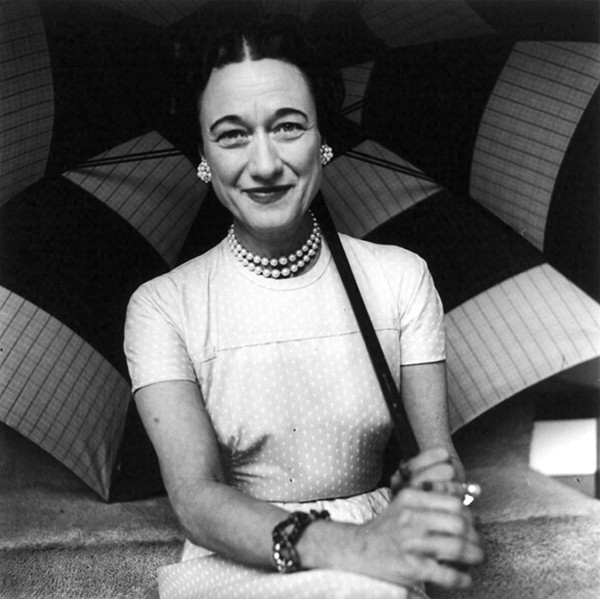 Bessie Wallis was born at Monterey Inn, in the resort village of Blue Ridge Summit, Pennsylvania. Her parents, Teackle Wallis Warfield and Alice-later spelled Alys-had arrived from Baltimore to help her father's ailing health. He died five months after the birth of his daughter; left without an income, Alys took in borders. Feeling the name Bessie more suitable for a cow than a socialite, she went by her middle name.
At age twenty, Wallis married a twenty-seven-year-old naval aviator, Lieutenant Earl Winfield Spencer, Jr. When in the throes of alcohol-fueled binges, Earl locked her in her room. After the navy stationed Earl in the Far East, the couple visited Peking brothels where Wallis discovered ancient sex secrets. After their 1921 divorce, she wed Ernest Aldrich Simpson, a Brit living in New York who left his wife for her. The Simpsons moved to England so Ernest could run his family's shipping business.
Wallis met David when his mistress, Lady Thelma Furness, introduced them at her country home in Leicestershire. Wallis recalled that she had been immediately smitten with the Prince of Wales' "slightly wind-rumpled hair, the turned-up nose, and a strange, wistful, almost sad look about the eyes when his expression was in repose." The fact David was one of the wealthiest men in the world might have factored into her romantic equation.
In 1934, Lady Furness left for New York to support her twin sister's custody battle over her daughter, Gloria Vanderbilt. Over their luncheon at the Ritz, she requested that Wallis, "Look after the little man. See that he does not get into any mischief." Thelma, who viewed Wallis as unattractive, did not look upon her as a rival.
Mrs. Simpson-as the press dubbed Wallis- became the Prince's ever-present shadow and a special branch of the police reported, "that the lady seemed to have the POW (Prince of Wales) completely under her thumb." The besotted royal declared, "In character, Wallis was, and still remains, complex and elusive, and from the first I looked upon her as the most independent woman I had ever met. This refreshing trait I was inclined to put down as one of the happiest outcomes of 1776." The prince provided the open sesame to an unbelievable vista of privilege, and she felt she was "Wallis in Wonderland." Queen Mary, not a fan, always referred to Wallis as "that woman."
In the summer of 1934, the Prince took Mrs. Simpson to Biarritz on a yachting trip; Mr. Simpson was absent with leave. In her 1956 memoir, The Heart Has Its Reasons, Wallis wrote, "The Prince and I found ourselves sitting alone on deck. Perhaps it was one of these evenings off the Spanish coast that we crossed the line that marks the indefinable boundary between friendship and love. Perhaps it was one evening strolling on the beach at Formentor in Majorca. How can a woman ever really know?" The relationship was not what caused a scandal, mistresses being as old as the monarchy; rather, it was the Prince's public flaunting his dalliance with a married woman.
With the passing of King George V, David became King Edward VIII "by the grace of God, of Great Britain, Ireland, and the British Dominions beyond the Seas, King, Defender of the Faith, Emperor of all India." Alarm bells sounded when Wallis sought a divorce that indicated she and David planned to make their relationship legal. The royal family and the government were adamant: they would never accept a divorcee as queen.
David understood that if he abdicated, he would be forever estranged from his family who would not forgive the royal scandal. Moreover, he would become an exile, as the stipulation for his return to England without an invitation would result in the loss of his stipend he needed to support an uber opulent lifestyle. The momentous decision also meant a renunciation of the role of his birthright. The official motto of the Prince of Wales is the German motto "Ich dien" ("I serve"), and therefore, his rejection of the crown meant the betrayal of his family, his country, his church. Wallis, devastated she could never be queen, was content to remain the royal mistress. She explained, "How can a woman be a whole empire to a man?" Queen Mary was in disbelief and stated, "To give up all this for that." Perhaps the reason David did so was because of the rumor that Wallis had "the ability to make a matchstick feel like a cigar." Another theory is David was homosexual, and, as king, his secret live would be under a microscope.
To commemorate Wallis's having her lover relinquish the throne of England on her behalf, in 1936 Time made her "Woman of the Year," the first occasion the magazine had ever given its "Man of the Year" title to a woman. The royal who would not be king, the newly titled Duke of Windsor, gave his fiancée an engagement ring with the inscription WE are ours now. (The W stood for Wallis, the E for Edward). With the Windsor wealth, the dedicated clotheshorse dressed in Chanel, Givenchy, Dior, complemented by a king's ransom of jewels. Magazines included her on the list of the ten best-dressed women in the world. Her response to the honor, "I'm nothing to look at. So the only thing that I can do is dress better than anyone else."
In 1937, the couple wed in a borrowed chateau in Loire Valley, France. The bride wore a floor length dress by Mainbocher of crepe satin the shade of forget-me-nots-that became known as Wallis blue. The newly minted royal later told writer Gore Vidal that the morning after her marriage, she awoke to find her husband "standing by the bed, saying, "And now what should we do?" For their honeymoon, they left for Venice where they attended a performance of Romeo and Juliet. As they entered the theater, the audience rose to its feet and roared, "Viva l'amore!" To the world, theirs was a legendary love story, but Wallis once stated, "You have no idea how hard it is to live out a great romance."
In May of that year, David and Wallis listened to the broadcast of the coronation of his younger brother, George VI. Among the King's first acts was to confer on David the title of His Royal Highness the Duke of Windsor; he refused to bestow the honorific of Her Royal Highness on his sister-in-law who became the Duchess of Windsor. King George viewed his brother and his wife as embarrassments to the crown, and not only for their acts that had placed a spotlight on the royals but also for a damning photograph that showed Adolf Hitler kissing Wallis's hand as David looked on.
The Duke and Duchesses' main residence was a mansion in the Bois de Boulogne that they shared with their beloved pugs who dined from silver bowls, carried the scent of Christian Dior perfume, dressed in mink, wore diamond studded collars, and had gold Cartier leashes. Another estate-the one where Wallis felt most at home- was a converted eighteenth-century mill outside Paris, known as Le Moulin de la Tuilerie. In their country residence, they entertained celebrity friends such as Elizabeth Taylor, Richard Burton, Marlene Dietrich, and Maria Callas. Amongst her priceless treasures, Wallis had a needlepoint pillow with the words, "One can never be too rich or too thin."
David passed away in 1972, and Queen Elizabeth II allowed Wallis to visit Buckingham Palace for her husband's internment in Frogmore Garden at Windsor Palace. Bereft at her husband's passing, the Duchess' diet consisted mainly of alcohol; in 1973, she broke her hip and became bed ridden. In her later years, she lost the ability to speak, and her memory worsened, a weakness that her French lawyer, Suzanne Blum, exploited. Abandoned by her in-laws and with no family of her own, Wallis became a prisoner in her own home, often sedated by Blum who sold jewelry from Wallis's legendary collection. Death, at age eighty-nine brought release, and her burial was beside the man who had given up his empire.
In the Moulin de Tulleries, the duchess had these words inscribed on its wall, a nod to the agony hidden under her royal gilt, "I am not the miller's daughter, but I have been through the mill."